Mobile IV Therapy in
Houston, TX
We all know that being healthy and fit requires certain things like regular exercise, a balanced diet, and plenty of sleep. However, sometimes you need a little extra boost to feel your healthiest — and that's where Lone Star IV Medics can help! 
Our team offers vitamin infusions in Houston that can help replenish your body and leave you feeling energized, alert, and ready to take on the world. Make an appointment today and see how IV therapy can help you enhance your health.
The Best IV Therapy in Houston, TX
Lone Star IV Medics is one of the most trusted providers of IV rehydration therapy. We offer mobile IV therapy in Houston and many other locations around Texas, bringing the vitamins, minerals, and fluids you need for optimum health and wellness right to your front door.
Why Choose Lone Star IV Medics
We understand that when you're not feeling great, you don't want to go anywhere — even for treatment. That's why we send our team of healthcare providers to your home, office, or hotel. You can get IV therapy and feel the benefits of essential nutrients and extra fluids, all while sitting in the comfort of your own home. It's a win-win!
IV Therapy Can Help with Various Symptoms
If you're feeling less than your best, our IV treatments in Houston are the perfect solution! Our infusions include top-quality vitamins, minerals, and medications, plus 1,000cc of saline to keep your body fully hydrated. 
Patients use our IV treatments to manage symptoms from a wide range of illnesses. People who suffer from chronic migraines can benefit from regular vitamin infusions. Moms-to-be can find fast relief from morning sickness. We can even help you bounce back fast after a hard workout or a night of hard partying! And best of all, we offer a variety of pricing packages so you can feel better without breaking the bank.
IV therapy can help alleviate the symptoms associated with!
Not sure if IV therapy is right for you? Here are just a few of the many ailments and conditions we've helped patients manage through IV therapy in Houston:
Types of IV Treatments Available 
At Lone Star IV Medics, we offer IV treatments ranging from our basic saline package to packages targeting specific needs. Our best-selling package, the Myers' Cocktail, features six of our highest-impact vitamins, minerals, and antioxidants.
For customers who want to turn back the clock, there's our Hair, Skin, and Nails package. While designed to promote healthy hair and nail growth, this IV therapy in Houston also fights against the free radicals that contribute to skin aging. You should notice a brighter, healthier complexion.
Upgrade your IV drip with an add-in vitamin or medication or intramuscular injection.
Applications of IV Rehydration Therapy Near
Houston, TX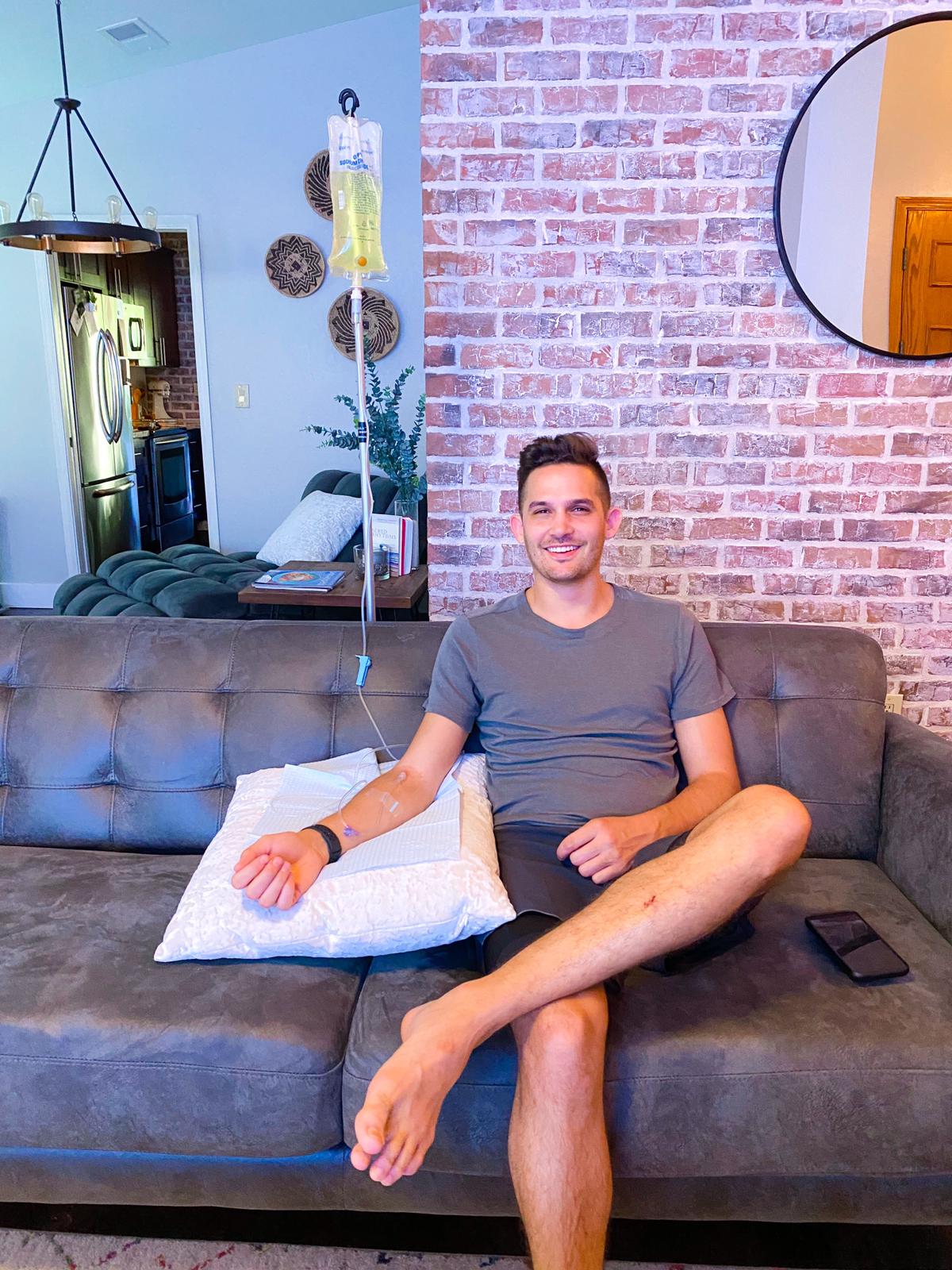 How Mobile IV Therapy Works
IV therapy is the fastest way to receive hydration and nutritional support. Just drinking fluids does not increase hydration for an hour or more. That's because the fluids must first pass through the digestive system. With mobile IV therapy, fluids go directly into the bloodstream. It's the quickest way to obtain symptom relief. 
Mobile IV Therapy Process Explained
After taking the patient's vital signs and doing a basic health examination, the healthcare provider disinfects an area, generally on the arm, where the IV needle is inserted. The highest sanitary precautions are taken.
A tube is attached to the needle, which is then attached to the IV bag. The nurse ensures that the patient receives the correct IV infusion. The patient can rest, eat or drink, make phone calls, watch TV, or read during mobile IV therapy in Houston. IV vitamin therapy in Houston generally takes between 45 to 60 minutes.
How Much Does IV Therapy Cost in Houston, TX?
At Lone Star IV Medics, we believe IV therapy should be affordable. We offer hospital-grade IV therapy in Houston for as little as $110, with optional vitamin add-ins starting at $25 each. Be sure to join our VIP program for great specials, promotional offers, and more.
Contact the Lone Star Team today to learn more about us, or schedule online to book an appointment. See how IV therapy can improve your health today!
How to Book a Mobile IV Therapy Appointment in Houston, TX
The Lone Star IV Medics team wants everyone to experience the benefits of mobile IV therapy in Houston. So, don't wait another minute to give this innovative wellness treatment a try!
You can contact our team if you have any questions about our IV therapy or the locations we serve. We're happy to answer all your questions so you feel confident (and excited) about your IV treatment. And once you're ready to experience IV therapy for yourself, check out our schedule online and book an appointment.
Book Now!
Serving Houston & all suburbs!
Open 8AM-8PM, 24/7 Service Typically Available
FAQs
1
What are the benefits of IV therapy?
IV therapy sends essential vitamins, minerals, fluids, and electrolytes directly into your bloodstream. These ingredients play an important role in helping your body function at its peak, and IVs allow you to receive these essentials more quickly and in higher quantities than oral supplements. As a result, you can experience more energy and better health from just a single vitamin infusion.
2
How often should I get IV therapy?
The answer here depends largely on your health needs. If you're using an IV to manage a condition, like a hangover, you can just schedule your treatment as needed. However, if you want to use IV vitamin therapy in Houston, TX, to manage recurring issues like migraines, anxiety, or muscle aches, you will want to get your treatments more frequently. Our patients who use IV therapy in their regular wellness routine usually get infusions every two weeks. This helps ensure that you're always hydrated with plenty of vitamins and minerals in your system, which helps you feel your best.
3
How long does it take for IV therapy to kick in?
This answer varies from one patient to the next, depending on a number of factors. For example, someone who is seriously dehydrated and hungover may notice a greater difference in their health than someone who is using an IV as part of their regular wellness regimen. However, we have noticed that most people notice results from their IV treatment within 30 minutes.