Dallas is one of the largest cities in Texas, home to many people with fast-paced, busy lives. And while we may love living in this bustling city, sometimes the grind of our "go-go-go" lifestyles can leave us feeling exhausted. 
So, what can you do when the hustle and bustle have you feeling run down and worn out? Give our team a call! 
At Lone Star IV Medics, we are dedicated to making you feel better. As the most trusted provider of mobile IV therapy in Dallas, we are proud to offer high-quality vitamin infusions that are sure to help you feel healthier, stronger, and more energized. 
Recover Fast with IV Therapy in Dallas, TX
Our IV therapy patients in Dallas use our infusions to treat symptoms of many health concerns, from migraines and morning sickness to fatigue and the occasional hangover. You can use our mobile IV services anytime you feel a cold coming on, need support on your weight loss journey, or even when you're training for the Dallas Marathon!
IV therapy gives your body essential vitamins, minerals, and fluids — all the stuff your body needs for peak performance. The IV infusion sends these nutrients right into your bloodstream, where your body can absorb them quickly and more effectively.
But that's not even the best part. With Lone Star IV Medics, you can get IV vitamin therapy in Dallas right in your own home. Our team of healthcare providers will come straight to your door, give you a thorough health assessment, and administer an IV that will target your unique symptoms. All you need to do is relax and wait for relief, which typically takes only 45-60 minutes.
Applications of IV Rehydration Therapy
Near Dallas, TX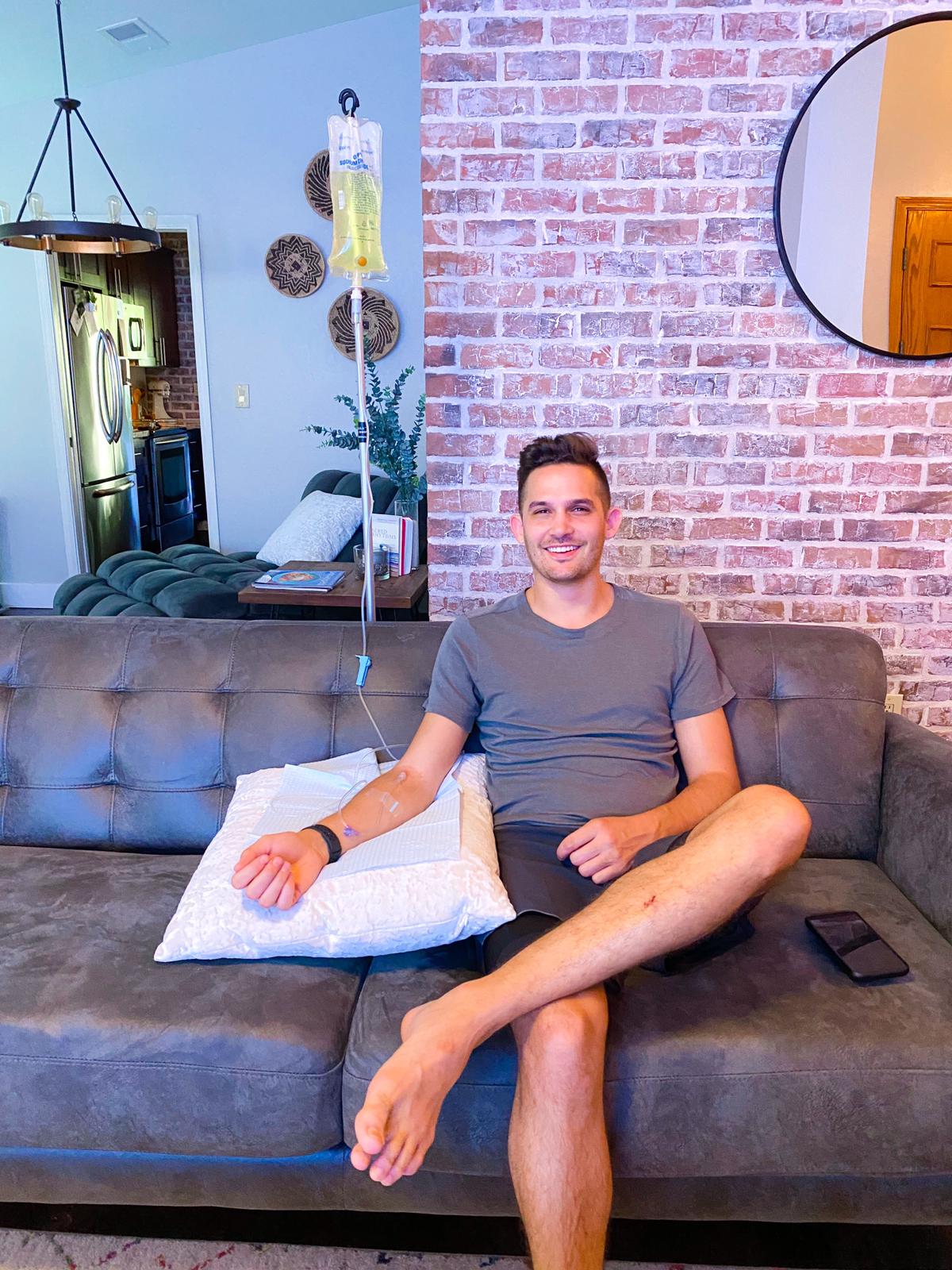 IVs are versatile and can treat many health concerns. Our Dallas IV therapy patients rely on infusions for rapid hydration that's delivered straight to the bloodstream. We use IV fluids with premium-quality vitamins, minerals, and electrolytes for the best results.
IV therapy helps with severe dehydration and conditions where dehydration is an issue, such as hangovers, colds, flus, and other illnesses. It's also vital for replacing fluids lost from food poisoning or nausea. 
Plus, IVs are beneficial when your body undergoes an intense endurance activity, such as before a marathon or during recovery from a strenuous workout. The therapy may also provide immediate relief for health conditions, such as migraines, and supply an energy boost if you suffer from chronic fatigue. Although you don't need to be sick to experience the benefits of IV therapy, many people schedule regular sessions as part of their overall wellness maintenance regimen.
Our Dallas mobile IV therapy service brings quick relief to you. Our healthcare providers will take your health history and conduct an assessment of your current health condition. They help you determine the best type of IV therapy for your needs. If you're suffering from nausea, for instance, you can add specific medications to your IV to help calm your stomach. The popular IV Therapy is the Myers' Cocktail. Typical sessions run about 45 to 60 minutes and our healthcare professionals monitor patients throughout the process. 
IV therapy can help alleviate the symptoms associated with!
How to Book a Mobile IV in Dallas TX
If you're looking to take your health to the next level, IV therapy from Lone Star IV Medics is a great place to start. We offer services in Dallas and several other cities throughout Texas, so there's always a team nearby ready to come to you. 
Whether you're nursing a hangover, fighting a cold, or simply feeling tired, Lone Star IV Medics can help get you back on your feet and feeling better than ever. Contact us today to book your appointment for mobile IV therapy in Dallas! 
Book Now!
Serving Dallas & all suburbs!
Open 8AM-8PM, 24/7 Service Typically Available
How Much Does Mobile IV Therapy Cost in Dallas, TX?
Lone Star IV Medics believes that everyone deserves to feel healthy and strong. We offer several pricing packages, starting as low as $100. With all our IV therapy options, you can always find a vitamin infusion. 
Don't see the specific blend you need? We also offer several vitamin add-ins starting at $25 each. You can easily add extra saline, vitamin C, magnesium, or other nutrients to our ready-made cocktails and build the IV infusion that's just right for you! 
Mobile IV Therapy FAQs in Dallas, TX
1
Who is able to give IV therapy in Texas?
Though IV therapy in Dallas is incredibly safe, we still believe it should always be given by a medical professional. That's why our team is made up of healthcare providers. Our team has a lot of experience giving IVs and knows exactly how to make the procedure as efficient and successful as possible. Don't trust your health to just anyone. Make sure you receive your IV vitamin therapy in Dallas, TX, from a knowledgeable professional.
2
Can I get IV vitamin therapy at home?
In Texas, you can receive IV therapy at home. In fact, mobile IV therapy in Dallas is the heart of our business. We know that when you're feeling sick, the last thing you want to do is drive to a medical office and spend time in a waiting room before getting relief. That's why our team of healthcare providers can come to your home. Many of our clients feel much better about receiving IV therapy in the privacy and comfort of their homes. Want to get your vitamin infusion in Dallas or somewhere else? We can also visit you at your office, hotel room, or another location of your choosing as long as it is in our service area.
3
How much do IVs usually cost?
The cost of your IV will depend in large on the ingredients in your IV cocktail. The more vitamins, minerals, and medications in your IV, the higher the cost. At Lone Star IV Medics, we source only the highest quality ingredients for our IVs. We also only hire licensed medical professionals to give IVs, which adds to our underlying costs. Our lowest cost offering is our Purely Saline Package for $100. As the name suggests, this IV is only saline. It can be a great option for customers who simply need fast rehydration or for customers who have a high amount of food allergies. Our lowest-cost IV that includes vitamins and minerals is our Bronze Package for $125. Overall, our IVs range from $100 to $395. Customers can also choose to add ingredients to their IV to customize their solution, which can add to the price of the IV.