Health is very important to the folks here in Austin, Texas. And at Lone Star IV Medics, we know that fitness is about much more than just exercising and eating well. You also need to stay hydrated — and we are here to help with that.
Our team offers mobile IV therapy in Austin and several other cities throughout Texas. With our help, you can get the nutrients you need to go from run-down and tired to feeling your very best.
Recover Fast With IV Therapy Austin, TX
The IV treatments at Lone Star IV Medics deliver vitamins, minerals, and other essential nutrients directly into your bloodstream, where your cells can absorb them quickly and more effectively. Before you know it, your body will have everything it needs to function at peak performance, and you'll feel healthier than ever!
Our patients use IV vitamin therapy in Austin, TX to treat symptoms of many health concerns. If you're fighting off a cold, struggling with morning sickness, nursing a hangover, or simply feeling tired from a long week at work, our rehydration treatments can help you manage those nasty symptoms.
But you can also use mobile IV therapy in Austin when you're already feeling healthy and strong. Athletes use our infusions to replenish lost fluids and bounce back from their toughest workouts. And when you have a big event coming up, an IV infusion can give you the all-natural energy boost you need to take your performance to the next level.
Best of all, you can address your worst symptoms and enjoy incredible health benefits — all while sitting in the comfort of your home.
When you schedule an appointment with Lone Star IV Medics, we'll send a professional team of healthcare providers to your home, office, or hotel. They will assess your health, administer your IV, and monitor you throughout the process (usually 30-45 minutes). All you have to do is sit back, relax, and enjoy the benefits of IV therapy in Austin.
Applications of IV Rehydration Therapy Near
Austin, TX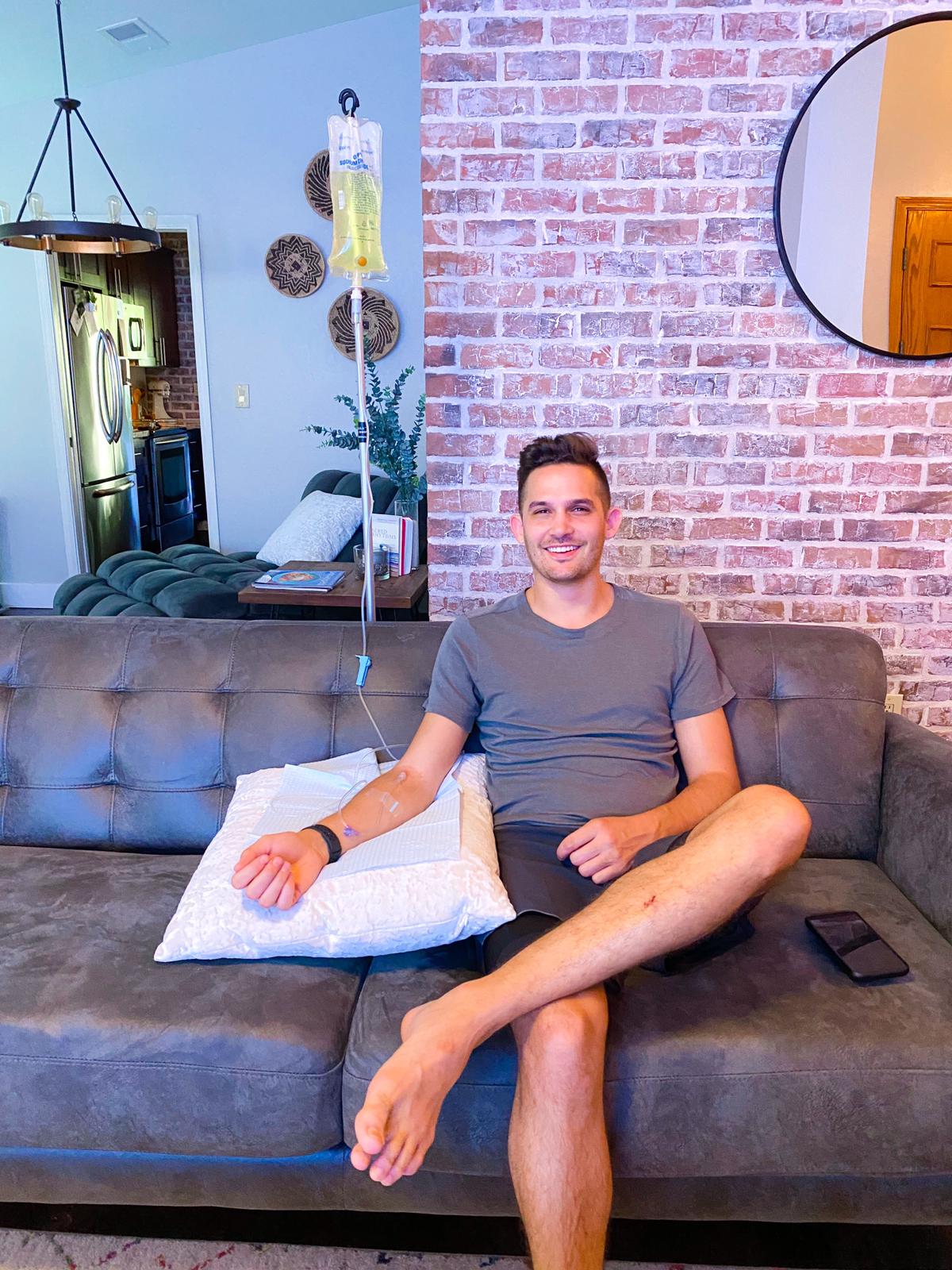 Need IV hydration in Austin? We've got you covered with a variety of drip IVs that address several health needs. 
IV therapy is very effective at combating dehydration. Dehydration is a common side effect of illnesses, food poisoning, hangovers, and chronic health conditions such as migraines. It's also easy to get dehydrated when you spend too much time in the hot sun or sweat a lot during intense workouts. Our vitamin-rich IVs replace these lost fluids for rapid symptom relief. 
IV therapy is so effective that some people make it part of their regular wellness routine. They may use a Myers' Cocktail IV for extra energy or the cutting-edge NAD+ supplement for its reported anti-aging benefits. When you work with Lone Star IV Medics, we go the extra mile to offer the best IVs in Austin, TX.
IV therapy can help alleviate symptoms associated with!
How Much Does Mobile IV Therapy Cost in Austin, TX?
At Lone Star IV Medics, we believe that everyone deserves excellent health. That's why we strive to create IV infusions with high-quality, hospital-grade ingredients and affordable pricing packages.
You can get an IV infusion in Austin for as low as $110, and additional vitamin add-ins start at $25 each. 
How to Book a Mobile IV in Austin, TX
Don't wait another minute to reap the benefits of rehydration infusions. Whether you're looking for IV therapy in Austin, Dallas, Corpus Christi, or anywhere else, Lone Star IV Medics has a team nearby and ready to help. 
Do you have questions about our mobile IV therapy? Contact us to learn more. And if you want to take your health to the next level, schedule your appointment online today.
Book Now!
Serving Austin & all suburbs!
Open 8AM-8PM, 24/7 Service Typically Available
Austin Mobile IV Therapy FAQs
1
Who can administer IV therapy in Texas?
At Lone Star IV Medics, we only allow medical professionals to provide IV vitamin therapy in Austin. Our team is made up of healthcare providers. All of our team members have a lot of experience placing IVs and performing IV therapy. Even though IV therapy is very safe, it still requires the oversight of a medical professional.
2
Can IV infusions be done at home?
Yes, as long as you are working with a medical professional. At Lone Star IV Medics, we set ourselves apart by providing mobile IV therapy in Austin. Our team of healthcare providers can perform IV therapy at a customer's home, office, hotel, or other preferred location. Many of our customers appreciate getting an IV in the comfort and privacy of their homes. It also saves them from having to travel when they may be feeling sick, hung over, or fatigued.
3
Are IV drips worth the money?
As IV therapy grows in popularity, a lot of curious people wonder if the treatment is worth the money. Honestly, the only person who can answer that question is you. In our experience, most of our clients report great results when receiving IV therapy in Austin. Many of them come back for additional IV vitamin infusions again and again. Some of our customers even receive regular IV therapy as part of their ongoing health routine.
Only you can decide if IV therapy is right for you. Your answer may depend on our budget, the severity of your symptoms, and your expectations for the therapy. If you are on a strict budget, have a fear of needles, or have unrealistic expectations of what IV therapy can do, you might not be a good candidate for the treatment. If you are curious about IV therapy, we suggest asking friends or family who have had it about their experience. You can also read our customer testimonials. Or, you can try it out for yourself.