When you're in North Richland, TX, there is always something exciting to do. You might spend your afternoon running from slide to slide at the water park, exploring the city's many parks and nature trails, or cooling off with an ice-cold beer from one of the local breweries. All that activity is sure to wear you out, though, and that's when it's time to call Lone Star IV Medics.
Our team specializes in mobile IV therapy in North Richland. We provide vitamin-rich IV drips that can help you replenish your body and recover from the negative effects of dehydration and low vitamin levels.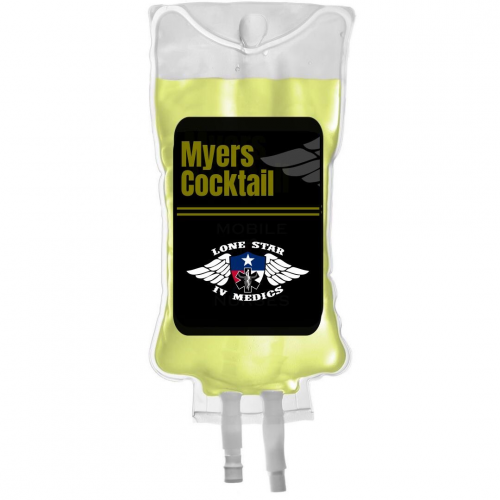 MYERS' COCKTAIL - $195
The most popular IV we offer in North Richland, TX is the Myers' Cocktail IV. This package is known for knocking out lingering symptoms of hangovers, illnesses and more. Our patients rave about the Myers' Cocktail, as it helps them beat their toughest migraines, nausea, and more.
Uses of IV Therapy
Near North Richland, TX
Recover Fast with IV Therapy in North Richland, TX
Your body needs water, vitamins, and minerals to function effectively. When you don't have enough, you become dehydrated, which can lead to migraines, nausea, fatigue, and many more uncomfortable symptoms. Once those symptoms start, you need relief ASAP!
IV vitamin therapy in North Richland, TX, can help you shake off those nasty symptoms. Our infusions send vital fluids and vitamins directly into your bloodstream, where the body can put them to work right away. This gives you faster and more powerful results than taking a vitamin supplement or drinking water (although we encourage you to do that, too) because your body doesn't have to digest the vitamins before they're absorbed.
Who can benefit from our IV treatments in North Richland? Just about everyone! We have helped patients recover from hangovers, headaches, morning sickness, constipation, and everything in between. We've even seen people use vitamin infusions in North Richland to help manage mood disorders like anxiety. Whatever has you feeling down, Lone Star IV Medics can help you feel on top of the world again!
IV therapy can help alleviate the symptoms associated with!
How much does mobile IV therapy cost in North Richland, TX?
Lone Star IV Medics knows that healthcare needs to be affordable if it's going to be accessible. That's why we offer different pricing packages for our IV therapy in North Richland. IVs range from $125 to $395, and vitamin add-ins start at $25 each. With so many options, it is easy to find a treatment that fits within your budget. 
And no matter which package you choose, Lone Star IV Medics will always give you an IV treatment packed with top-quality, medical-grade vitamins and minerals. Our infusions are designed to help you improve your health, and we want to give you nothing but the very best!
How to Book a Mobile IV in North Richland, TX
This year, make sure to rehydrate after your North Richland adventures. Lone Star IV Medics can help you recover quickly, so you can get back to enjoying life and feeling healthy, happy, and energized.
Contact our team if you want to learn more about our services or the locations we serve. Once you're ready to give IV therapy a try, check out our schedule online to book your appointment. Our teams are nearby and ready to help!