Do you want to feel better during an illness or feel your best every day? IV therapy improves your health and well-being at any time by supplying rehydrating fluids filled with vitamins, minerals, and electrolytes. In Terrell Hills, IV therapy is close at hand with Lone Star IV Medics' convenient mobile service.
Our drip IVs contain the finest, medical-grade ingredients for the best results. We have packages designed for symptom relief or to enhance athletic or anti-aging regimens. The goal is to revitalize and re-energize you for noticeable, positive change.
Experienced healthcare providers perform all infusions at Lone Star IV Medics. Their work is supported by the consulting guidance of a doctorally prepared pharmacist (Pharm.D.) and naturopathic doctor (N.D.) and medical direction from a board-certified physician (M.D. or D.O.). Every member of our team is committed to the highest standards of safety and patient care.
Applications of IV Rehydration Therapy Near
Terrell Hills, TX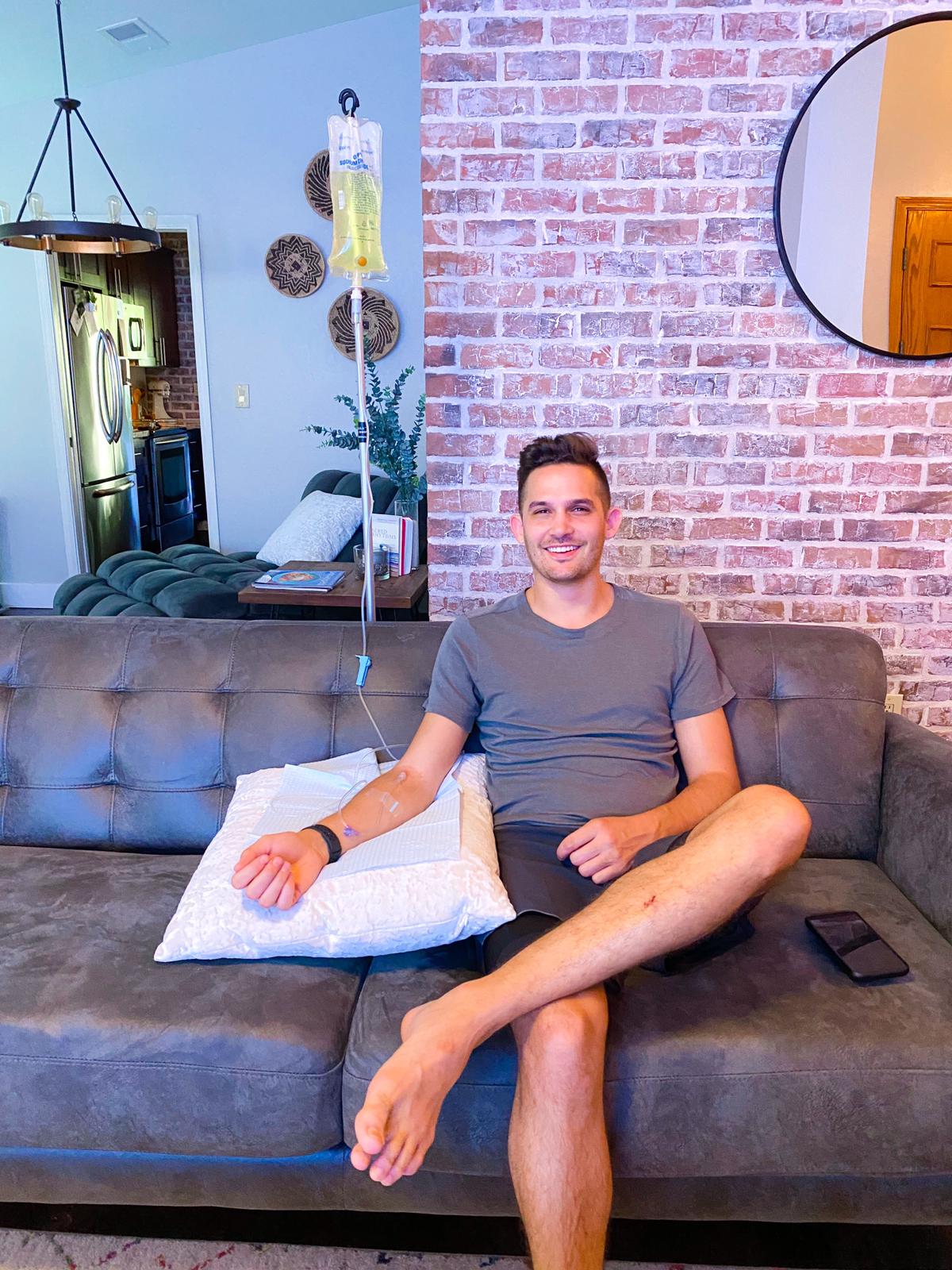 You won't find better mobile IV therapy in Terrell Hills. Our drip IVs are versatile and successful at treating many health conditions.
IVs target dehydration. This is a common side effect of illness, hangovers, morning sickness, excessive sweating during intense workouts, and chronic issues such as migraines. IV fluids curb dehydration, and they do it quickly—infusions into the bloodstream mean maximum absorption for the highest degree of effectiveness. You can also use IV treatment for regular wellness maintenance.
Lone Star IV Medics specializes in individualized IV therapy based on your health history and current symptoms. Try one of our specialized packages, choose the popular Myers' Cocktail, or create your own customized IV with supplements or medications. Book an appointment with Lone Star IV medics for outstanding mobile IV therapy in Terrell Hills.
IV therapy can help alleviate the symptoms associated with:
Experience Fast Hangover Relief With IV Therapy
From excessive thirst to dizziness and headache, experiencing a hangover is never fun. While you may have some home remedies to help relieve the symptoms, IV hangover therapy from Lone Star IV Medics is one of the best ways to get over a hangover fast. One of our most popular IV options for a hangover is the Myers' cocktail, which is a saline-based infusion treatment that includes numerous vitamins and minerals for hangover recovery, like:
Glutathione
Vitamin C
Vitamin B
Ease Your Food Poisoning Symptoms With IV Therapy
Whether you're experiencing stomach cramps, vomiting or nausea, the symptoms of food poisoning are an uncomfortable experience for anyone. With Lone Star IV medics, you can experience relief when your first symptoms occur, thanks to our IV treatments.
Our IV infusion in Terrell Hills, Texas, provides the body with fluid and nutrients to reduce the symptoms of food poisoning such as nausea. Since we deliver the vitamins directly to your bloodstream, it allows your body to feel better faster since you do not have to wait for your digestive system to process and spread these essential nutrients. 
Rehydrate Faster With IV Hydration in Terrell Hills
Dehydration can occur anytime for anyone, regardless of age and fitness level. Depending on the level of dehydration you experience, you may notice symptoms such as fatigue, dizziness and difficulty concentrating. Our IV therapy offers many benefits for treating dehydration, like rapid rehydration, faster nutrient absorption and increased energy levels.
Get IV Therapy to Reduce Symptoms of Morning Sickness
Morning sickness is a common symptom that can make the first few months of your pregnancy feel like the opposite of bliss. Luckily, Lone Star IV Medics can help you feel better throughout your pregnancy with IV therapy packages like Myers' cocktail. This saline solution contains a mixture of vitamins and nutrients to help replenish your body and help you get back to feeling your best faster.
Use Our IV Therapy for Migraine Headache 
Migraine headaches can be disruptive, painful and just plain annoying. With our migraine and headache IV therapy, you can get back to doing the activities you enjoy. After our team arrives at your home, we'll assess your symptoms before taking your vitals and recommend an IV drip most appropriate for your needs. For most patients, we recommend our Myers' Cocktail IV drip, which aids in reducing the most severe migraine symptoms. Some of the ingredients in the cocktail and optional add-ins are:
B complex and B12
Magnesium
Toradol
Zofran
How Much Does IV Therapy in Terrell Hills Cost?
IV therapy fits any budget with our affordable pricing packages. There are additional costs for add-on items and custom packages. Enjoy even more savings with our VIP program's exclusive specials, deals, and more. We're ready to help you reap the benefits of IV therapy.
How to Book a Mobile IV in Terrell Hills
We have locations throughout greater San Antonio and Texas to best serve our patients. Book an appointment with us for the best mobile IV therapy in Terrell Hills, TX.
Book Now!
Serving Terrell Hills and all suburbs!
Open 8 AM-8 PM