When you're feeling sick, sore, or simply run down, getting relief is all you can think about. You can try medicines, oils, pressure points, and more, but nothing seems to get rid of your symptoms as fast as you'd like. However, Lone Star IV Medics has a solution that might change everything for you: IV rehydration therapy. 
We use IV injections to put vitamins, minerals, electrolytes, and fluids directly into your bloodstream, replenishing your body and making you feel better almost instantly. And thanks to our mobile IV services, it's easier than ever to get IV therapy in Southlake, TX. You can enjoy the energy boost and health benefits of rehydration therapy without ever leaving your house.
Uses of IV Therapy
Near Southlake, TX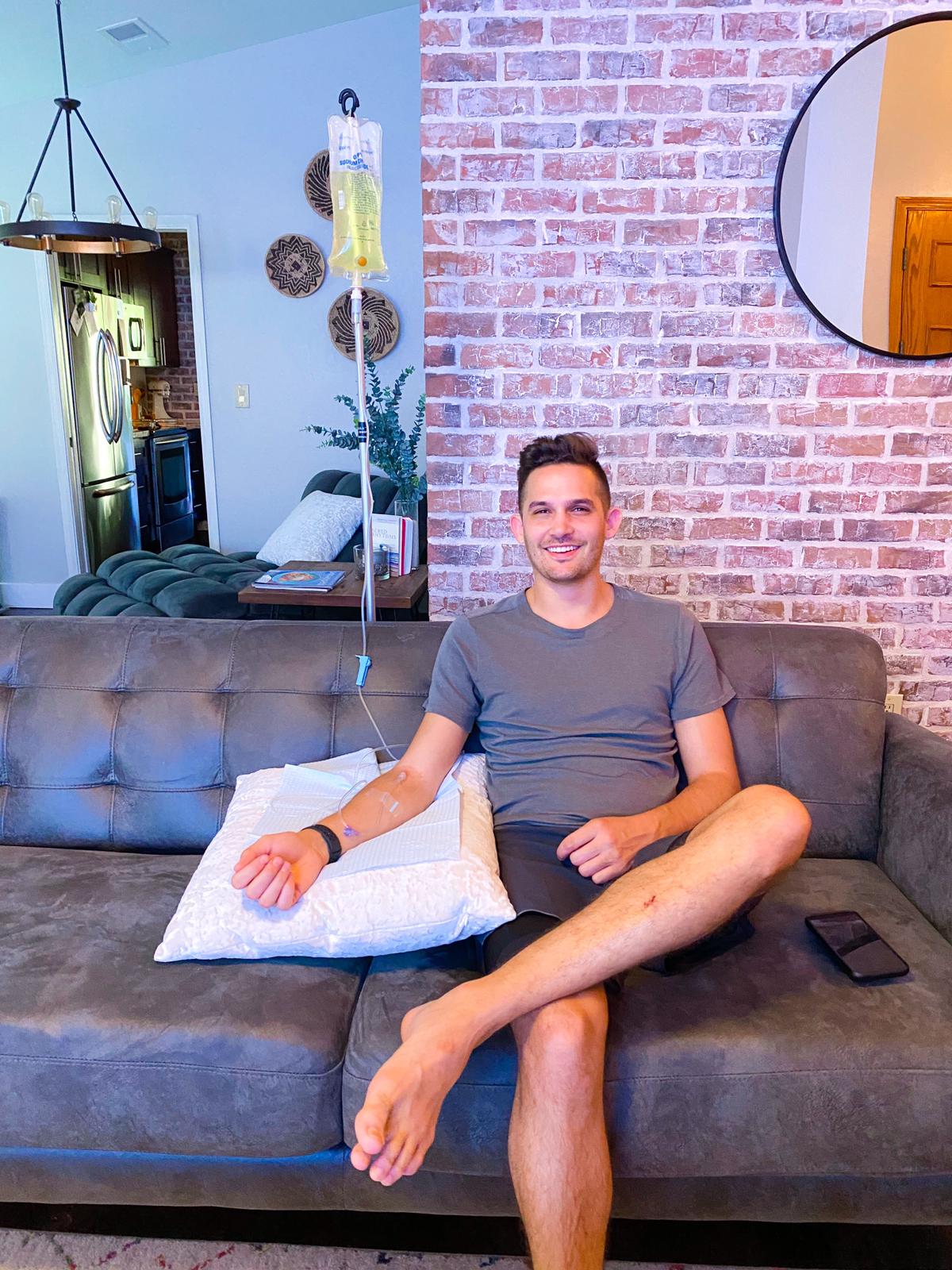 IV rehydration therapy is an innovative treatment that can help you manage a variety of health conditions. Struggling with morning sickness? We've got an IV for that. Are migraine headaches interfering with your daily routine? We can help. Even the worst hangover is no match for our IV solutions, so you can live it up Sunday night and still be ready for your Monday-morning meeting.
Many of our Southlake IV therapy patients even use our treatments to help them with strenuous exercise. An IV injection can help your muscles recover from a day of hard work, whether you were hitting the free weights or building a treehouse for the kids. You can even use IV therapy for an energy boost before your next athletic endeavor.
But how does it work? 
When you book a mobile IV therapy in Southlake, our team will come directly to your home, office, hotel, or wherever you feel most comfortable. We'll take a thorough health assessment to determine your needs that day and then help you find the ideal IV "cocktail" for you. Our healthcare providers will administer the IV and monitor you for the next 45 to 60  minutes. While you relax in the comfort of your own space, we'll ensure you get all the fluids you need to feel your best.
Is it safe? Yes! Lone Star IV Medics has earned a reputation for excellence thanks to our team of healthcare providers. They perform all of our infusions with a commitment to outstanding patient care, and their medical experience ensures the safest possible treatment. Our team also includes a doctorally prepared pharmacist (Pharm.D.) and naturopathic doctor (N.D.) offering consulting guidance and a board-certified physician (M.D. or D.O.) overseeing medical direction. Book an appointment with Lone Star IV Medics to experience the benefits of IV therapy.
IV therapy can help alleviate the symptoms associated with!
How Much Does Mobile IV Therapy in Southlake, TX, Cost?
Lone Star IV Medics wants rehydration therapy to be available to everyone. That is why we offer affordable pricing packages from $100 to $395, with add-on options starting at $25 each. No matter what your budget may be, there's an IV treatment that's accessible for you.
How to Book a Mobile IV in Southlake
We are proud to offer mobile IV therapy in many convenient locations all over Texas. Book an appointment at the nearest location and get ready to feel better and get faster relief than ever before. Also, be sure to check out our VIP list for exclusive offers you won't want to miss.
Book Now!
Serving Dallas/Fort Worth & all suburbs!
Open 8AM-8PM, 24/7 Service Typically Available
IV Therapy FAQs
1
Who can administer IV hydration in Texas?
In the Lone Star State, only certain medical professionals can be IV certified. These include healthcare providers (RNs), licensed vocational nurses (LVNs) . These professionals must be accredited by the appropriate accreditation body, which includes the Texas Board of Nursing or the Texas Medical Board. At Lone Star IV Medics, your safety is paramount. That's why we only hired licensed and qualified medical professionals to provide IV therapy in Southlake, TX.
2
Are IV drips worth the money?
If you are considering mobile IV therapy in Southlake, TX, you may be wondering, are IVs worth the money? We can't answer that question for you. Only you will be able to make that decision. What we can tell you is that the vast majority of our customers are happy with the results of their IV vitamin therapy. In fact, many of our customers come back to us again and again. When deciding if IV vitamin therapy in Southlake, TX is right for you, consider your health goals and your budget. IV therapy can help support your health in many ways. It can quickly rehydrate you, which can make you feel better during an illness or hangover or after a tough athletic event. It can boost your immune system, helping you to overcome a cold or flu. It can help you feel more energized and focused, which can make you more effective at work, in your hobbies, or just in everyday life. Your budget will play a big role in whether you find IV therapy worth the money. At Lone Star IV Medics, our vitamin infusions in Southlake, TX, can range in cost from $125 to $395, depending on the solution.
3
What can go wrong with IV therapy?
For the most part, IV therapy is incredibly safe, and negative outcomes are rare. However, in rare circumstances, you may experience an infection at the injection site or vein damage if the IV is not properly inserted. The best way to avoid a negative outcome from IV vitamin therapy in Southlake, TX, is to work with an experienced company that only uses fully licensed medical professionals to perform IV treatments. In other words, consider using Lone Star IV Medics.