The two most valuable things in your life are your time and your health. When you're feeling strong, alert, and energized, you can take on the world — and you have all the time to do it! 
But when you're sick, sluggish, or just tired, completing a task at work, doing the laundry, or even calling the doctor can be an exhausting (and long) endeavor. What's more, your poor health can take away the time you have to enjoy your life and your loved ones. The good news is that at Lone Star IV Medics, we want to help you get your health and your time back.
Our team of healthcare providers specialize in IV therapy in Seabrook and the surrounding areas. We can help replenish your body with essential vitamins, minerals, and medications to help you feel healthier than ever in less than an hour. With our help, you'll be feeling great in no time at all.
Recover Fast with IV Therapy Seabrook, TX
Lone Star IV Medics offers mobile IV therapy in Seabrook to help you recover from hangovers, muscle soreness, fatigue, and everything in between. Our IV treatments contain 1,000 cc of saline, as well as essential vitamins and minerals that can re-energize your body and help you reach peak performance. 
Struggling with morning sickness? A Myers' Cocktail with Zofran can bring you relief. Feeling under the weather? An Immune Plus IV has the vitamin C, zinc, and fluids you need to fight off that cold. No matter what ails you, IV vitamin therapy in Seabrook, TX, can help you get back on your feet.
And here's the best part: You don't even have to leave your living room! Our team will bring our mobile IV therapy right to your Seabrook home. We'll assess your health, administer the IV, and monitor you throughout the process to ensure that you're safe and comfortable. A typical infusion takes 30-45 minutes, and you can feel the health benefits almost instantly. 
Applications of IV Rehydration Therapy
Near Dallas, TX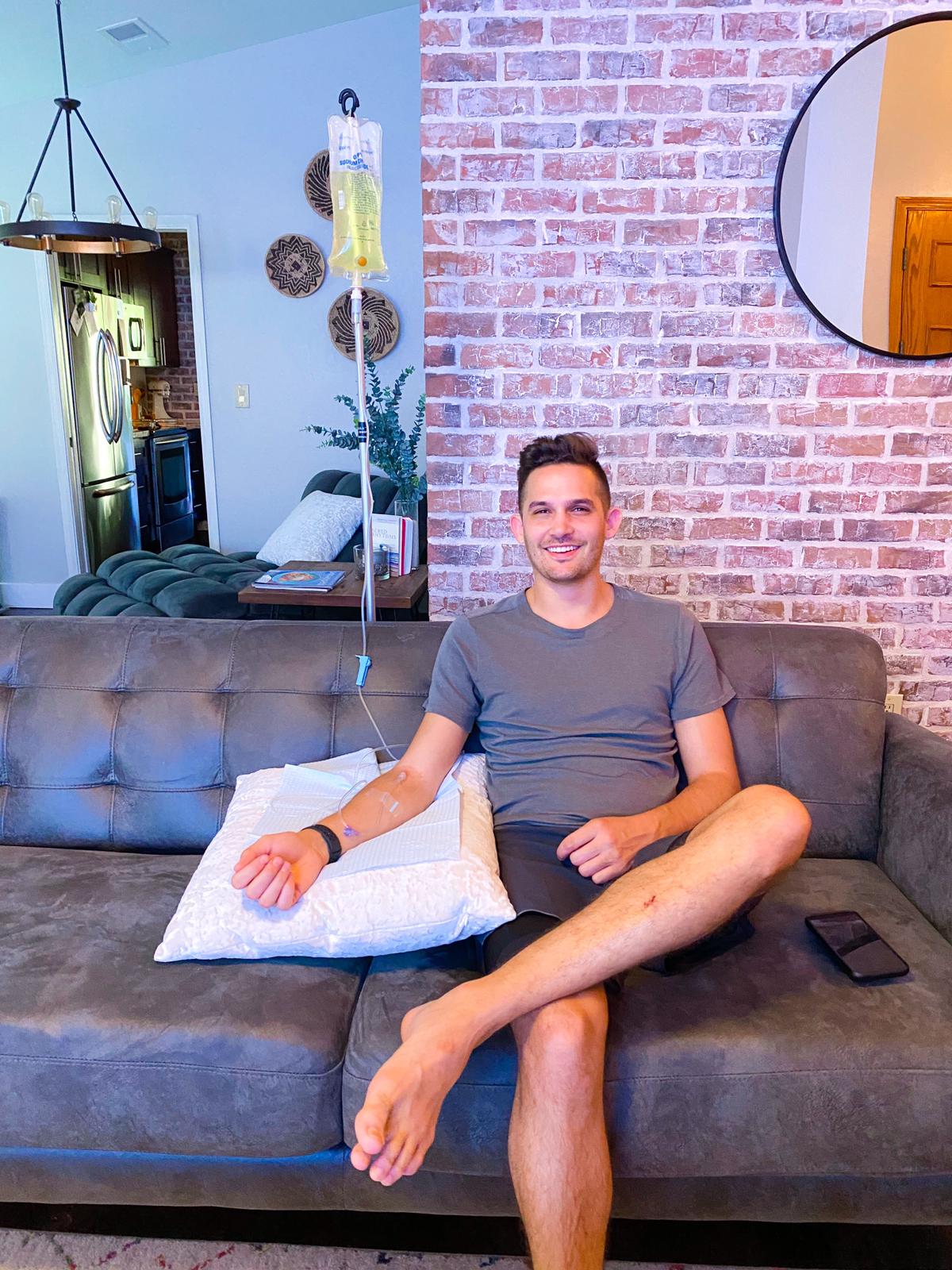 IV therapy can help alleviate the symptoms associated with!
How to Book a Mobile IV in Seabrook, TX
You deserve to be your healthiest self — and you deserve plenty of time to enjoy your health. Lone Star IV Medics can help you fuel your body with the stuff it needs to truly thrive.
Contact our team today to schedule an appointment to see the benefits of mobile IV therapy in Seabrook first-hand. We have teams ready to visit any of the locations we serve, so you can get fast and effective treatment ASAP. 
How Much Does Mobile IV Therapy Cost in Seabrook, TX?
Lone Star IV Medics offers a variety of IV therapy options, with pricing packages designed to meet any budget. An IV vitamin infusion in Seabrook starts at $110, and vitamin add-ins start at $25. You can choose from one of our ready-made cocktails or add ingredients to a saline bag a la carte until you get an IV treatment that meets your needs and fits within your budget.
Book Now!
This is the 1st item
This is the 2nd item
Serving Dallas & all suburbs!
Open 8AM-8PM, 24/7 Service Typically Available