We all know the feeling of the beginning of a cold: tired, run-down, and a little achy. And all too often it means you're in for a few days of feeling pretty rotten. But believe it or not, you can nip that cold in the bud — you just need some rapid hydration.
Lone Star IV Medics is the most trusted provider of mobile IV therapy in Schertz, TX. Our team of experienced healthcare providers can help you treat a variety of conditions with their high-quality, medical-grade IV infusions. We'll visit you in your home, office, hotel room, or any other location that's convenient for you.
Lone Star IV Medics has earned a reputation for excellence thanks to our team of healthcare providers. They perform all of our infusions with a commitment to outstanding patient care, and their medical experience ensures the safest possible treatment. Our team also includes a doctorally prepared pharmacist (Pharm.D.) and naturopathic doctor (N.D.) offering consulting guidance and a board-certified physician (M.D. or D.O.) overseeing medical direction. You can enjoy this innovative hydration treatment with total ease and comfort, and once you feel the results, you'll want to make IV therapy part of your regular wellness routine!
Uses of IV Therapy
Near Schertz, TX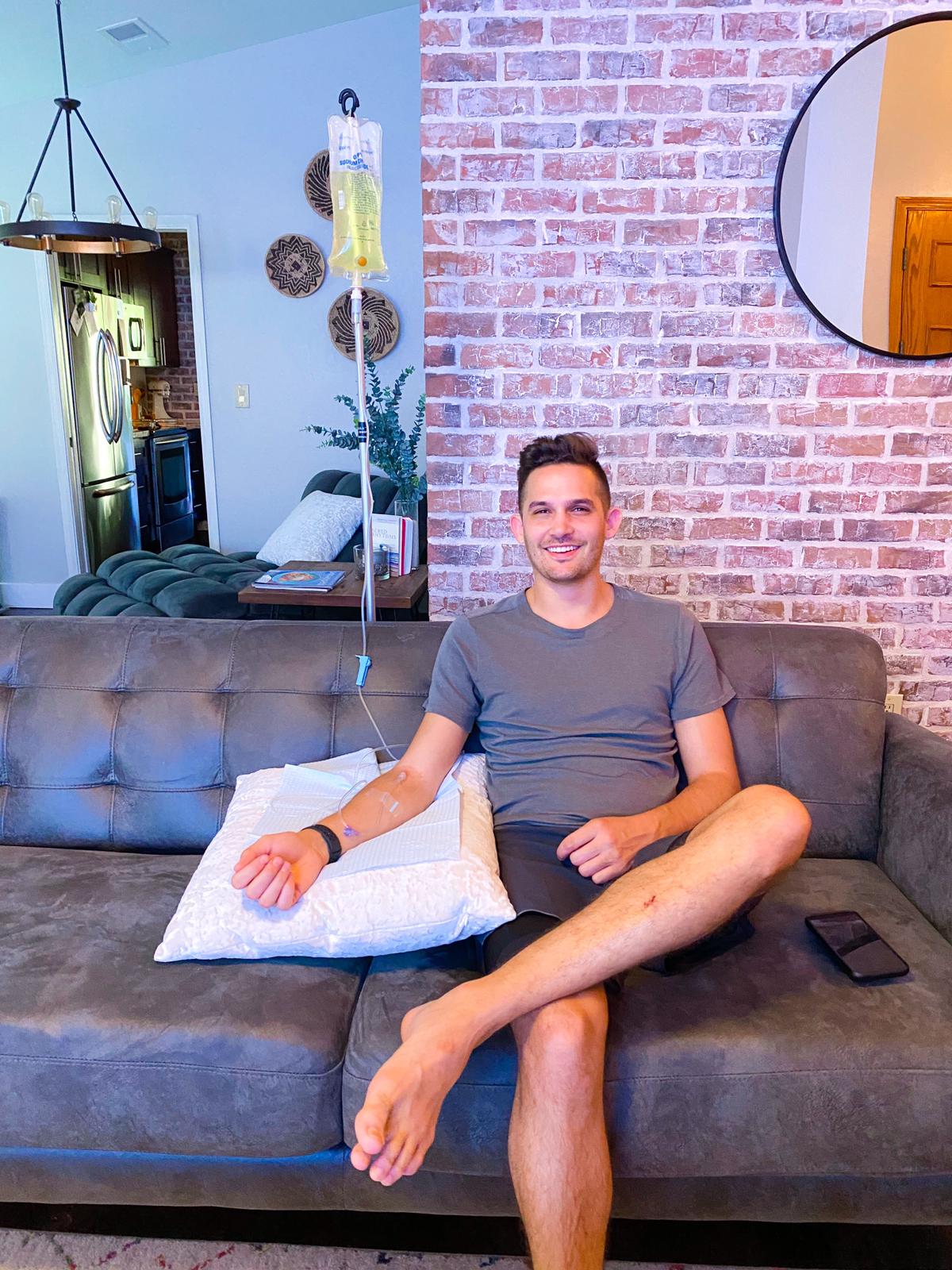 It's well known that our bodies are mostly water — around 60%, to be precise. With that in mind, it should be no surprise that dehydration is one culprit behind many uncomfortable conditions, such as colds and the flu, hangovers, migraines, and the list goes on. Hydrating can help relieve these conditions, getting you back on your feet feeling better than ever.
Hydration can even help you recover from muscle fatigue after a long workout. Our Schertz IV therapy patients rely on infusions to help them recover quickly after strenuous activity or give them an energy boost before an athletic event like a marathon or "Tough Mudder." It's an all-natural way to provide you with the vitamins and minerals you need to perform at your best!
However, typical hydration can often take too long. That's why Lone Star IV Medics offers IV therapy in Schertz and beyond. Our IV treatments deliver hydration and essential nutrients directly into your bloodstream, so you can reap the benefits right away. 
But how does the process work? It starts when Lone Star IV Medics arrives at your house. Our RNs will start by taking your medical history and conducting an assessment of your current condition. Then, we'll work with you to create the perfect custom "cocktail" of vitamins, minerals, and electrolytes — plus, of course, plenty of saline. The healthcare provider will administer the IV and monitor you for the next 30-45 minutes, while you relax. And just like that, the treatment is done, and you'll be feeling good as new.
IV therapy can help alleviate the symptoms associated with!
How Much Does Mobile IV Therapy in Schertz, TX, Cost?
Lone Star IV Medics knows that hydration is vital for a healthy, happy life. That's why we strive to provide mobile IV therapy at an affordable cost. Pricing packages range between $100 and $275, and add-ons start at just $25 each. It's easy to create a treatment that suits your budget.
How to Book a Mobile IV in Schertz
If you're feeling tired and run down, don't wait another minute to find relief. Contact us to book an appointment and get some rapid hydration in your system.

Don't forget to sign up for our VIP list, so you can receive news about sales, exclusives, and much more.
Book Now!
Serving San Antonio & all suburbs!
Open 8AM-8PM, 24/7 Service Typically Available