For many Americans, feeling less than our best is simply part of everyday life. Our busy schedules often have us constantly feeling fatigued, achy, foggy, and worn out. 
But what can you do if you're sick and tired of, well, being sick and tired? You might find a solution in a vitamin infusion. 
Lone Star IV Medics offers IV therapy in Sachse that can help you refuel your body with the essential fluids, vitamins, and minerals you need to feel and perform your best. Our IV treatments can rehydrate your system almost instantly and help support your overall health and wellness. 
Applications of IV Rehydration Therapy
Near Sachse, TX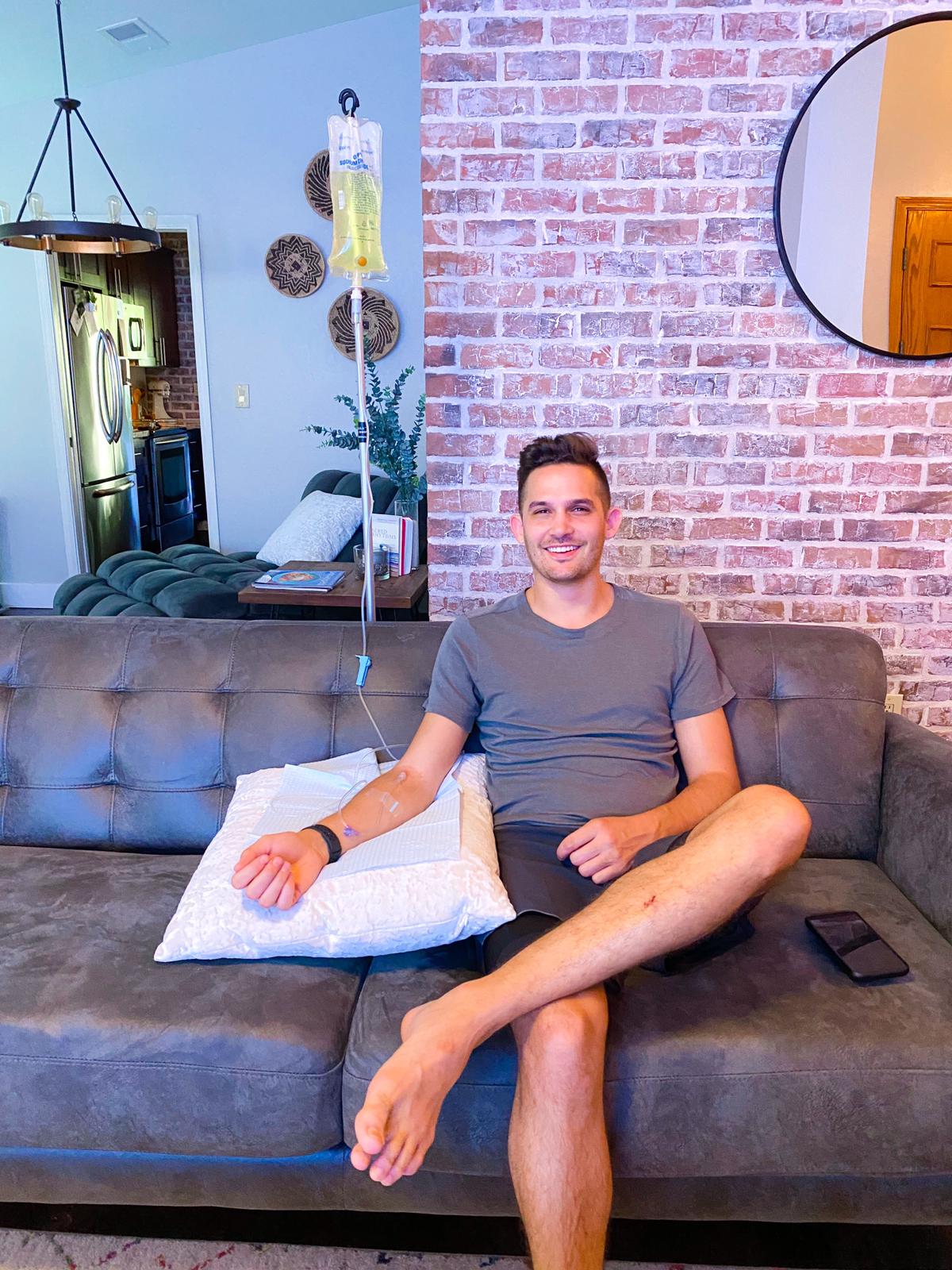 Recover Fast with IV Therapy in Sachse, TX
Our team includes healthcare providers who truly care about our patients' health. We know how hard it is to feel run down and sick, and we want to help you improve your health from the inside out! That's why we offer IV vitamin therapy in Sachse, TX, and all the other locations we serve in the Lone Star State.
How does it work? When you make an appointment for mobile IV therapy in Sachse, TX, Lone Star IV Medics will send a team directly to your home, office, hotel, or other location you request. We will assess your health and help you select an IV cocktail that will best target your unique symptoms and health goals. Then, we'll administer your IV while you sit back and relax. For the next 30-45 minutes, you will receive a potent blend of vitamins, minerals, and electrolytes that can replenish your body and help you recover.
We have seen patients use vitamin infusions in Sachse to manage symptoms associated with chronic migraines, morning sickness, hangovers, the common cold, and everything in between. Athletes use IVs to relieve sore muscles and stay hydrated. Patients add IV therapy to their diet and exercise routines for additional weight loss benefits. IV therapy can even help manage mood disorders like anxiety and depression! Whatever is keeping you down, Lone Star IV Medics can help you recover quickly in the comfort of your home. 
IV therapy can help alleviate the symptoms associated with!
How Much Does Mobile IV Therapy Cost in Sachse, TX?
At Lone Star IV Medics, we know that good health is worth more than gold — but that doesn't mean it should break the bank. We offer several different pricing packages for our IV therapy in Sachse. These range from $125 to $395, and they are all made with high-quality, medical-grade ingredients. 
You can choose from one of our premade "cocktails" or use our add-on ingredients (which start at $25 each) to create your own custom infusion. Whatever you choose, it's easy to find an IV treatment that will help relieve your symptoms while still fitting into your budget. 
How to Book a Mobile IV in Sachse, TX
Feeling sick and tired doesn't have to be the norm. With IV therapy from Lone Star IV Medics, you can feel hydrated, healthy, and energized! Contact our team today to learn more, or check out our schedule online to make an appointment and experience IV therapy for yourself. 
Book Now!
Serving Sachse & all suburbs!
Open 8AM-8PM, 24/7 Service Typically Available