There are few things more challenging than doing your usual routine when you're not feeling well. It doesn't matter if you're suffering from a stomach bug, hangover, or just old fatigue — when you don't feel your best, you simply can't perform like you usually do. 
At Lone Star IV Medics, we want to help you get through anything life could throw at you. That means making sure that you are as healthy as possible! Our team offers IV therapy in Rockwall that can help you re-energize and replenish your body so that you can take on the world.
Applications of IV Rehydration Therapy
Near Rockwall, TX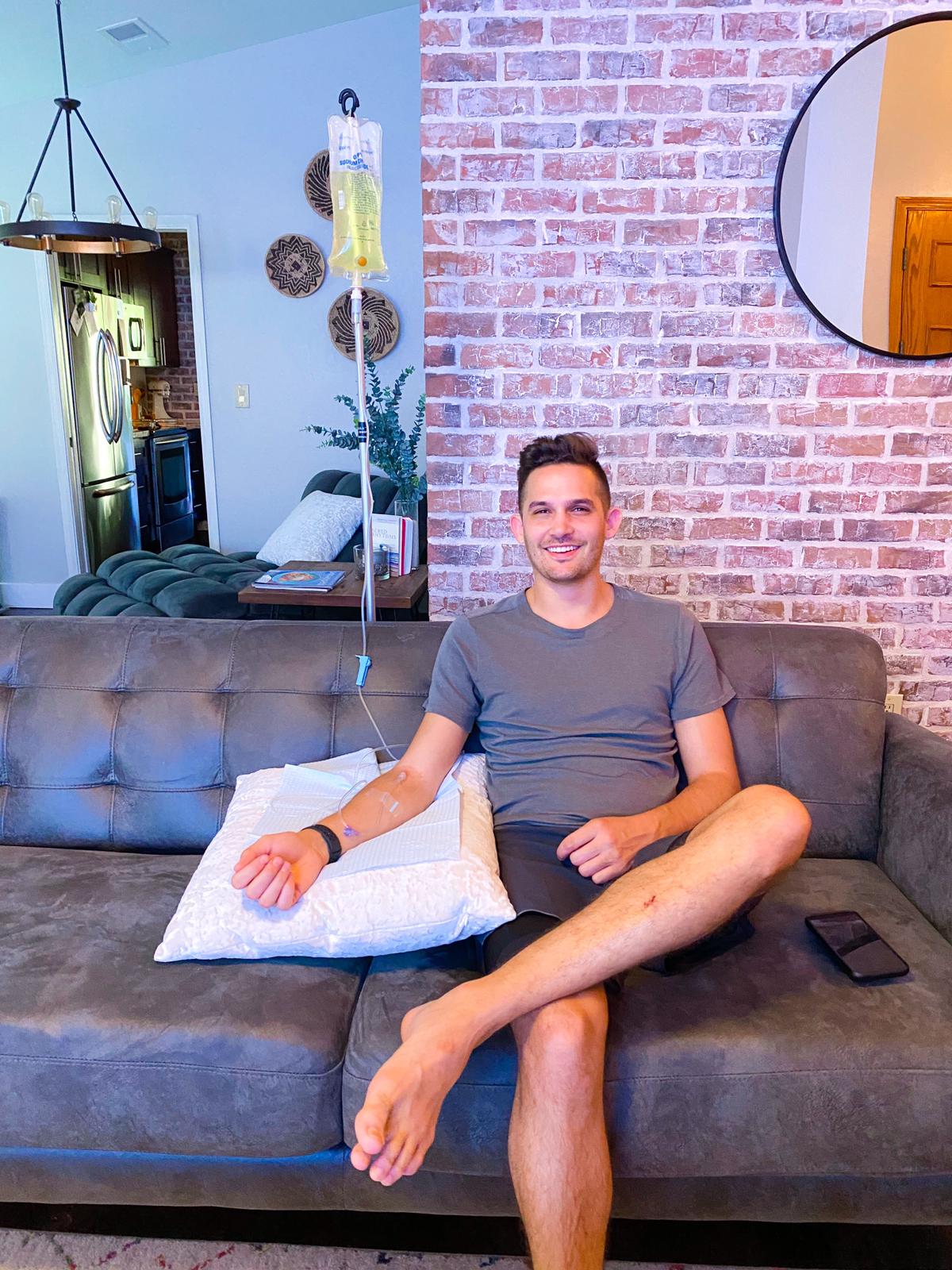 Recover Fast with IV Therapy in Rockwall, TX
Lone Star IV Medics is proud to be one of the most trusted providers of IV vitamin therapy in Rockwall, Texas. We focus on two things: quality ingredients and stellar service. Together, they can help you enhance your health quickly, comfortably, and conveniently.
Our patients use IV treatments to improve their health anytime dehydration is involved. These infusions help manage symptoms related to many conditions, from hangovers and food poisoning to colds and flu, morning sickness, chronic migraines, and more. 
You can even get vitamin infusion in Rockwall when you're feeling just fine! Some of our patients use IV therapy in Rockwall to help them recover more quickly from strenuous workouts or athletic events. You can even incorporate IV therapy into your normal wellness routine to ensure that you stay hydrated year-round. The fluids, vitamins, minerals, and electrolytes in our treatments can benefit just about anyone.
And here's the best part: We offer mobile IV therapy in Rockwell, TX! This means that you can get medical-grade IV treatments without having to drive to a hospital or even leave your couch. Lone Star IV Medics will send a team of healthcare providers to you, so you can get the vitamins you need to feel your best ASAP.
IV therapy can help alleviate the symptoms associated with!
How Much Does Mobile IV Therapy Cost in Rockwall, TX?
We understand that for many people, the cost can be a defining factor in their health and wellness routine. That's why Lone Star IV Medics offers several pricing packages, which range from $100 to $395. No matter which cocktail you choose, you are sure to get a high-quality treatment that can help enhance your health.
What if you want to customize your IV? Not a problem; we offer several a la carte ingredients that you can add to any infusion. With so many options, it's easy to create an IV treatment that meets your needs without costing an arm and a leg.
How to Book a Mobile IV in Rockwall, TX
Don't let dehydration, illness, or fatigue keep you from performing your best every day. Contact Lone Star IV Medics and learn more about our team and the locations we serve. We likely have a team near you, and you can check out our schedule online to make an appointment for your own IV therapy.
Book Now!
Serving Rockwall & all suburbs!
Open 8AM-8PM, 24/7 Service Typically Available
IV Therapy FAQs
1
Who can administer IV hydration therapy in Texas?
Only licensed medical providers can give you IV therapy in Rockwell, TX. These specialists are typically healthcare providers (RNs), licensed vocational nurses (LVNs) or certified healthcare providers who have been accredited by the appropriate accrediting body. In Texas, these accrediting bodies include the Texas Board of Nurses as well as the Texas Medical Board. At Lone Star IV Medics, we only hire qualified, accredited, and licensed medical professionals to give IVs to our customers.
2
Are IV drips worth the money?
This is a very personal question and will depend on your health concerns, your unique IV therapy results, and your budget. To start, mobile IV therapy in Rockwall, TX, does cost money. If you seek IV therapy with Lone Star IV Medics, you can expect to pay $100 to $395 for your IV treatment depending on the specific IV vitamin therapy you choose. For some individuals, that represents a lot of money. However, many of our customers are very satisfied with their results and come back for IVs time and time again. That's because IV therapy can Provide fast and effective rehydration after a hangover or tough workout Help relieve symptoms of colds, cases of flu, and food poisoning Help you get over jet lag and general fatigue Make you feel more focused and energized For many, these results make IV drips worth the money.
3
What should you not do before IV therapy?
There are several things you should avoid before your IV therapy session to give the procedure the highest chance of success. Don't fast. Eating regularly before your IV vitamin infusion in Rockwall, TX, will help stabilize your blood sugar. Avoid being sedentary. By moving around and walking, you'll get your blood flowing, which can help your veins be more accessible. Don't avoid water and other hydrating fluids. Though it can be difficult to drink if you are feeling nauseous or throwing up, do your best. Drinking fluids can help plump your veins, making them easier for the IV medic to find.