When you're sick, your to-do list basically goes out the window. Let's face it; no one wants to go to work, clean the house, or shop for groceries when they don't feel well. But unfortunately, life doesn't stop every time you don't feel well — and that means you need to find a way to feel better quickly. 
At Lone Star IV Medics, we have just the thing: IV rehydration therapy. This incredible therapy will give your body everything it needs to feel great. In fact, patients who try our IV therapy in Prosper can feel more alert, minimize their sickness symptoms, and tackle their daily tasks with ease.
The Best 
IV Therapy in Prosper
, TX
You wouldn't use the cheapest dentist in town, right? So, don't just look for the cheapest IV therapy in Prosper, either. Instead, search for an IV therapy company with experience and a reputation for excellence. Check local reviews and ask your friends where they've gotten their IV therapy.
Chances are, you'll discover that Lone Star IV Medics is the best game in town. We only serve the Texas market, which means we understand the local regulatory landscape as well as the people and culture of Texas. We also make sure to use only the highest quality ingredients so our customers get the best results possible from their vitamin infusions in Prosper.
Why Choose Lone Star IV Medics in Prosper?
The last thing you want to do when you're feeling bad is get in a car and drive to a doctor's office. One of the best things about Lone Star IV Medics is that we offer mobile IV therapy in Prosper. That means our IV specialist will come to you. Instead of waiting at a doctor's office to get relief, you can receive IV therapy in the privacy and comfort of your home, office, or other preferred location.
In many cases, our local specialists can be at your location within an hour of your appointment request. Fast treatment means fast relief! We also ensure that all of our team members are licensed and certified to perform IV therapy in Texas. You'll get expert treatment every time you request IV therapy with us. 
Uses of IV Therapy
Near Prosper, TX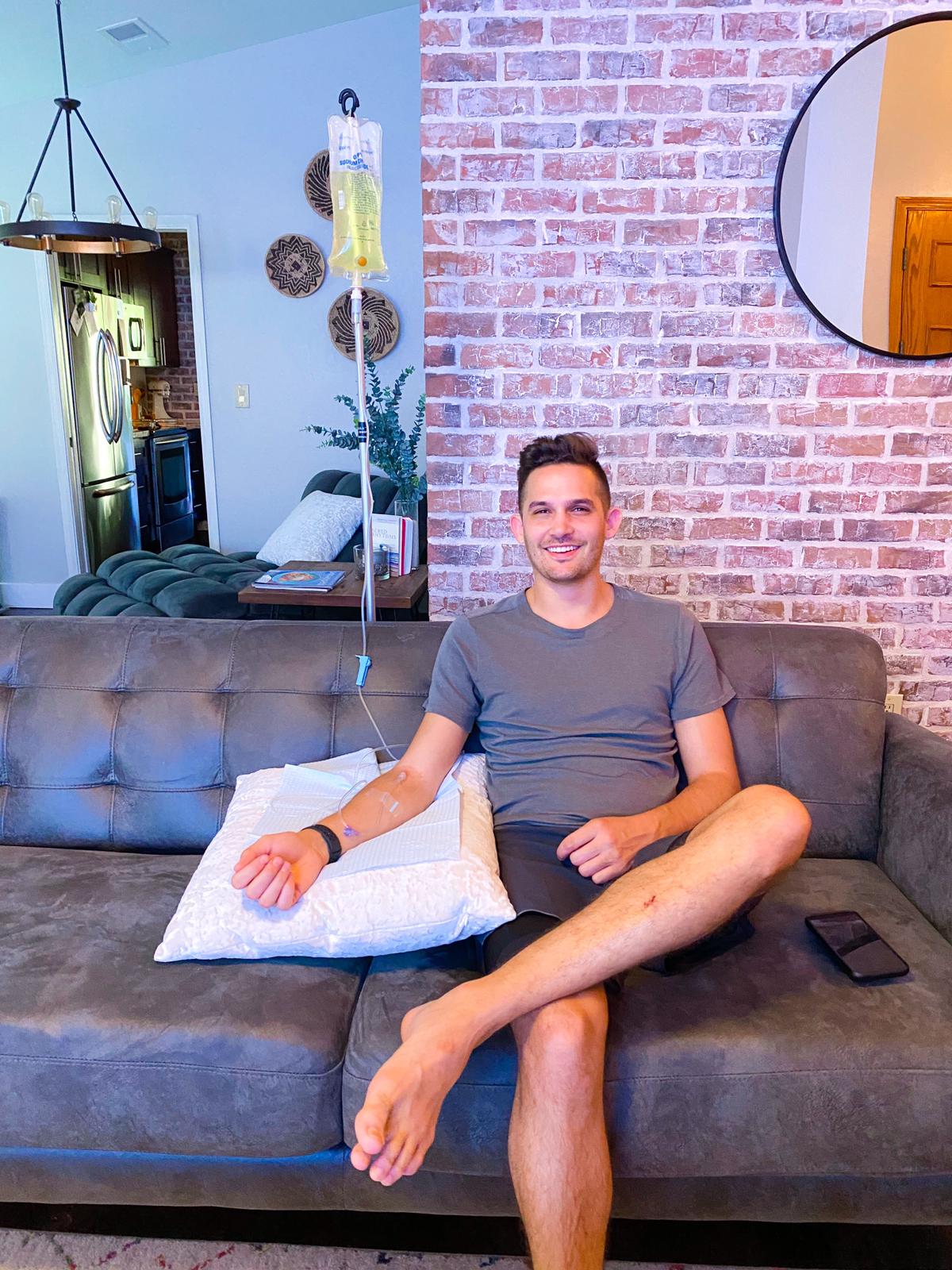 What does rehydration therapy do? This treatment uses IV infusions to send fluids, vitamins, minerals, and electrolytes directly into your bloodstream. It quickly replenishes your body, which can help relieve symptoms for many health conditions that cause dehydration. Whether you're fighting off the flu, soldiering on through morning sickness, nursing a nasty hangover, or simply looking for an energy boost before your next workout, IV therapy can help you feel better.
When you request a mobile IV therapy in Prosper, our team will come to your home, office, hotel, or any other location you request. Our healthcare providers will conduct a thorough health assessment to understand your symptoms and your goals for the therapy and use that information to find the perfect "cocktail" for you. Then, it's time for you to sit back and relax; for the next 30 to 45 minutes, your body will receive all the nutrients it needs to feel energized, healthy, and hydrated.
What makes our services different from the rest? That's easy: professionalism and experience. Lone Star IV Medics has earned a reputation for excellence thanks to our team of healthcare providers. They perform all of our infusions with a commitment to outstanding patient care, and their medical experience ensures the safest possible treatment. Our team also includes a doctorally prepared pharmacist (Pharm.D.) and naturopathic doctor (N.D.) offering consulting guidance and a board-certified physician (M.D. or D.O.) overseeing medical direction. Book an appointment with Lone Star IV Medics to experience the benefits of IV therapy for yourself. 
IV therapy can help alleviate the symptoms associated with!
How Much Does Mobile IV Therapy in Prosper, TX, Cost?
Mobile IV therapy can be expensive — but not with Lone Star IV Medics. We understand the value of these treatments, and we want everyone to benefit from them. That's why we affordably price our IV solutions between $100 and $395, with add-ons starting at just $25 each. No matter what your budget may be, you can create an IV treatment that benefits your body and won't break the bank. 
How to Book a Mobile IV in Prosper
Our team is proud to offer mobile IV therapy to Prosper, TX, as well as several other convenient locations around the state. To learn more or book your appointment, contact our team today. And if you want to learn more about the benefits we offer, be sure to check out our VIP list to hear about flash sales, exclusive offers, and more.
Book Now!
Serving Dallas/Fort Worth & all suburbs!
Open 8AM-8PM, 24/7 Service Typically Available
IV Therapy FAQs
1
What are people saying about IV hydration near Prosper, TX?
Check out all our great reviews to find out! Our customers love the ease and convenience of receiving mobile IV therapy in Prosper. They especially appreciate that our IV specialists come directly to their home or office. They also enjoy all our different IV options, from our affordable Bronze Package to The Rodeo, which will get almost anyone back on their feet. Most of all, our customers enjoy the results they receive from our IVs. Our clients report feeling more energized, more focused, and better overall after receiving our treatments.
2
How long does IV therapy take in Prosper?
It's a good idea to schedule an hour for the entire vitamin IV therapy in Prosper, TX. While the actual treatment will only take about 30 to 45 minutes, give your specialist time to set up. The IV specialist will also give you a short health history and medical assessment to make sure you are a good candidate for the treatment. In an hour or less, your treatment will be complete.
3
Who can administer IV hydration in Texas?
Texas only allows licensed medical professionals to perform IV therapy. Healthcare professionals must be licensed by the appropriate accreditation board, such as the Texas Medical Board. Typically, the people who usually perform IV therapy are registered nurses (RNs), and certified paramedics. At Lone Star Medics, we ensure that all our IV specialists are fully licensed and accredited to perform IV therapy.
4
What are the risks of IV therapy?
When performed by a licensed medical professional, IV therapy is generally very safe. That said, every medical intervention comes with some level of risk. With IV therapy, there is a small risk customers may experience an infection at the insertion site, vein damage, or a negative reaction to the IV ingredients. At Lone Star IV Medics, we do everything we can to keep the risk of a negative outcome as low as possible.