Are you feeling less than your best? Dehydration may be to blame, and Lone Star IV Medics may be the solution.
We offer mobile IV therapy in Port Arthur and other locations around Texas, helping you feel your best with essential fluids and nutrients.
The Best IV Therapy in Port Arthur, TX
If you're in Port Arthur, TX, you likely know the area is famous for Janis Joplin or its rich oil history and has become a paradise for birders, outdoorsmen, and fishermen alike. If you're looking for an adventure, you might rent a kayak at Sea Rim State Park or visit the city's gorgeous botanical gardens. Regardless of your interests, Port Arthur has plenty of historical, cultural, and outdoor activities to consider.
But after a long day spent enjoying what Port Arthur has to offer or indulging a bit too much in the city's well-known nightlife, you may consider replenishing your body with the best IV therapy in Port Arthur from Lone Star IV Medics. Our team can help you alleviate the symptoms associated with fatigue, hangover, or dehydration from too much time in the sun, all in the comfort of your own home or hotel room. If you're an athlete, mobile IV therapy can enhance your training routine and help you replace the fluids and nutrients lost during workouts.
Applications of IV Rehydration Therapy
Near Port Arthur, TX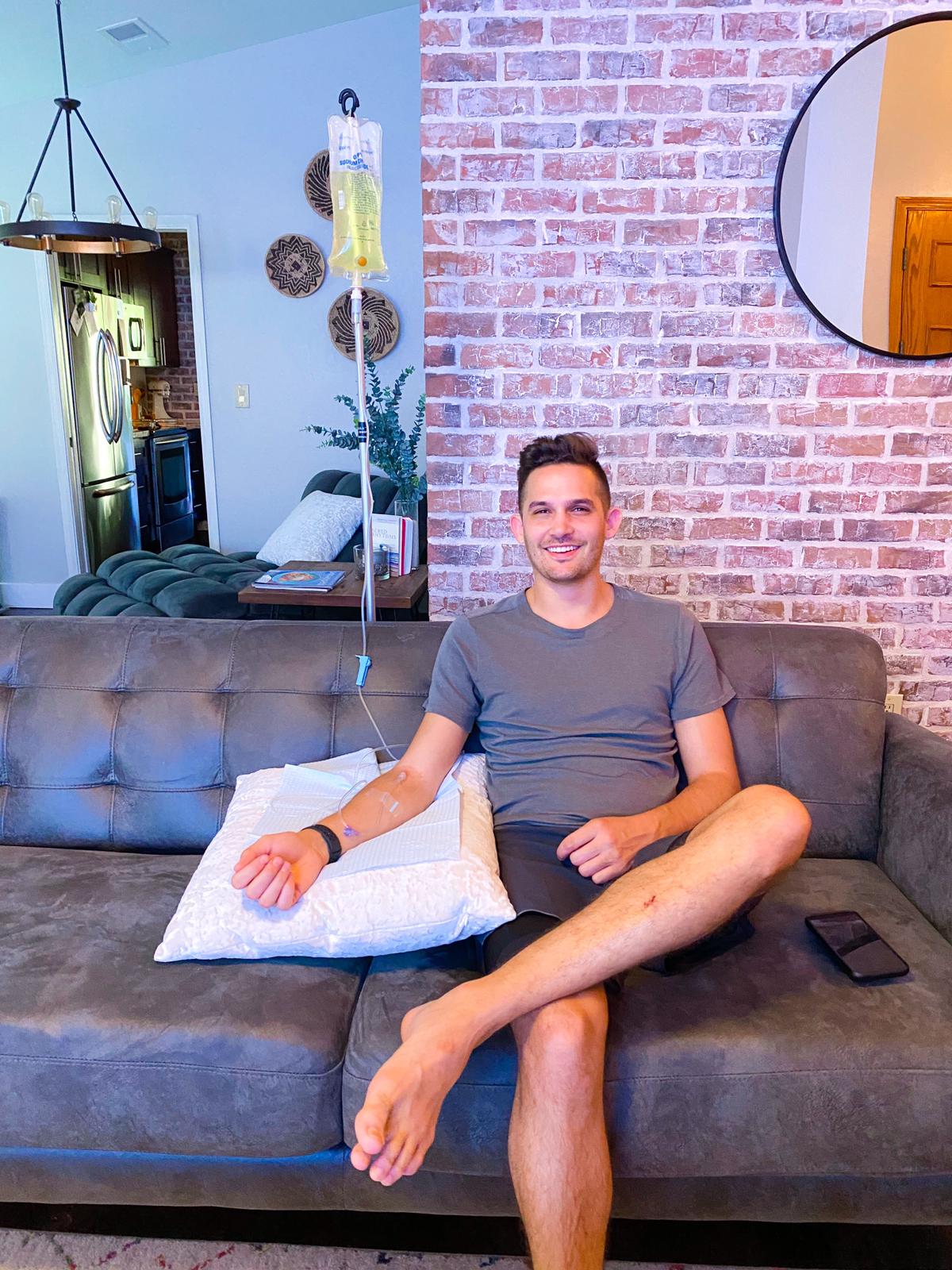 Our Port Arthur IV therapy patients use rehydration therapy to treat a variety of conditions. Our in-home infusions can help manage the symptoms of migraine headaches, muscle fatigue, the flu or common cold, and even hangovers and food poisoning.
Lone Star IV Medics has earned a reputation for excellence thanks to our team of healthcare providers. They perform all of our infusions with a commitment to outstanding patient care, and their medical experience ensures the safest possible treatment. Our team also includes a doctorally prepared pharmacist (Pharm.D.) and naturopathic doctor (N.D.) offering consulting guidance and a board-certified physician (M.D. or D.O.) overseeing medical direction. 
IV therapy can help alleviate the symptoms associated with:
Why Choose Lone Star IV Medics in Port Arthur 
Lone Star IV Medics in Port Arthur offers a team of healthcare providers second to none. Our professionals will answer all of your questions prior to infusion and monitor you carefully during the entire session. We also provide IV vitamin therapy in Port Arthur, TX. for those patients needing vitamin supplementation. Our treatments are both fast and affordable!
You can choose from a wide range of packages. Our most popular hydration package, the Myers' Cocktail, features six of our highest-impact vitamins, minerals, antioxidants, and hydration. Alternatively, our premium package, the Ultimate Myers' Cocktail, is full of antioxidants to knock out the toughest cold, flu, or hangover symptoms.
Athletes will appreciate our Performance Plus pre-or-post workout package. It features vitamin B complex, B12, Taurine, and NAD+, all of which may help bring your performance to the next level!
Become a member of our VIP program and stay abreast of our monthly specials, flash sales, events, and more! Many of our deals are VIP exclusive!
Our hospital-grade IV packages start at $100, with additional vitamin add-ins starting at $25. You can choose from any of our ready-made cocktails, like the Immune IV (ideal for fighting a cold or the flu) or NAD+ (known for its anti-aging potential). You can also create your own infusion that will treat your body and suit your budget.
How to Book a Mobile IV in Port Arthur
If you want to schedule mobile IV therapy in Port Arthur, contact Lone Star IV Medics today. Our team is ready to help you get hydrated so you feel good as new!
And if you want to receive more from your mobile IV, sign up for our VIP list. We'll send you exclusive offers, early news about sales, and more. 
Book Now!
Serving Port Arthur & all suburbs!
Open 8AM-8PM, 24/7 Service Typically Available
FAQs
1
What are people saying about IV hydration near South Port Arthur, TX? 
Anna said: "My healthcare provider made my whole IV therapy experience so comfortable! She answered all my questions and any concerns that I had. I'm always nervous with needles; however, she made sure I was calm and talked with me throughout the process. She would ask me if I was doing okay! She's the best! I highly recommend NAD+ IV Therapy."
2
How long does IV therapy take in Port Arthur? 
Mobile IV Therapy in Port Arthur is very convenient and fast! Expect your session of IV therapy in Port Arthur to last about 45 to 60 minutes. During that time, you can sit back and relax. Watch TV, read, listen to music, or enjoy light snacks and beverages. Because our mobile IV equipment is portable, you can even use the bathroom if necessary.