Padre Island is known for its leisure activities. Relaxing on the white sandy beaches, surfing, wakeboarding, and hitting up the nightlife are all part of the routine on the island. And we have to admit, it's all pretty amazing. 
But what do you do when all that Padre Island fun leaves you feeling less than your best? That's when it's time to call Lone Star IV Medics. 
Our team specializes in IV therapy on Padre Island and several other cities throughout Texas. We'll bring IV fluids, vitamins, and minerals directly to your door, so you can shake off that hangover or fatigue and get right back to enjoying the beach.
The Best IV Therapy in Padre Island, TX
Where your health is concerned, make sure you only choose the best IV vitamin therapy on Padre Island, TX. Work with a company that has an established reputation in Southern Texas and that provides the highest quality vitamin infusions on Padre Island. Your results will, in large part, depend on working with knowledgeable medical professionals who can help recommend the right IV cocktail for your symptoms and health goals.
We may be a little biased, but we think Lone Star IV Medics offers the best mobile IV therapy in Padre Island and the surrounding communities. 
Why Choose Lone Star IV Medics in Padre Island
What makes Lone Star IV Medics stand out from the competition? First, we deeply understand all the rules and regulations surrounding providing IV therapy in Texas. We ensure that all of our team members have the necessary licensing and approval to perform IV therapy in Texas. Our staff of registered nurses (RNS), licensed vocational nurses (LVN), and certified paramedics all have a considerable amount of experience in placing IVs and working with all types of customers.
Next, we offer mobile IV therapy in Padre Island. That means we come to you. When you aren't feeling your best, the last thing you want is to travel to a medical office and spend time in a waiting room. You don't have to do that when you use Lone Star IV Medics. Our team members can arrive at your home, your hotel room, your resort, or even your office to perform your IV treatment in the comfort and privacy of your space. 
Recover Fast with IV Therapy on Padre Island, TX
Our patients seek out mobile IV therapy on Padre Island to help manage many different conditions. 
Partied too hard last night? Our IV treatments can bid your hangover goodbye. Feeling sore after a day of wakeboarding? We can give your body the electrolytes and vitamins it needs to bounce back fast. No matter what ails you, we can help you recover quickly and feel good as new once again. 
How does it work? When you call Lone Star IV Medics, we'll send a team of healthcare providers to your home, office, or hotel room. Our professionals will assess your health and help you select an IV cocktail with the right stuff to treat your health needs. Then, they'll administer the IV and monitor you while those fluids, vitamins, supplements, and medications work their magic. The whole process takes only 45-60 minutes, and all you have to do is sit back and relax. 
And when you get IV vitamin therapy on Padre Island, TX, you can expect to feel results almost instantly. No matter what you're feeling — a hangover, a migraine, or dehydration — you can start feeling better in no time. With our help, you'll be ready to hit up the next activity before your infusion is even complete. 
Applications of IV Rehydration Therapy
Near Padre Island, TX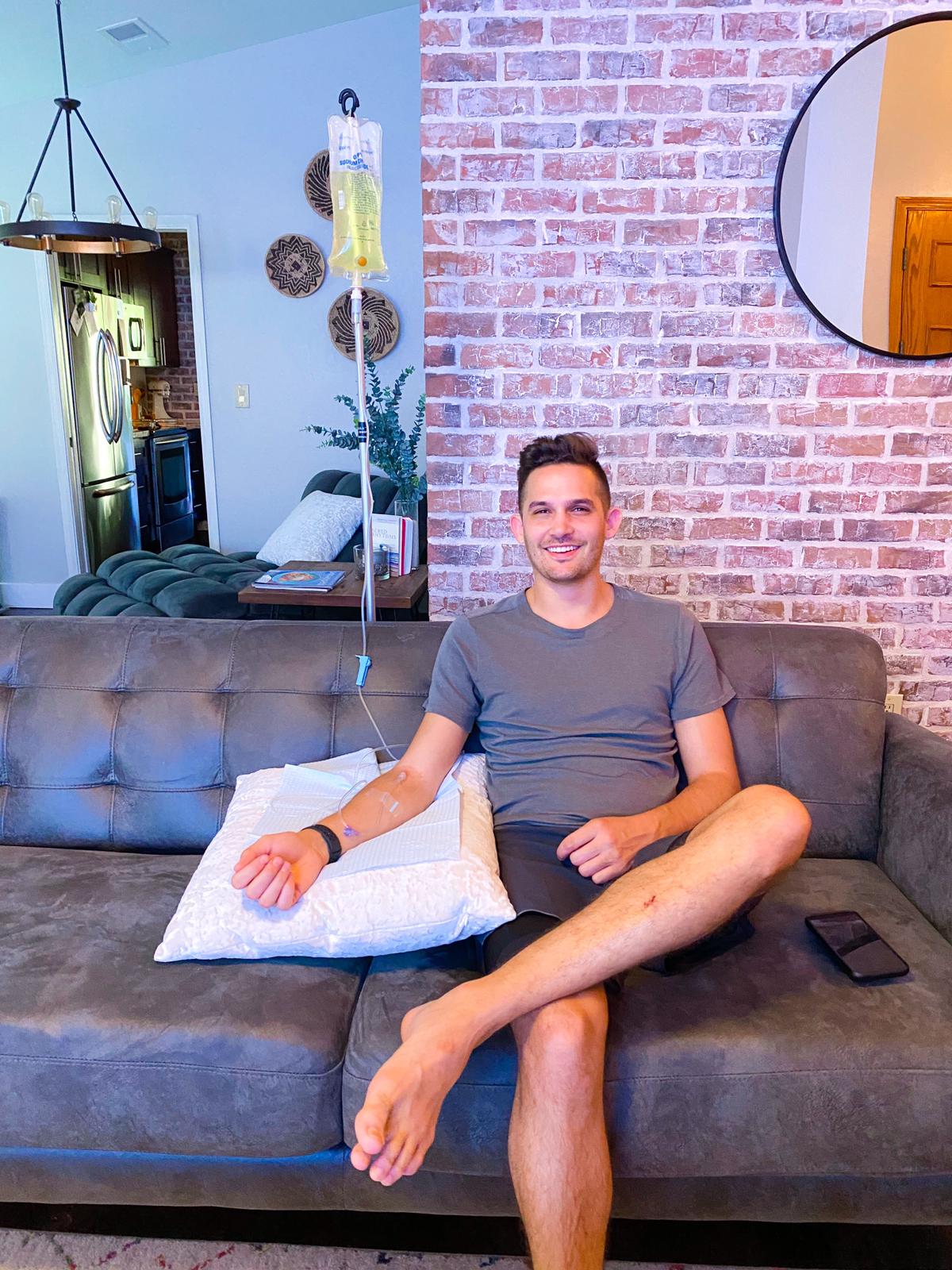 IV therapy can help alleviate the symptoms associated with!
The cost of IV therapy in Padre Island is dependent on the IV package and add-ins you choose for your treatment session. Our various IV packages range from $100 to $395. Our starter package for $100 is a basic saline solution, which can then be supplemented with a number of add-in ingredients starting at $25 each.
Our other IV packages range in price. For example, take our popular IV package, Myers' Cocktail. This IV cocktail contains a number of vitamins and minerals that help boost hydration and overall health, including vitamin C, vitamin B12, glutathione and more. This IV costs $195, while the Ultimate Myers' Cocktail, which contains much higher doses of vitamin C and glutathione, costs $295.
Check out our list of add-in ingredients starting at $25: 
Vitamin add-ins:
Magnesium
Vitamin C
Vitamin B Complex
Zinc
B12
Biotin
L Carnitine
Glutathione
Amino Acid Blend
Lipo Plus
Medication add-ins:
Benadryl (diphenhydramine)
Zofran (ondansetron)
Reglan (metoclopramide)
Toradol (ketorolac) $35
Pepcid (famotidine)
How to Book a Mobile IV Therapy in Padre Island, TX?
Come find out how easy it is to get mobile IV therapy in locations around Texas. We offer a quick, easy solution for IV medication treatment or vitamin infusion in Padre Island. To get started, use our easy online scheduling tool to book an appointment, or let us know your schedule when you give us a call. Regardless, we look forward to hearing from you with any questions, concerns, or ideas about what treatment you'd like to try.
Book Now!
Serving Padre Island & all suburbs!
Open 8AM-8PM, 24/7 Service Typically Available
IV Therapy FAQs
1
What are people saying about IV hydration near South Padre Island, TX?
Haven't you heard? People are loving IV therapy in South Padre Island. Visitors flock to South Padre Island to spend the day on warm, sandy beaches. All that playing in the sand and waves can lead to dehydration and fatigue, which is why so many visitors request a vitamin infusion on Padre Island. They also love the convenience of receiving mobile treatment. Instead of taking time out of their trip to drive to a clinic, customers can get IV treatment from their homes, hotel rooms, or workplaces. What's not to love?
2
How long does IV therapy take on Padre Island?
You can expect your entire IV therapy appointment to take around an hour. First, your IV provider will need to perform a short health history and medical exam to make sure you are a good candidate for the treatment. Next, they will answer any questions and may help you choose the right IV product if you would like a recommendation. The actual procedure will take anywhere from 45-60 minutes. After the treatment is complete, the provider will clean and bandage the area and provide follow-up care instructions. Then, you can go back to your day.
3
How soon can I get IV therapy in Padre Island?
How fast you can receive IV therapy will depend on a number of factors, including which IV service you use. At Lone Star IV Medics, we can often have an IV specialist to your location within an hour, though that might change depending on the time of day, the availability of our team members, and current demand.