Hydration is one of the keys to a healthy, happy life. When you're hydrated, your skin looks great, you feel more rested, and you simply feel better overall. But even though hydration is a quick and easy way to feel our best, many of us are not properly hydrated. In fact, as many as 75 percent of Americans are chronically dehydrated.
Lone Star IV Medics doesn't want you to suffer from dehydration. That's why we're proud to offer our innovative IV hydration treatment in cities all throughout Texas. IV therapy in New Braunfels is your ticket to looking and feeling better all the time. 
Lone Star is the most trusted provider of mobile IV therapy in New Braunfels and beyond. With a dynamic team of experienced healthcare providers, a pharmacist and naturopathic doctor on staff for consultation, and a board-certified physician providing medical direction, we provide a safe and easy IV experience — all from the comfort of your own home, office, or hotel.
Uses of IV Therapy
Near New Braunfels, TX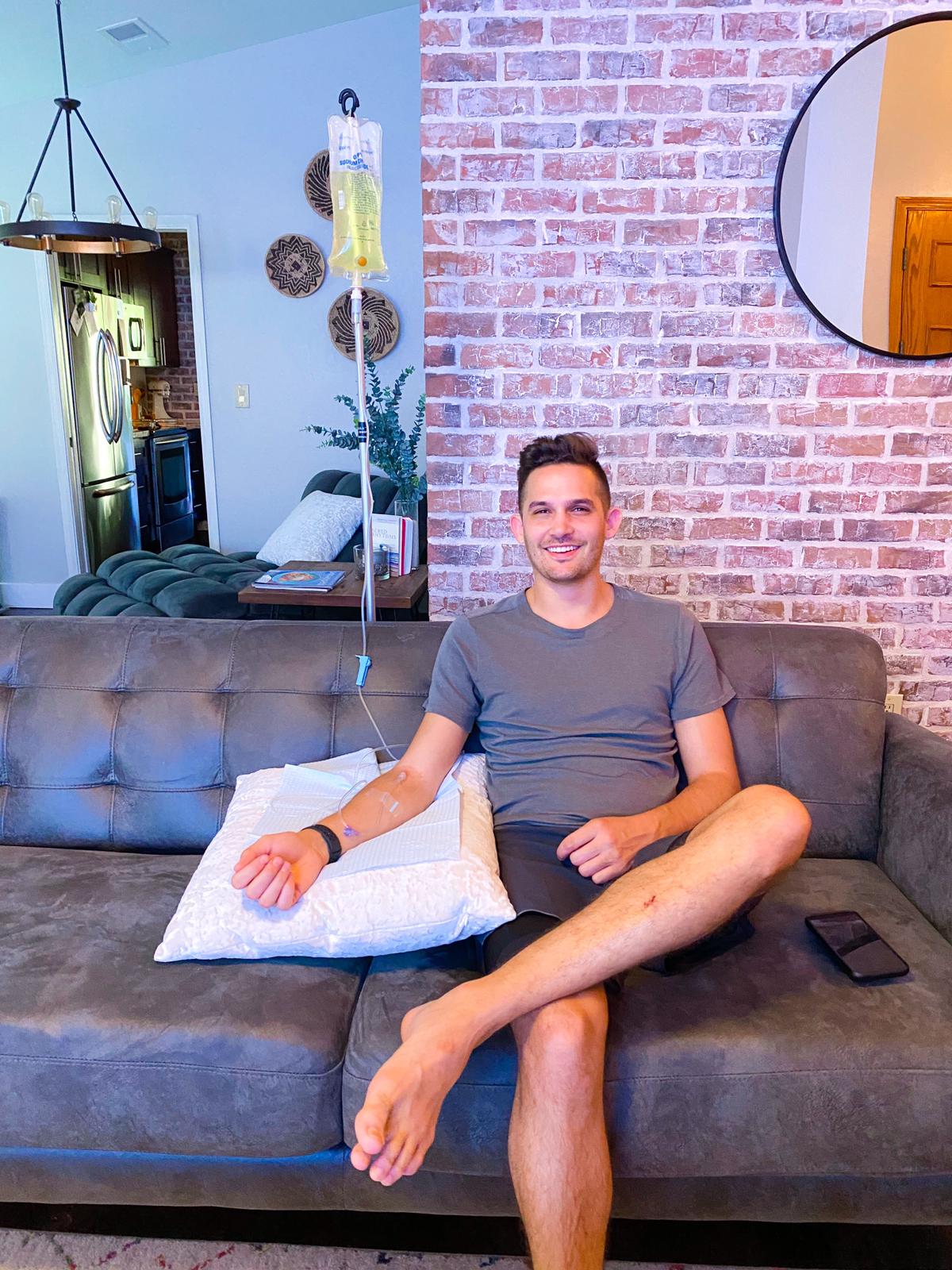 On its face, rehydration therapy is simple: Our RNs administer saline and a "cocktail" of essential vitamins, minerals, and electrolytes into your bloodstream. This gives your body a rapid boost of hydration and nutrients, making you feel healthier, more energized, and ready to take on the day. 
However, our New Braunfels IV therapy patients will tell you that rehydration therapy does much more than boost your energy. It can actually mitigate the symptoms of many conditions where dehydration is an issue. Our patients have used mobile IV therapy to alleviate migraines and nausea from food poisoning, morning sickness, and even hangovers.
And mobile IV therapy in New Braunfels isn't just for the moments you feel unwell. You can use these treatments to prepare your body for strenuous activities like running a marathon or help your muscles recover after a workout. This rapid hydration allows your body to restore itself more quickly, so you can get back to your daily activities. In fact, when IV treatments are part of your regular health and wellness routine, you just might find yourself feeling rejuvenated and more energetic every day.
How does the process work? With Lone Star IV Medics, getting mobile IV therapy couldn't be easier. When our team arrives at your house (or any location you choose), our professional team of healthcare providers perform all of our infusions with a commitment to outstanding patient care, and their medical experience ensures the safest possible treatment. Our team also includes a doctorally prepared pharmacist (Pharm.D.) and naturopathic doctor (N.D.) offering consulting guidance and a board-certified physician (M.D. or D.O.) overseeing medical direction. Book an appointment with Lone Star IV Medics to experience the benefits of IV therapy.
IV therapy can help alleviate the symptoms associated with!
How Much Does Mobile IV Therapy in New Braunfels, TX, Cost?
At Lone Star IV Medics, we know that many healthcare treatments can be too expensive for the average person. But not us. Pricing packages for our mobile IV therapy in New Braunfels, TX, range between $100 and $275, and vitamin add-ons start at only $25 each. Our services are designed so everyone can feel the benefits of IV rehydration — no matter their budget. 
How to Book a Mobile IV in New Braunfels
If you want to start feeling your best, contact Lone Star IV Medics to book an appointment for mobile IV therapy today. We can't wait to provide you with the hydration and nutrients you need.
Don't forget to sign up for our VIP list so you can gain access to exclusives, flash sales, and much more.
Book Now!
Serving San Antonio & all suburbs!
Open 8AM-8PM, 24/7 Service Typically Available