Let's be honest; no one has the time to get sick. We're all busy people! Between going to work, running errands, and spending time with family and friends, there's hardly any time to rest each day—let alone nurse a headache or stuffy nose. So when you DO wind up under the weather, you need relief that gives you fast results. 
Well, you're in luck: Lone Star IV Medics is here to help!
Our team of healthcare providers offers the best IV vitamin therapy in Murphy, TX. These treatments are chock-full of the fluids, vitamins, and minerals you need to relieve your symptoms and get back to your day ASAP.
Applications of IV Rehydration Therapy
Near Murphy, TX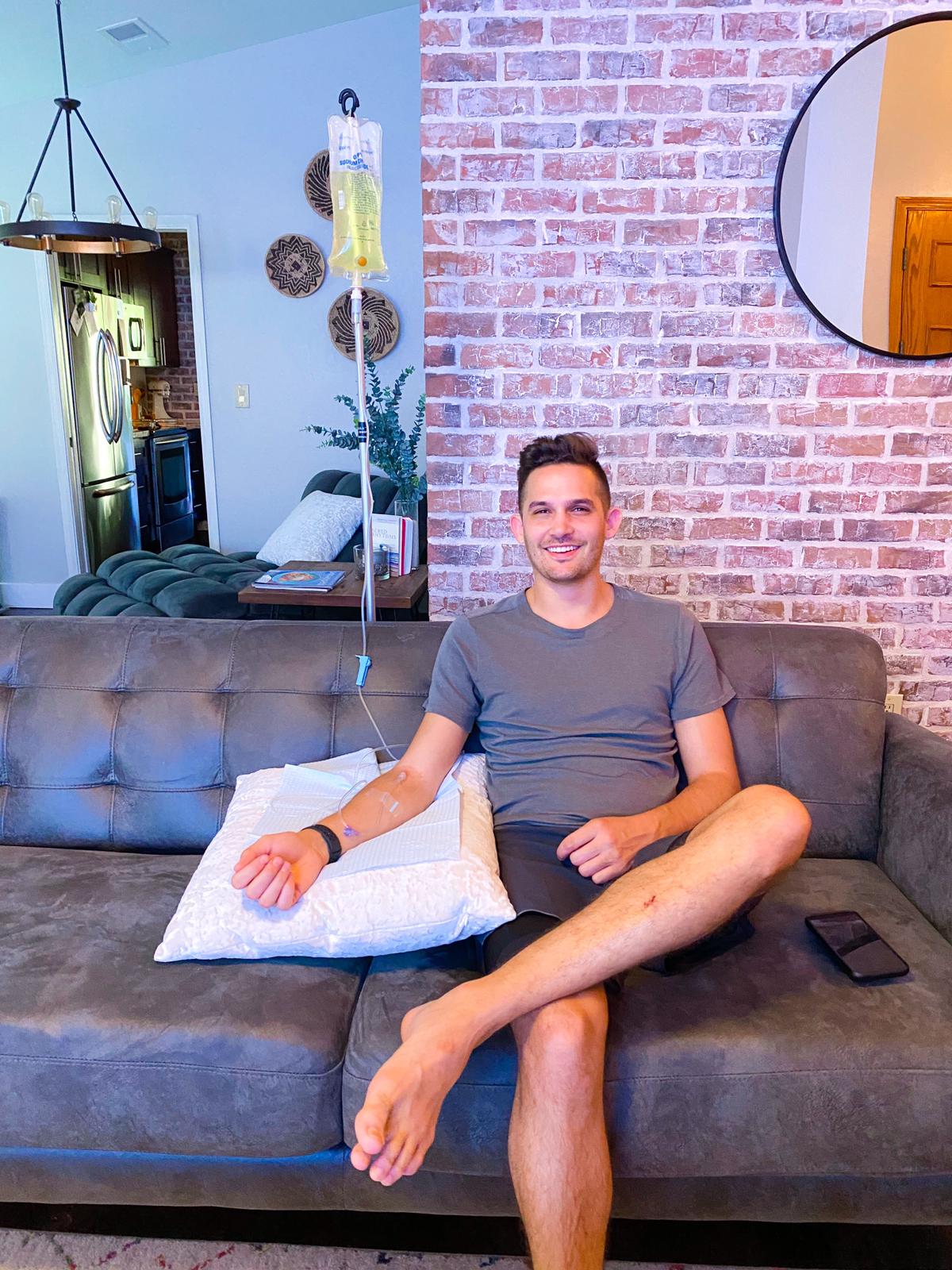 Recover Fast with IV Therapy in Murphy, TX
Lone Star IV Medics creates IV treatments in Murphy using high-quality, medical-grade ingredients. Then we send these powerful blends of vitamins, minerals, electrolytes, and medications directly into your bloodstream because your body can absorb them more quickly and in higher quantities than oral supplements. 
The result? Near-instant symptom relief and enhanced wellness right down to the cellular level!
You can use our vitamin infusions in Murphy to manage symptoms related to a wide variety of health conditions. We have seen patients use our IVs to find relief from: 
Morning sickness
The common cold
Constipation
Migraines
Hangovers
And a whole lot more!
You can even use IV therapy to enhance your health when you're already feeling great. Athletes use vitamin therapy to help reduce soreness and speed up recovery after tough workouts or events. Our IV treatments can help promote general wellness and even aid with weight loss. 
Best of all, you can reap the benefits of IV therapy in Murphy without even leaving your home! Lone Star IV Medics brings infusions to your home, office, or hotel, so you can recover in the comfort of your own space. 
No matter how you're feeling, mobile IV therapy in Murphy can help improve your health in a big way!
IV therapy can help alleviate the symptoms associated with!
How much does Mobile IV Therapy cost in Murphy, TX?
We understand that high costs often keep many people from investing in their health. That's why we offer several pricing packages for our IV treatments! Our IV cocktails range from $125 to $395, depending on which vitamins and minerals you need. We also offer pure saline for $100 for patients who want to rehydrate without any additional vitamins.
You can even create your own custom IV treatment by incorporating our vitamin add-ins. You can add ingredients like B12, zinc, and vitamins—as well as medication like Pepcid or Toradol—to any IV starting at just $25 each. With so many options, it's easy to find IV therapy in Murphy that benefits your health without breaking the bank. 
How to Book a Mobile IV in Murphy, TX
With mobile IV therapy from Lone Star IV Medics, you can say goodbye to the symptoms keeping you from living life to the fullest. Contact our team today to learn more about the locations we serve and check out our schedule online to make an appointment.
Book Now!
Serving Murphy & all suburbs!
Open 8AM-8PM, 24/7 Service Typically Available