Some days, it can feel like all you do is go, go, go. From the moment your alarm goes off until your head hits the pillow again, you're constantly juggling a long list of tasks and responsibilities. Between working, caring for your family, and everything else on your plate, it's easy for things like your health to fall by the wayside.
Lone Star IV Medics knows that your health is important, and our team wants to help you achieve greater wellness in a way that fits your busy schedule. That's why we're proud to offer mobile IV therapy in Midlothian and all the locations we serve around Texas!
The Best IV Therapy in Midlothian, TX
Located just 25 miles southwest of Dallas, Midlothian calls itself "DFW's Southern Star." That makes it a great hub for the area's attractions, including the Dallas Museum of Art, Six Flags Over Texas, The Dallas Zoo, Dinosaur Valley State Park, or even the Texas Discovery Gardens.
After a day spent sightseeing, riding wild roller coasters, hiking, or just enjoying the outdoors, you might find yourself fatigued or dehydrated. If you've been celebrating with alcoholic beverages, you might feel the aftereffects. Feel better faster with mobile IV therapy in Midlothian in the comfort of your own home, office, or hotel room!
Why Choose Lone Star IV Medics in Midlothian 
Lone Star IV Medics offers the finest IV therapy services in Texas. Our IV vitamin therapy in Midlothian, TX, can alleviate the symptoms associated with hangovers, fatigue, cold and flu, and other ailments. 
Lone Star IV Medics is made up of experienced and talented medical professionals who will ensure your safety and comfort throughout the process. We have the consulting expertise of a doctorally prepared pharmacist (Pharm.D.) and naturopathic doctor (N.D.) who work with our team. Medical direction is provided by a board-certified physician (M.D. or D.O.). Supported by this robust team of healthcare providers, who have helped make Lone Star IV Medics one of the most trusted names in IV therapy. Our patients can feel confident that they are in very good hands!
We offer a range of IV packages designed to alleviate many symptoms. For instance, our most popular hydration package, the Myers' Cocktail, may help patients dealing with the flu, athletic event recovery, or chronic illness.
Applications of IV Rehydration Therapy
Midlothian, TX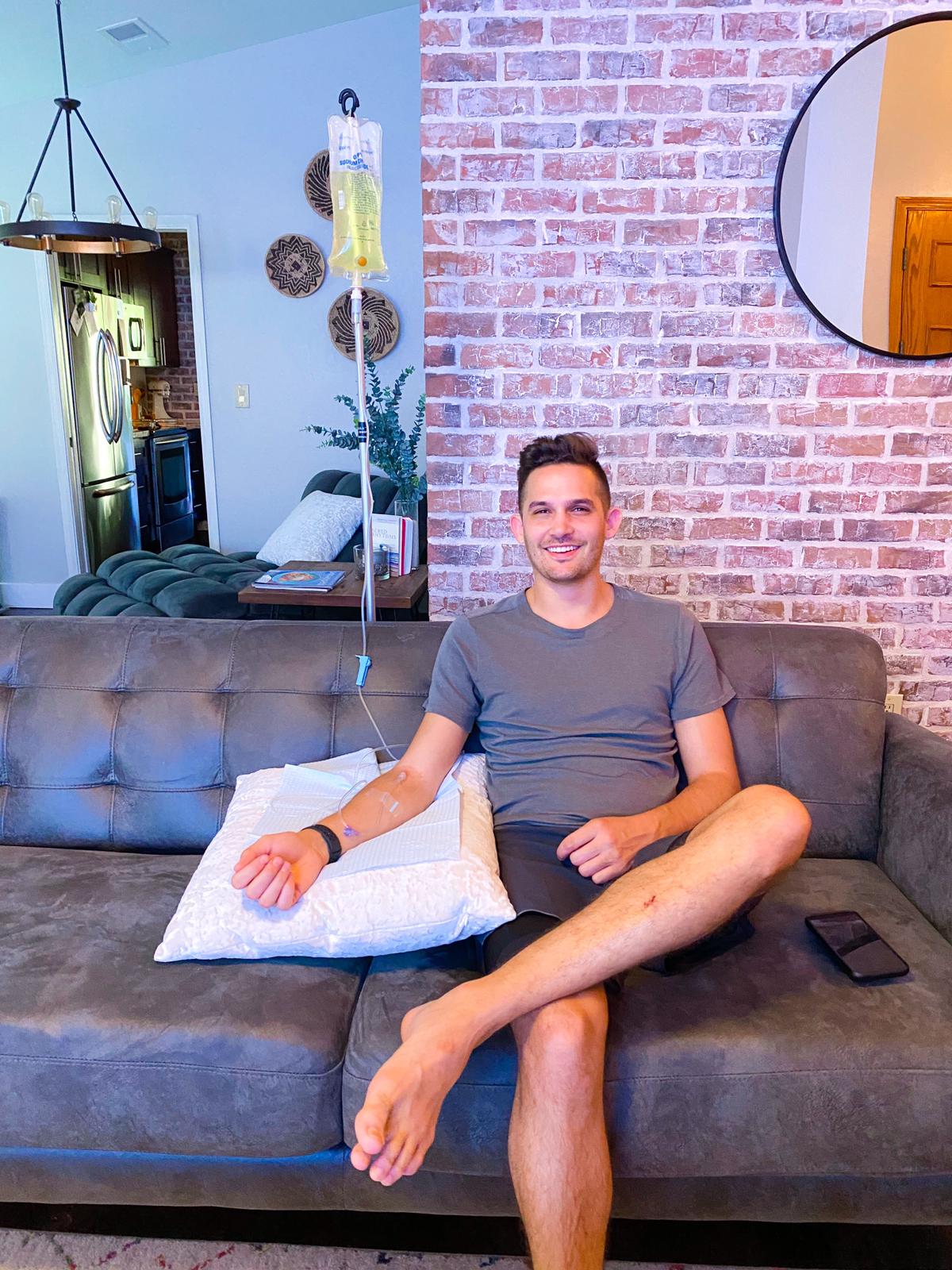 Recover Fast with IV Therapy in Midlothian, TX
With IV therapy in Midlothian from Lone Star IV Medics, you can improve your health in a quick and convenient way. All our IV treatments in Midlothian are made with top-quality, medical-grade vitamins and minerals, so you can replenish your body and feel your very best.
What does it do? Our vitamin infusions in Midlothian send essential fluids, electrolytes, and vitamins into your body. And because these infusions go directly into your bloodstream, you may notice results quickly.
How does it work? When you call Lone Star IV Medics, we will send a member of our team of healthcare providers directly to your home, office, or hotel. They'll quickly assess your health and deliver a custom IV treatment based on your needs. Then, they'll administer your IV while you sit back and relax. You will be on your way to feeling more energetic, alert, and healthy by the time it's over. 
Rehydration and vitamin IV therapy are great ways to recover from symptoms associated with hangovers, colds and flu, migraines, or that "run down" feeling we all get after a long week. No matter what has you feeling low, IV vitamin therapy in Midlothian, TX, can help you recover fast. 
Our IV therapy in Midlothian can help alleviate the symptoms associated with the following:
How Much Does Mobile IV Therapy Cost in Midlothian, TX?
At Lone Star IV Medics, we want everyone to experience the benefits of IV therapy in Midlothian. However, we understand that cost can keep many people from vital health treatments like this. Therefore, we offer several different packages for our IV treatments, with prices that range from $100 to $395.
Want to get an IV with an extra dose of vitamins? We also offer a la carte vitamins, minerals, and medications you can add to any IV package. Our options make it easy to create a customized IV treatment that addresses your specific health needs but still fits within your budget. 
How to Book a Mobile IV in Midlothian, TX
Don't let a busy schedule interfere with your health ever again! With Lone Star IV Medics, you can get vitamin infusions in Midlothian that will improve your health and have you feeling great — and you can get it all in the comfort of your home. Contact Lone Star IV Medics today to view our schedule online and book your appointment. 
Book Now!
Serving Midlothian & all suburbs!
Open 8AM-8PM, 24/7 Service Typically Available
FAQS for IV Therapy
1
What are people saying about IV hydration near South Midlothian, TX?
"I highly recommend Lone Star IV Medics! I was on day 2 of a stomach bug and severely dehydrated. I was able to get a same day appointment at a time convenient for me. My medic was very knowledgeable and helped educate me on the best option for my symptoms to recover quickly. I felt better before they left and my blood pressure had also reduced after fluids. They also were great with my dog who was very concerned about what they were doing to her mama! Highly highly recommended!"
2
How long does IV therapy take in Midlothian? 
In most cases, a healthcare provider from Lone Star IV Medics will arrive at your home, place of business, or hotel room within one hour of scheduling an appointment. Expect your IV therapy session to take between 45 minutes and an hour. Your healthcare provider will go over the procedure and monitor you during your IV infusion in Midlothian. During that time, feel free to relax, read, listen to music, watch TV, or otherwise make yourself comfortable. You can even take the mobile IV with you if you need to use the bathroom during your session!