Take a moment and think: Have you had enough water today? Most likely, the answer is no. About 75% of Americans are chronically dehydrated, and that means that their bodies are not as healthy as they could be. 
Dehydration is the main cause of heat exhaustion, and it can prevent you from performing and feeling your best. This is why it's important to stay hydrated — or, if you do find yourself dehydrated, to get some fluids ASAP.
Lone Star IV Medics is here to help you get the fluids you need to be in tip-top shape. We offer IV therapy in Midland and several other cities throughout Texas. We can help you hydrate and start feeling healthier in just 45 to 60 minutes. Our innovative IV infusions put essential fluids, vitamins, minerals, and electrolytes directly into your bloodstream for fast results that can't be beat.
Applications of IV Rehydration Therapy
Near Midland, TX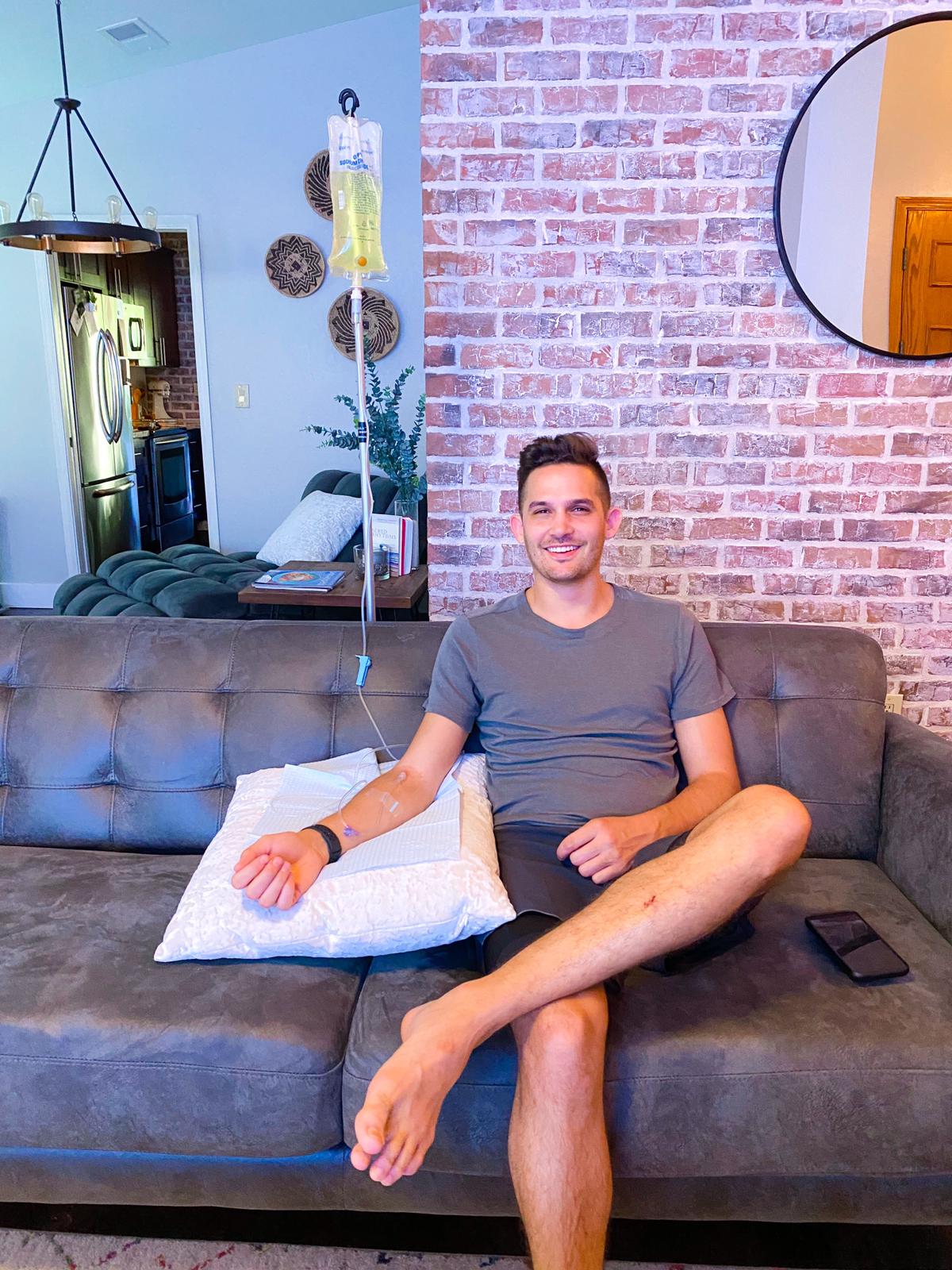 Dehydration is the root cause of many different health problems. In fact, our Midland IV therapy patients have used IV rehydration to help them manage symptoms related to food poisoning, morning sickness, migraines, hangovers, and a whole lot more.
Some patients even use mobile IV therapy when they're feeling fine. Our hydration infusions can give you an all-natural energy boost, making it a great option for anyone who wants to feel their best before a big event. Whether you're running a marathon or presenting a new project to your boss, rapid hydration can help you feel ready to take on the challenge.
How does the process work? When you call Lone Star IV Medics, we'll send a team of medical professionals to your house, office, or anywhere you choose. We'll assess your health, find the right IV therapy for your unique needs, and administer the IV. All you have to do is sit back and relax; in about 45-60 minutes, we will replenish your body with fluids and nutrients that can help you look, feel, and perform better than ever. 
Lone Star IV Medics has earned a reputation for excellence thanks to our team of healthcare providers . They perform all of our infusions with a commitment to outstanding patient care, and their medical experience ensures the safest possible treatment. Our team also includes a doctorally prepared pharmacist (Pharm.D.) and naturopathic doctor (N.D.) offering consulting guidance and a board-certified physician (M.D. or D.O.) overseeing medical direction. Book an appointment with Lone Star IV Medics to experience the benefits of IV therapy.
IV therapy can help alleviate the symptoms associated with!
How Much Does Mobile IV Therapy in Midland, TX, Cost?
Lone Star IV Medics strives to offer high-quality, hospital-grade IV treatments at prices that won't break the bank. Our IV packages start at $110, while additional vitamin add-ins start at $25 each. With our help, you can find IV therapy in Midland that will benefit your body without hurting your budget. 
How to Book a Mobile IV in Midland
To schedule mobile IV therapy in Midland, TX, (or any other city we serve), contact Lone Star IV Medics today. We are happy to help you live your healthiest, most hydrated life.
Want to get news about special offers, flash sales, and anything else that's new and exciting? Sign up for our VIP list.
Book Now!
Serving Midland & all suburbs!
Open 8AM-8PM, 24/7 Service Typically Available
Can IV infusions be done at home?
Yes, Lone Star IV Medics sends a healthcare provider to your home to perform IV therapy in Midland. If you prefer, you can have an IV professional sent to your place of business or hotel. 
When you're hungover or suffering from a cold or the flu, you don't want to drive to a hospital or outpatient clinic to receive IV therapy. The same holds true if you feel fatigued or just "blah." Not only do you receive a similar level of care, but you don't have to worry about exposure to the germs of sick people seeking medical attention. 
During the IV infusion, you can relax and read, listen to music, or watch TV, all in the comfort of your own home.
Is IV therapy worth the money?
IV therapy in Midland, TX, is absolutely worth the money if you want to feel better faster! If you need rehydration, you could drink copious amounts of fluids and take vitamins or medications orally. However, you will end up waiting some time for relief, as these fluids, vitamins, and medications must go through the gastrointestinal tract. Since IV therapy sends fluids directly into your bloodstream, you receive the benefits almost immediately. 
How much do IVs usually cost?
The cost of IV therapy depends on the type of IV treatment. At Lone Star IV Medics, our basic saline IV package for rehydration is $100. Our pricing packages are based on the ingredients and purpose of the specific IV therapy.
You can add in a variety of vitamins and medications starting at $25 per each. We also offer intramuscular (IM) injections starting at $35 each. 
Who should not get IV therapy?
Not everyone is an IV therapy candidate. People with kidney or heart disease should avoid IV vitamin therapy unless prescribed by their doctor, as a large concentration of vitamins at one time is hard for compromised organs to process.