When you're sick, doctors tell you to "drink lots of fluids." After a long workout, coaches and trainers tell you to take a water break. Even on a hot Texas afternoon, your friends and neighbors might remind you to "stay hydrated."
The fact is that when you're hydrated, you feel better — and hydration can help you manage all kinds of health issues.
Of course, traditional hydration methods like drinking water don't always relieve your symptoms right away. If you want to get hydrated in a hurry, turn to another technique: IV rehydration therapy. And if you're looking for mobile IV therapy in Manvel, there's no better option than Lone Star IV Medics.
Lone Star IV Medics has earned a reputation for excellence thanks to our team of healthcare providers. They perform all of our infusions with a commitment to outstanding patient care, and their medical experience ensures the safest possible treatment. Our team also includes a doctorally prepared pharmacist (Pharm.D.) and naturopathic doctor (N.D.) offering consulting guidance and a board-certified physician (M.D. or D.O.) overseeing medical direction. Book an appointment with Lone Star IV Medics to experience the benefits of IV therapy.
Uses of IV Therapy
Near Manvel, TX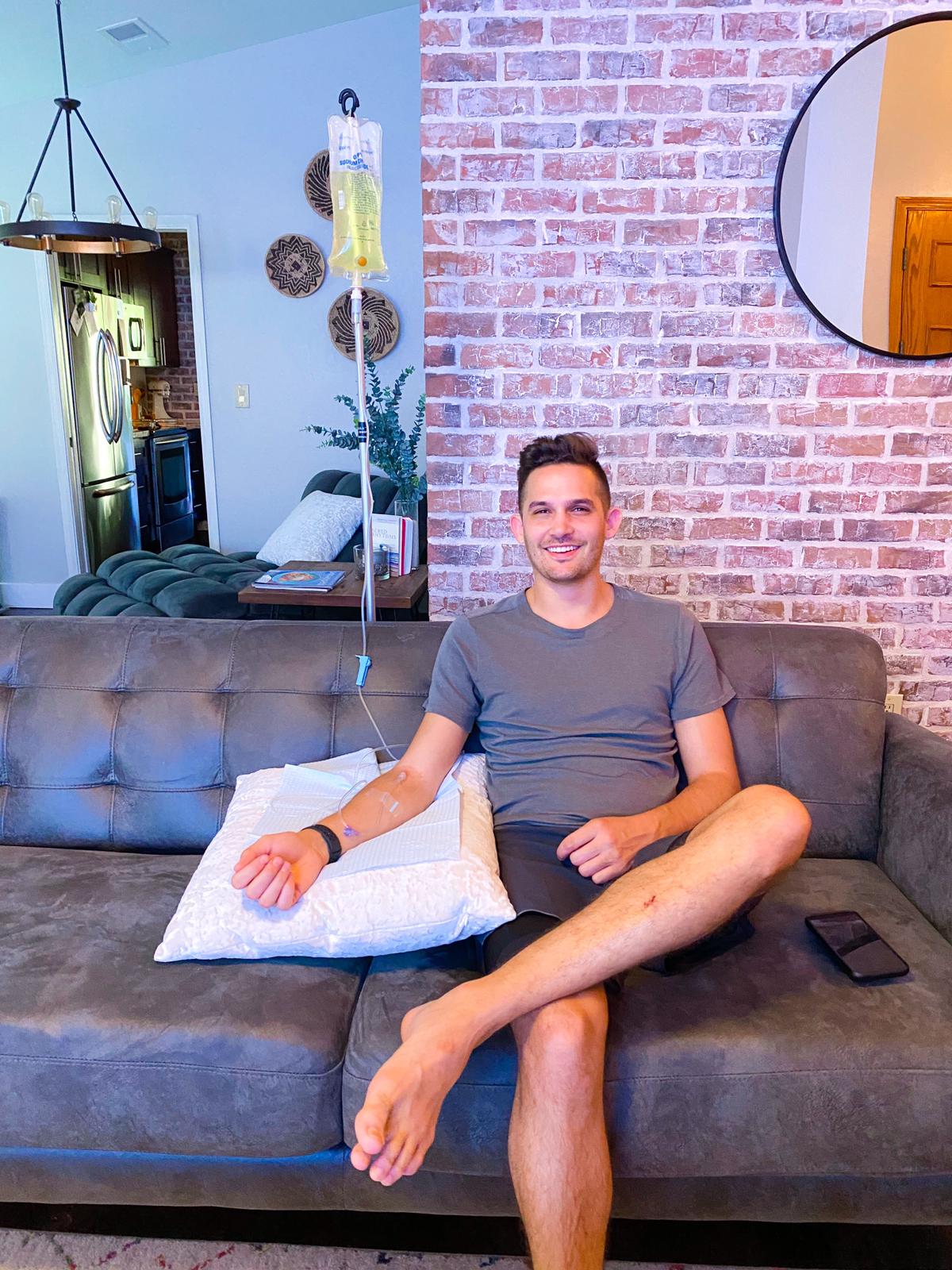 Patients who use our IV hydration therapy find these infusions can help treat a variety of health conditions. Anyone suffering from a sickness that can cause dehydration — colds and the flu, morning sickness, and even a bad hangover — can benefit from using IV therapy to instantly hydrate their body. 
We've used IV therapy in Manvel to treat migraines, food poisoning, and simple exhaustion. Even athletes use our services to bounce back after a tough workout or give their muscles an energy boost before a strenuous activity like a marathon. Some people even make IV rehydration part of their regular wellness routine. 
When you book an appointment with Lone Star IV Medics, healthcare providers will come to your home, office, hotel, or any other location you choose. They will conduct a thorough health assessment to determine which rehydration infusion will best suit your needs and then administer the IV and monitor you for the next 30 to 45 minutes. All you have to do is sit on the couch and relax; soon enough, your body will feel the benefit of instant hydration, vitamins, minerals, and electrolytes. You'll be ready to take on the day with gusto!
IV therapy can help alleviate the symptoms associated with!
How Much Does Mobile IV Therapy in Manvel, TX, Cost?
Lone Star IV Medics strives to make our mobile IV therapy affordable for all our patients. Our pricing packages range from $100 to $395, and add-on vitamins and other nutrients start at $25 each. With our unique pricing options, you can easily put together a hydration "cocktail" that benefits your body and fits within your budget. There are additional costs for add-on items and custom packages.
How to Book a Mobile IV in Manvel
We are proud to offer mobile IV therapy in Manvel and many other convenient locations around Texas. Contact us today to book an appointment near you — and don't forget to sign up for our VIP list to get news about flash sales, exclusive offers, and a lot more that can help you feel hydrated and healthy.
Book Now!
This is the 1st item
This is the 2nd item
Serving Houston & all suburbs!
Open 8AM-8PM, 24/7 Service Typically Available