When you're sick, doctors tell you to "drink lots of fluids." After a long workout, coaches and trainers tell you to take a water break. Even on a hot Texas afternoon, your friends and neighbors might remind you to "stay hydrated."
The fact is that when you're hydrated, you feel better — and hydration can help you manage all kinds of health issues.
Of course, traditional hydration methods like drinking water don't always relieve your symptoms right away. If you want to get hydrated in a hurry, turn to another technique: IV rehydration therapy. And if you're looking for mobile IV therapy in Manvel, there's no better option than Lone Star IV Medics.
Lone Star IV Medics has earned a reputation for excellence thanks to our team of healthcare providers. They perform all of our infusions with a commitment to outstanding patient care, and their medical experience ensures the safest possible treatment. Our team also includes a doctorally prepared pharmacist (Pharm.D.) and naturopathic doctor (N.D.) offering consulting guidance and a board-certified physician (M.D. or D.O.) overseeing medical direction. Book an appointment with Lone Star IV Medics to experience the benefits of IV therapy.
The Best IV Therapy in Manvel, TX
If you want to boost your health and/or recover quickly, then it makes sense to use the best mobile IV therapy in Manvel. Why waste your time working with a company that doesn't use the best ingredients, won't provide you with fast and easy service, or doesn't hire the best health professionals around?
When you choose Lone Star IV Medics, you don't have to worry about any of that. You'll know that you're working with the best IV company in Texas. First, as you can tell by our name, we are Texan through and through. We understand and appreciate all the communities throughout Texas, including Manvel.
We also never cut corners when it comes to sourcing top-quality vitamins, minerals, and medications for our IVs. We know that when our clients feel great, they'll come back to us again and again and tell all their friends and family about us.
Next, we only hire the best! Every member of our team is a certified and licensed healthcare professional with tons of experience with IV treatments. They are extremely knowledgeable and friendly and love answering all your IV questions.
Finally, we make it as easy as possible to get your IV vitamin therapy in Manvel, TX. When you're feeling low, you don't have to get in a car and travel to us. We come to you and are happy to provide IV therapy in the comfort and privacy of your home. We can even stop by your office if you want some IV therapy between important client meetings.
You always come first at Lone Star IV Medics. 
Uses of IV Therapy
Near Manvel, TX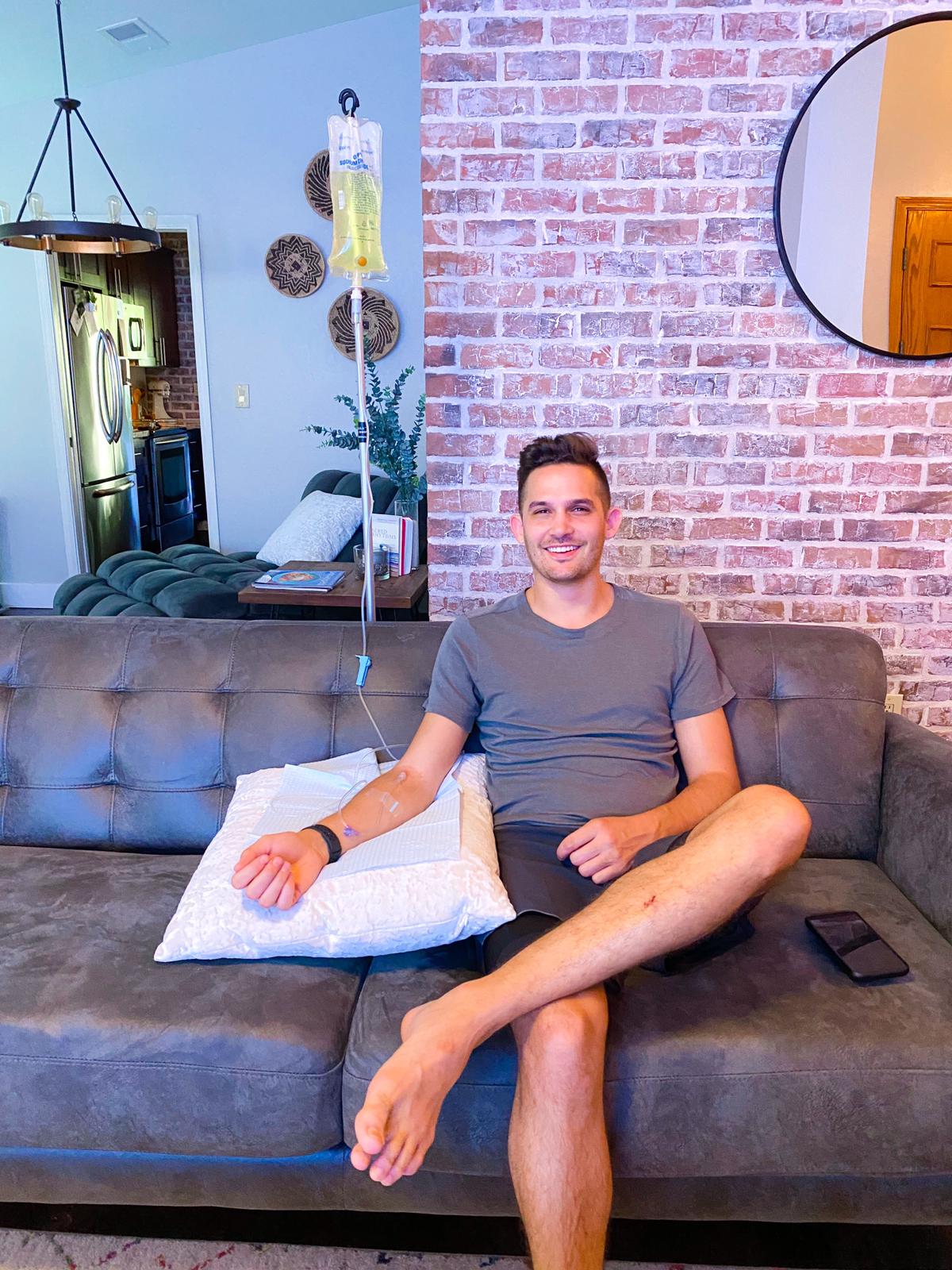 Patients who use our IV hydration therapy find these infusions can help treat a variety of health conditions. Anyone suffering from a sickness that can cause dehydration — colds and the flu, morning sickness, and even a bad hangover — can benefit from using IV therapy to instantly hydrate their body. 
We've used IV therapy in Manvel to treat symptoms associated with migraines, food poisoning, and simple exhaustion. Even athletes use our services to bounce back after a tough workout or give their muscles an energy boost before a strenuous activity like a marathon. Some people even make IV rehydration part of their regular wellness routine. 
When you book an appointment with Lone Star IV Medics, healthcare providers will come to your home, office, hotel, or any other location you choose. They will conduct a thorough health assessment and administer the IV and monitor you. All you have to do is sit on the couch and relax; soon enough, your body will feel the benefit of instant hydration, vitamins, minerals, and electrolytes. You'll be ready to take on the day with gusto! The entire process only takes about an hour.
IV therapy can help alleviate the symptoms associated with the following:
How Much Does Mobile IV Therapy in Manvel, TX, Cost?
Lone Star IV Medics strives to make our mobile IV therapy affordable for all our patients. Our pricing packages range from $100 to $395, and add-in vitamins and other nutrients start at $25 each. With our unique pricing options, you can easily put together a hydration "cocktail" that benefits your body and fits within your budget. There are additional costs for add-in items and custom packages.
How to Book a Mobile IV in Manvel
We are proud to offer mobile IV therapy in Manvel and many other convenient locations around Texas. Contact us today to book an appointment near you — and don't forget to sign up for our VIP list to get news about flash sales, exclusive offers, and a lot more that can help you feel hydrated and healthy.
Book Now!
Serving Houston & all suburbs!
Open 8AM-8PM, 24/7 Service Typically Available
IV Therapy FAQs
1
What are people saying about IV hydration near Manvel, TX?
Our customers in Manvel cannot get enough IV therapy. They rave about how much more focused, energized, and better they feel afterward. In fact, many of our customers request our services again when they need a pick-me-up or are fighting a stubborn cold or flu. Some have even added IVs into their regular healthcare and wellness routine.  Don't believe us? Take a look at our many positive reviews. 
2
How long does IV therapy take in Manvel?
Have you signed up for a vitamin infusion in Manvel? Your appointment will take roughly 45 minutes to an hour. We ask that you give your healthcare professional time to set up their equipment and to answer any questions you might have. Your IV specialist will also perform a short medical check to make sure you are a good candidate for the treatment before the start of the IV. 
3
What qualification does someone need to give IV therapy in Manvel?
The state of Texas does not allow just anyone to provide IV treatments. Only healthcare professionals who are fully licensed and accredited with a recognized accreditation board may perform IV therapy. Such accreditation boards include the Texas Medical Board.  At Lone Star IV Medics, we ensure that everyone on our team is fully licensed to perform IV therapy and has experience in the technique. Client safety is our number one priority!