Do you ever find yourself feeling run down? We all do. Between work, school, kids, and everything else piled high on our plates, it can be easy to become overworked and overwhelmed. 
Even worse, when we're overworked, we often forget to do little things to take care of ourselves, like drinking enough water. This is one reason why so many Americans are chronically dehydrated. Dehydration can cause fatigue, headaches, and a whole host of other illnesses, but Lone Star IV Medics is here to help. 
Applications of IV Rehydration Therapy
Near Longview, TX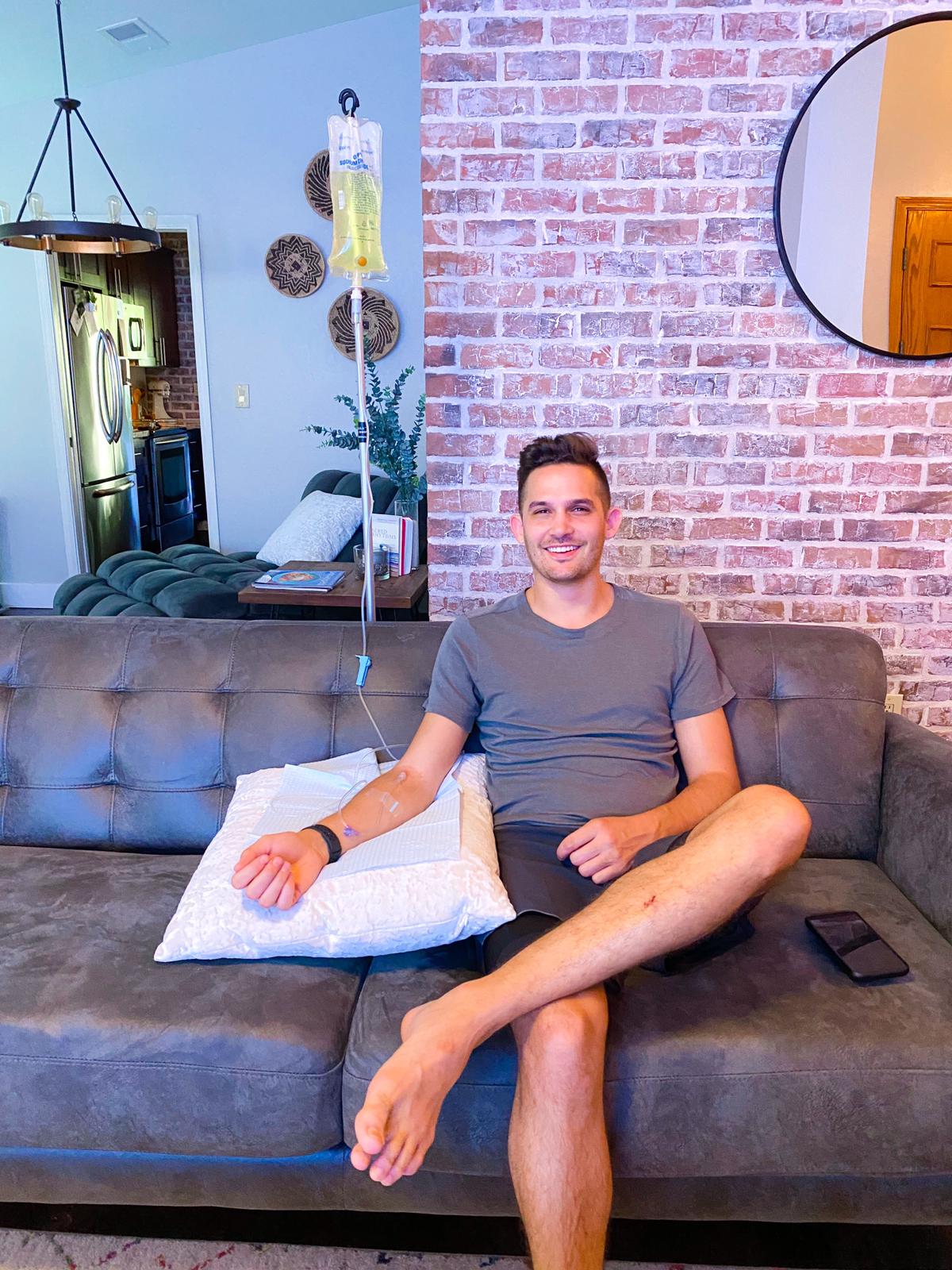 We are proud to be one of the most trusted names to bring rehydration therapy to Longview. IV therapy patients here use our treatments to manage the symptoms of many conditions, from chronic migraines to food poisoning and everything in between. 
Feel a cold coming on? IV therapy can nip it in the bud.
Hungover from last night? You need to hydrate — and we can get those fluids into your system fast. 
We've even seen athletes benefit from IV rehydration therapy. Our infusions can help reduce muscle fatigue and speed up recovery time after an intense workout. They can also give you an all-natural energy boost and a competitive edge during athletic events.
And best of all, getting your IV treatment is incredibly easy. All you have to do is call Lone Star IV Medics. We'll send a team of experienced and professional healthcare providers to the location of your choice, where they'll assess your health and administer the ideal IV for your symptoms. While you're relaxing on the couch, your body will receive a near-instant rush of fluids, vitamins, minerals, and electrolytes, so you have everything you need to take on the world!
Lone Star IV Medics has earned a reputation for excellence thanks to our team of healthcare providers . They perform all of our infusions with a commitment to outstanding patient care, and their medical experience ensures the safest possible treatment. Our team also includes a doctorally prepared pharmacist (Pharm.D.) and naturopathic doctor (N.D.) offering consulting guidance and a board-certified physician (M.D. or D.O.) overseeing medical direction. 
Book an appointment with Lone Star IV Medics to experience the benefits of IV therapy.
IV therapy can help alleviate the symptoms associated with!
How Much Does Mobile IV Therapy in Longview, TX, Cost?
At Lone Star IV Medics, we offer our patients high-quality, hospital-grade IV infusions at affordable rates. IV packages start at $110, and additional vitamin add-ins start at $25 each. With our help, you can find the IV that's right for your body and your budget.
How to Book a Mobile IV in Longview
To schedule an appointment with Lone Star IV Medics, contact our team today. We offer mobile IV therapy in Longview and many other cities around Texas, so there's always someone nearby ready to help you feel your best. 
And if you want to hear about exclusive offers, flash sales, and more, don't forget to sign up for our VIP list today!
FAQs
Q: Can IV therapy be done at home?
A: In Texas, IV therapy can be performed outside of a medical office, including your residence or office. At Lone Star IV Medics, we actually specialize in providing mobile IV therapy in Longview, TX. Our team of trained healthcare providers can travel to your home to perform IV therapy. Many of our customers appreciate receiving IVs in the comfort and privacy of their own homes. If you happen to be traveling to Longview and want an IV to help you recover from jet lag or to make sure you feel your best on your trip, we can even come to your hotel.
Q: How much does IV usually cost?
A: Every IV company is different, but at Lone Star IV Medics, our IV treatments typically cost between $100 and $395. The cost of your vitamin infusion in Longview will depend on the ingredients in your IV. The more vitamins, minerals, and medications in your IV, the higher the cost typically is. We offer pre-made IVs, or you can create a customized IV by choosing the ingredients you want. Adding more ingredients will increase the price of your IV.
Q: How long will my IV therapy appointment take?
A: Most IV therapy appointments take between 45 minutes and an hour from beginning to end. Before placing the IV, the medical professional will perform a short health history and medical review to make sure you are a good candidate for the therapy. They will also be happy to answer any questions and help you choose the right IV for your health goals. Setting up the IV is usually a quick process. Once the IV is in place, it can take anywhere from 30 to 45 minutes until the IV is complete. Your IV specialist will then pack up their supplies, accept payment, and answer any final questions you have. 
Book Now!
This is the 1st item
This is the 2nd item
Serving Longview & all suburbs!
Open 8AM-8PM, 24/7 Service Typically Available