If there's one thing we all know about Texas (besides the fact that you don't mess with it), it's that we deal with some long, hot summers. The heat and dry air can be stifling, leaving you feeling lethargic and just plain run down. 
Luckily, Lone Star IV Medics has a solution — and you can use it all year long! Our IV therapy in League City and beyond has helped countless Texans get rapid hydration so they can beat the heat and feel their best. In fact, many of our IV therapy patients schedule regular infusions as part of their wellness routine.
Lone Star IV Medics has earned a reputation for excellence thanks to our team of healthcare providers. They perform all of our infusions with a commitment to outstanding patient care, and their medical experience ensures the safest possible treatment. Our team also includes a doctorally prepared pharmacist (Pharm.D.) and naturopathic doctor (N.D.) offering consulting guidance and a board-certified physician (M.D. or D.O.) overseeing medical direction. Book an appointment with Lone Star IV Medics to experience the benefits of IV therapy.
Uses of IV Therapy
Near League City, TX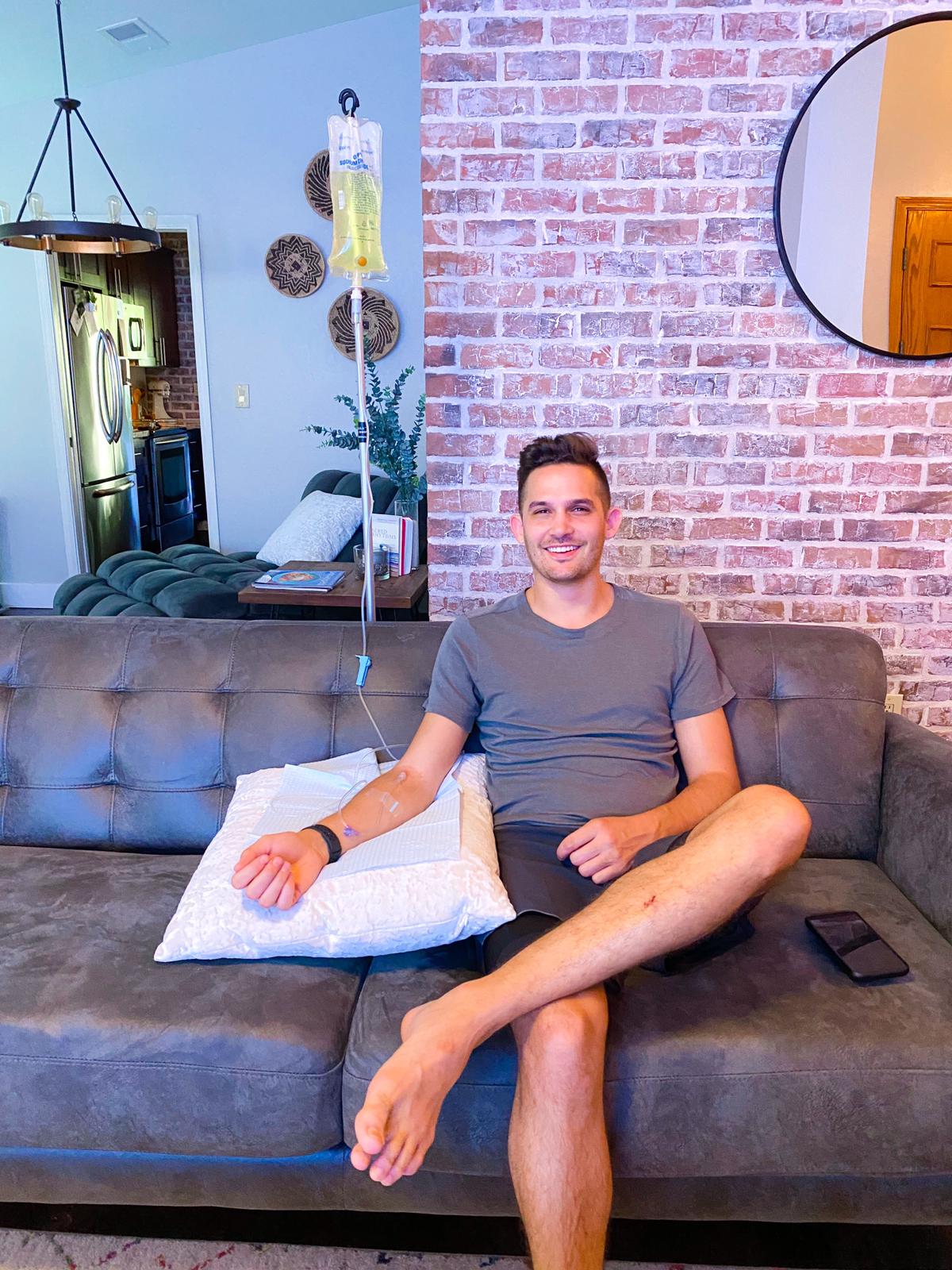 Who can benefit from mobile IV therapy in League City, TX? Everyone! This innovative therapy can help treat the symptoms of many conditions, from cold and the flu to migraines and chronic fatigue. Our infusions can even help you bounce back from hangovers, food poisoning, morning sickness, and a host of other conditions. 
How does it work? IV rehydration therapy replenishes your body, giving it the hydration, vitamins, minerals, and electrolytes it needs to feel great and perform at its peak. IV therapies work much faster than other hydration methods because they deliver those nutrients directly into the bloodstream. As a result, you start feeling better in no time at all. 
You can even use mobile IV therapy in League City to give you a boost of energy any time you need it. Struggling with soreness after a tough workout? An infusion can help you recover faster and get back on your feet. Or feeling exhausted lately? One energizing vitamin "cocktail" should have you feeling good as new — maybe even better. And best of all, Lone Star IV Medics brings the entire process to your home, office, or any other convenient location.
What happens when you book an appointment? First, our team of healthcare providers will take your medical history and conduct a thorough assessment to determine your condition. Then, they'll work with you to find the ideal combination of vitamins that will help treat your symptoms. Finally, the team will administer the IV and monitor your progress over the next 30 to 45 minutes. All you have to do is sit back, relax, and get ready to feel great.
IV therapy can help alleviate the symptoms associated with!
How Much Does Mobile IV Therapy in League City, TX, Cost?
Our League City IV therapy patients rely on hydration infusions to keep themselves healthy, hydrated and energized. We know that this is an important part of many people's healthcare maintenance routine, so we strive to provide IV treatments at a reasonable cost. Pricing packages range from $100 to $275, with add-ons starting at $25 each. You can easily create a customized infusion that suits your budget. 
How to Book a Mobile IV in League City
Lone Star IV Medics is proud to serve patients in many cities throughout the great state of Texas, including the League City area. Contact us today to book your appointment and sign up for our VIP list to get alerts on flash sales, new deals, and much more!
Book Now!
Serving Houston & all suburbs!
Open 8AM-8PM, 24/7 Service Typically Available