You've probably heard the saying, "Your body is a temple." This expression encourages us to take care of ourselves and treat our bodies with respect, which usually means getting enough sleep, exercising regularly, eating right, and staying hydrated. 
But of course, it's not always easy to treat our bodies like the temples they are. Work stress, busy schedules, and weekend parties can leave our bodies feeling pretty rotten. Luckily, there's one easy way to get back to your healthiest self: IV therapy with Lone Star IV Medics.
Applications of IV Rehydration Therapy
Near Lake Jackson, TX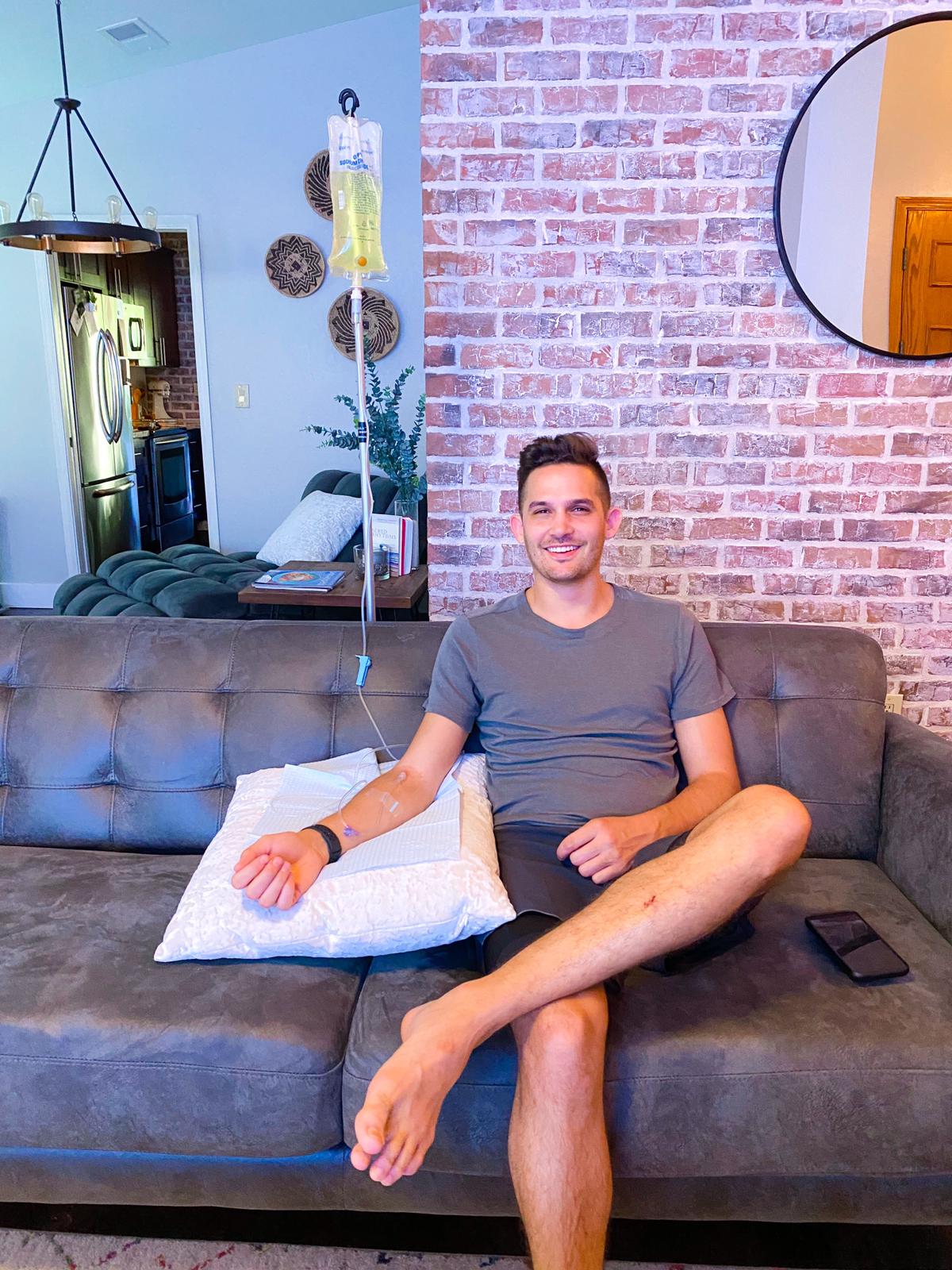 Lone Star IV Medics offers mobile IV therapy in several locations around Texas. In Lake Jackson, our IV therapy treatments have helped many people manage symptoms from various health conditions. Some of our patients use rehydration therapy to help them recover from a hangover. Others use IVs to treat their chronic migraines. You can even get an IV to help with an oncoming cold.
And that's not all. Many of our IV therapy patients are athletes who use IV therapy to help improve their performance. Mobile IV therapy can help you mitigate muscle fatigue so you can get back to the gym or field faster. It can also give you an all-natural energy boost to help you reach your athletic goals.
How does it work? When you call Lone Star IV Medics, we'll send a team of healthcare providers to your home. They will assess your health, find the right cocktail for your condition, and administer an IV that's chock-full of vitamins, minerals, and electrolytes, plus some much-needed fluids. In just 30-45 minutes, those fluids and nutrients will enter your bloodstream, giving your body instant fuel to help you feel and perform your best!
Lone Star IV Medics has earned a reputation for excellence thanks to our team of healthcare providers. They perform all of our infusions with a commitment to outstanding patient care, and their medical experience ensures the safest possible treatment. Our team also includes a doctorally prepared pharmacist (Pharm.D.) and naturopathic doctor (N.D.) offering consulting guidance and a board-certified physician (M.D. or D.O.) overseeing medical direction. Book an appointment with Lone Star IV Medics to experience the benefits of IV therapy.
IV therapy can help alleviate the symptoms associated with!
How Much Does Mobile IV Therapy in Lake Jackson, TX, Cost?
At Lone Star IV Medics, we believe that everyone deserves to be healthy and hydrated — no matter their budget. Our IV therapy in Lake Jackson starts at $100 for the Purely Saline Package and $125 for our Bronze Package (1000 ccs of saline mixed with a vitamin B complex). You can also add extra vitamins to your infusion, starting at $25. With our pricing, you can get high-quality IV therapy without worrying about your wallet.
How to Book a Mobile IV in Lake Jackson
Contact Lone Star IV Medics today to schedule your appointment and start enjoying the benefits of mobile IV therapy in Lake Jackson. And don't forget to sign up for our VIP list for news about exclusive offers, monthly specials, flash sales, and much more!
Book Now!
Serving Lake Jackson & all suburbs!
Open 8AM-8PM, 24/7 Service Typically Available
FAQ for IV Therapy in Lake Jackson
1
Who can administer IV hydration therapy in Texas?
A licensed medical professional can administer IV hydration therapy in Texas. This includes registered nurses and certified paramedics who administer all the IV treatment sessions at Lone Star IV Medics. All of our providers bring years of experience in treating patients with IV drips, meaning you can rest easy knowing you're in good hands at our IV treatment session. Plus, our providers can provide valuable advice about what ingredients to include in your IV treatment.
2
Are IV drips worth the money?
The question of whether IV trips are worth the money comes down to their effectiveness. IV drips can be more expensive than over-the-counter treatments or supplements, but they also offer you quicker, more effective treatment for your symptoms. Many clients have found that IV therapy in Lake Jackson, TX, helped them effectively rehydrate their bodies and quickly recover from symptoms such as headache, fatigue, and body pain.
3
How long do IV therapy results last?
IV Therapy results typically last several days to weeks. Many factors, including your exercise regimen, diet, and hydration levels, influence how long results last. Even general health and lifestyle factors will have big influences on the results of IV therapy. For example, if you work out and sweat a lot, you may not stay hydrated as long as a more sedentary person would.
4
Does IV therapy detox your body?
Your body has a natural detox process. IV Therapy can help your body quickly rehydrate, thus facilitating the process of flushing out your system and improving your health. Because IV treatment works directly in your bloodstream, it helps replenish, restore, and detoxify your body faster than any other treatment available. Before you know it, you'll be feeling more like you again.