Your body needs a few key things to help it function properly: sleep, water, movement, and a healthy diet rich in essential vitamins and minerals. 
But these days, too many of us simply don't have time to get all those things! We don't sleep enough. We sit at desks or in cars all day. We hit the drive-thru for just enough sugar and starches to keep up our energy. And as a result, we don't feel our best.
Lone Star IV Medics wants you to achieve optimal health and wellness. But to do that, you'll need IV therapy in Krum. Our team is one of the most trusted providers of IV vitamin therapy in Krum, TX, and throughout the Lone Star State, and we'll help you replenish your body and feel good as new once again.
Applications of IV Rehydration Therapy
Near Krum, TX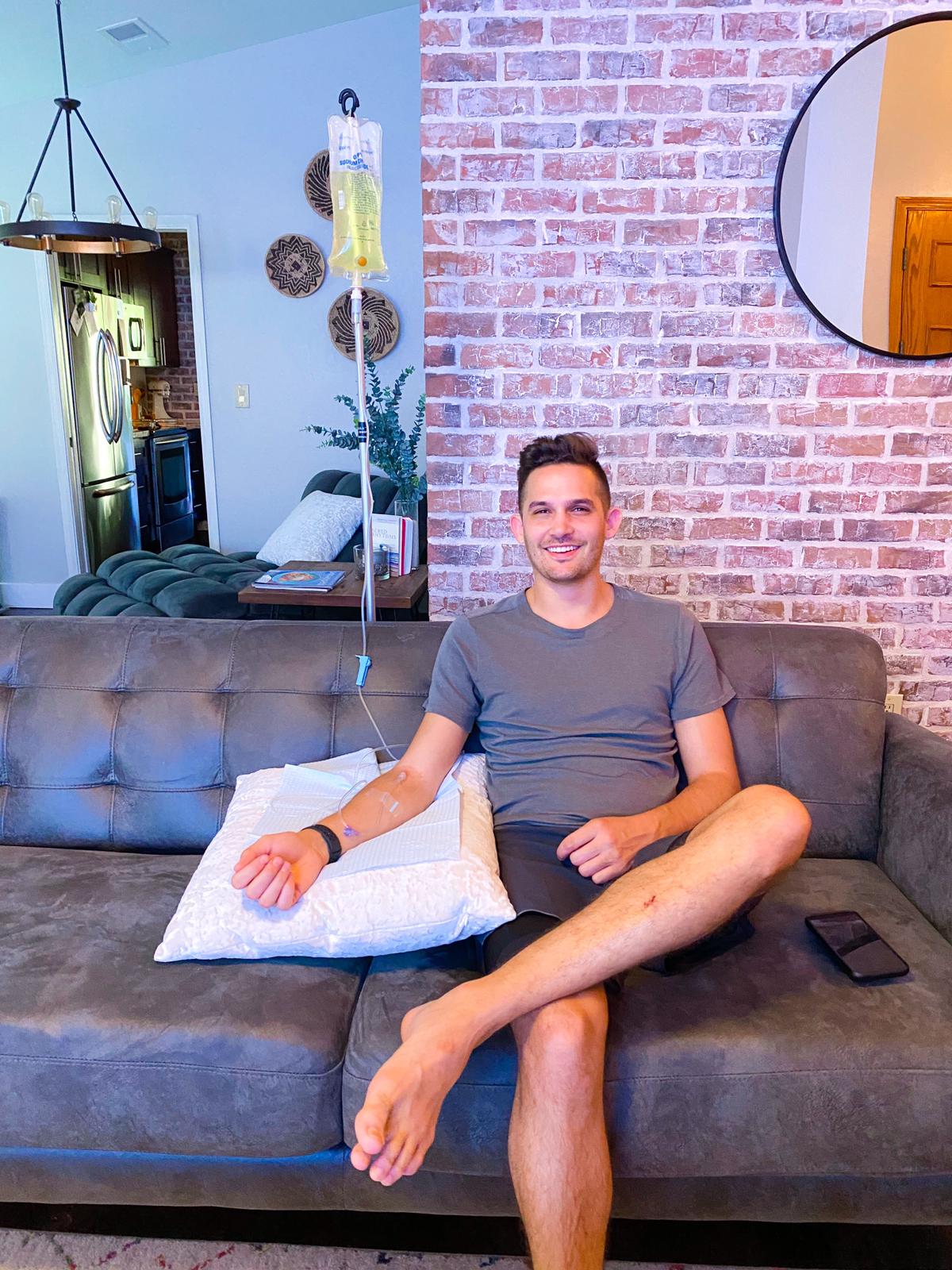 Recover Fast with IV Therapy in Krum, TX
Our IV treatments in Krum are specially designed to target symptoms associated with health conditions where dehydration plays a role. If you're struggling with a hangover, morning sickness, the flu, or other health issues, we can give your cells the hydration and vitamins they need to aid in reaching peak performance and enhanced overall health.
You can even benefit from a vitamin infusion in Krum if you aren't currently sick. A whopping 75% of Americans are chronically dehydrated, and Lone Star IV Medics' IVs can give your body the fluids it needs ASAP. With our help, you can experience more energy, greater mental clarity, better-looking skin, and a whole lot more — all thanks to the power of fluids, vitamins, and minerals.
Lone Star IV Medics can even help you feel better in the comfort of your home! We offer mobile IV therapy in Krum and the other locations we serve, where our healthcare providers will bring top-quality IV treatments directly to your house, office, or hotel. Now, you can get the benefits of IV therapy with ease and convenience that fits your daily schedule. 
IV therapy can help alleviate the symptoms associated with!
How Much Does Mobile IV Therapy Cost in Krum, TX?
Want to try IV therapy in Krum but don't want to pay through the nose for it? You're in luck: Lone Star IV Medics makes IV therapy affordable and accessible. We offer several pricing packages ranging from $100 to $395. All our IVs are made with high-quality ingredients, so you can expect excellent results no matter your budget. 
And what if you want a little extra vitamin with your IV? We offer several vitamins and medication add-ins that you can mix into your IV, starting at $25 each. 
How to Book a Mobile IV in Krum, TX
With Lone Star IV Medics, you can take care of your health in a fast, effective, and convenient way, which means you'll have plenty of time for everything else on your to-do list. Contact our team today to check out our schedule online and book an appointment for mobile IV therapy in Krum. 
Book Now!
This is the 1st item
This is the 2nd item
Serving Krum & all suburbs!
Open 8AM-8PM, 24/7 Service Typically Available