We all know that the keys to a happy, healthy life are simple: Get enough sleep, move your body every day, and make sure you drink plenty of water. 
But of course, we can't always be as healthy as possible. Long weeks at the office (or wild weekends with friends) can get in the way of our wellness routines — and when that happens, we need something that will set our bodies back on track fast.
Lone Star IV Medics offers IV therapy in Keller and other cities throughout Texas. Our mobile IV therapy puts essential vitamins, minerals, and electrolytes directly into your bloodstream, giving you everything you need to reset and recharge your body.
Applications of IV Rehydration Therapy
Near Keller, TX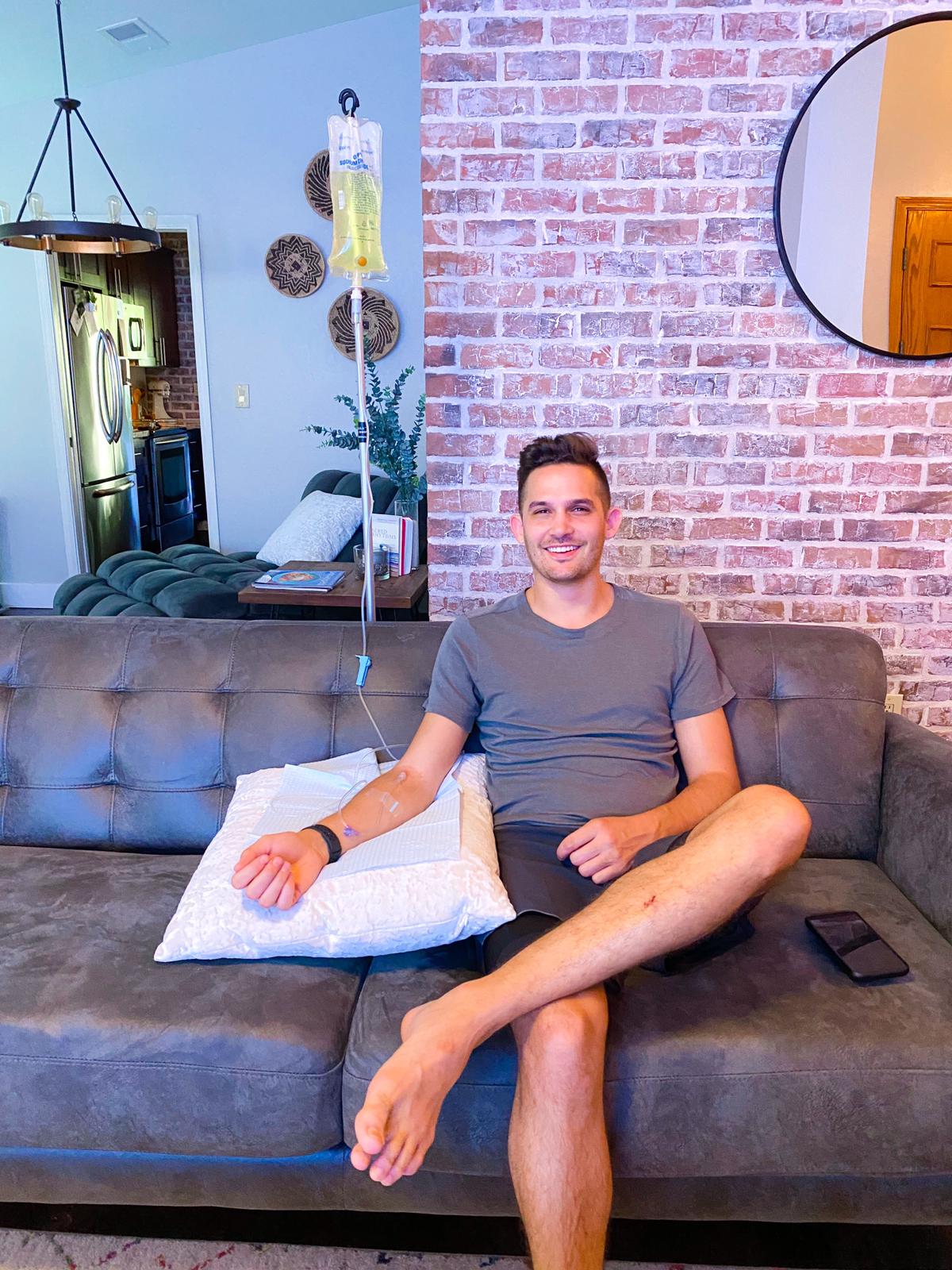 Rehydration therapy is a fast and easy way to get the fluids and nutrients your body needs to be as healthy and strong as possible. Our team has seen IV infusions help manage symptoms from many conditions, including nausea, headaches, muscle fatigue, and more. Whether you're battling a cold or nursing a hangover in Keller, IV therapy can help minimize your symptoms and help you feel better, all in just 45-60 minutes!
And our IV therapy isn't just for when you're feeling less than stellar. You can also use rehydration to give yourself an energy boost before a big event. Running a marathon? Give your body a little extra fluid before you hit the starting line. Got a big presentation coming up? An infusion will keep you feeling alert, awake, and ready for anything.
Lone Star IV Medics has earned a reputation for excellence thanks to our team of healthcare providers. They perform all of our infusions with a commitment to outstanding patient care, and their medical experience ensures the safest possible treatment. Our team also includes a doctorally prepared pharmacist (Pharm.D.) and naturopathic doctor (N.D.) offering consulting guidance and a board-certified physician (M.D. or D.O.) overseeing medical direction. If you're interested in professional IV drip therapy in Keller, fill out our contact form and set up your first appointment today.
IV therapy can help alleviate the symptoms associated with!
How Much Does Mobile IV Therapy in Keller, TX, Cost?
Your health is one of the most valuable things you have, but that doesn't mean taking care of it needs to be expensive. Lone Star IV Medics offers high-quality, hospital-grade IV infusions at reasonable prices.
Pricing for our IV therapy starts at $110, and additional vitamin add-ons start at $25 each. With these prices, it's easy for both you and your wallet to feel your best.
How to Book a Mobile IV in Keller
We are proud to offer mobile IV therapy in Keller and other locations around the great state of Texas. You can always find a team in a city near you, so schedule an appointment today to start reaping the benefits of rehydration therapy.
Want to get even more from Lone Star IV Medics? Sign up for our VIP list to be one of the first to hear about flash sales, exclusive offers, and much more.
Book Now!
Serving Keller & all suburbs!
Open 8AM-8PM, 24/7 Service Typically Available
IV Therapy FAQs
1
Who can administer IV hydration therapy in Texas?
You must be a licensed healthcare professional in order to provide IV therapy in Keller, TX. That means you must receive accreditation through the appropriate institution, such as the Texas Board of Nursing or the Texas Medical Board. Typically, the healthcare professionals that perform IV therapy will either be healthcare providers (RNs), licensed vocational nurses (LVNs), or certified healthcare providers. At Lone Star IV Medics, we always ensure all our team members are properly licensed to perform mobile IV therapy in Keller, TX. Customer safety is our number one priority.
2
How long does IV vitamin therapy last?
At Lone Star IV Medics, we tell our customers to block out an hour for a vitamin infusion in Keller, TX. The treatment includes time for your IV medic to set up the IV, perform a short health history and medical evaluation, and then carry out the treatment. Your IV medic can also answer any questions you have before the start of the treatment. For example, if you aren't sure which IV product is best for you, the IV medic can make a recommendation based on your health goals and budget. The treatment itself typically takes 45- 60 minutes (full session is about an hour). The exact time for your treatment may vary depending on your size, the product you choose, and which IV medic you work with.
3
What is the risk of IV therapy?
IV vitamin therapy in Keller, TX is extremely safe if you work with a licensed and accredited IV provider. However, there is risk in any type of medical treatment. You may feel pain or soreness at the insertion site during and after treatment. If you do not take care to keep the insertion site clean, you increase the chances of an infection. In rare cases, vein damage can occur. However, the vast majority of our customers feel the small risk is greatly outweighed by the benefits of IV therapy and many come back to us for treatment time and time again.