A long, fun weekend of camping and fishing at Lake Texoma can create memories for a lifetime. It can also leave you feeling drained. Get back on your feet with IV therapy in Sherman. Mobile IV therapy in Sherman is safe and effective and can help you recharge, rehydrate, and re-energize. Whether you're overcoming an illness, want to prepare for an athletic event, or simply want to feel your best, it's time to try IV therapy.
At Lone Star IV Medics, we can send an experienced member of our team to your location, so you can enjoy your vitamin infusion in the privacy of your home, office, or hotel.
Uses of IV Therapy
Near Sherman, TX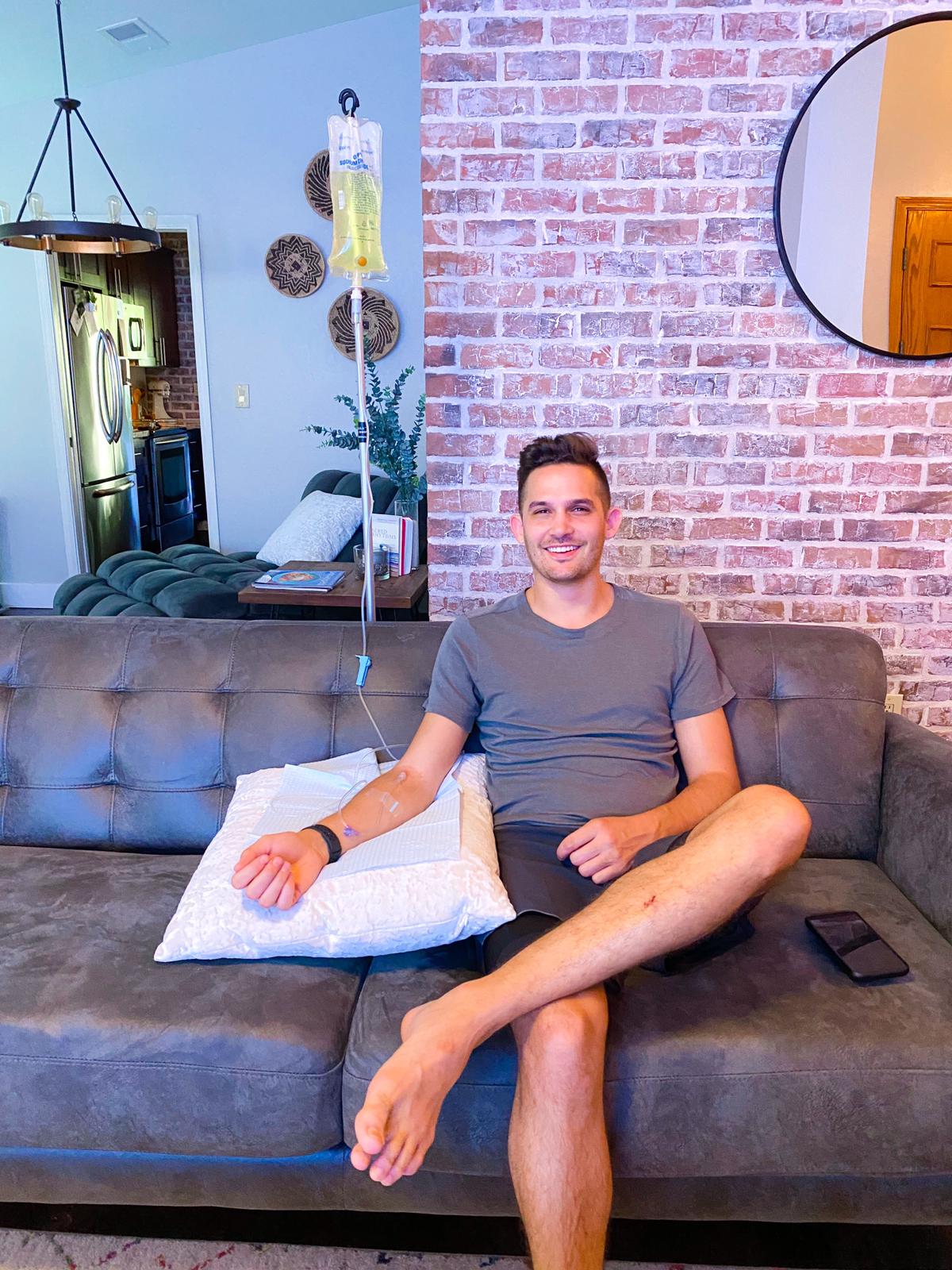 When you live life to its fullest, you may eventually start to feel run down. Maybe you've spent too much time under the hot Texas sun or partied a little too hard on Main Street. Or, perhaps, you simply want to feel more energized and protect your health.
Whatever your situation, IV vitamin therapy in Sherman, TX, can help. When you take vitamins or eat healthy foods, many of those components are absorbed in your digestive tract. IV therapy is different. The IV solution of powerful vitamins, minerals, and medications goes right into your bloodstream for optimal absorption. This way, you can enjoy the full impact of all the ingredients in your IV.
At Lone Star IV Medics, we offer a range of vitamin infusions in Sherman, so you can choose the option that fits your health goals and needs. Our IVs can help with:
IV therapy can help alleviate the symptoms associated with!
How Much Does Mobile IV Therapy in Sherman Cost?
We do our best to offer IV therapy in Sherman that is both affordable and effective. We use top-of-the-line vitamins and minerals in our IVs and use a team of healthcare providers to administer the IVs to our customers.
At the same time, we don't think improving your health should break your bank account. If you're on a budget, try our Bronze IV Package for just $125. Once you feel all the amazing benefits of IV vitamin therapy in Sherman, TX, you may be interested in some of our more potent vitamin infusions, including our most popular option, The Myers' Cocktail.
You can also create your own personalized IV by choosing add-in ingredients, starting at just $25 per add-in.
Not sure which IV is right for you? Take a look at all our IV treatment packages. Our technician can also make a recommendation for you based on your symptoms, health goals, and budget. You can also see all our pricing packages before you put in your order.
How to Book a Mobile IV in Sherman
It's incredibly easy to order IV therapy in Sherman. You can book your appointment online. If you have a fun weekend or athletic event coming up, you can schedule your IV appointment in advance. If you need to feel better now, request the soonest available appointment.
In many cases, a member of our team can be at your home or requested location within an hour.
The IV technician will perform a health history and health check and then apply the IV. They will monitor your progress through the entire treatment. The entire process, from start to finish, usually takes about an hour.
Ready to feel better? Schedule online today. 
Not in Sherman? We are proud to work with customers throughout Texas. Take a look at all the locations we serve.