When your body is healthy, rested, and hydrated, you feel like you can take on the world! But remove even one of those things, and you may notice a drop in energy, poor mood, and difficulty tackling your to-do list.
Your health is one of the most valuable things you possess. So why is it that so many of us are chronically dehydrated? Lone Star IV Medics wants to help Texans feel their very best all year long, which is why we offer rehydration IV therapy in Helotes and beyond.
Our mobile IV therapy will give you all the fluids, vitamins, minerals, and electrolytes you need to feel great and perform your very best — all thanks to a treatment you can receive right from your couch at home!
Applications of IV Rehydration Therapy
Near Helotes, TX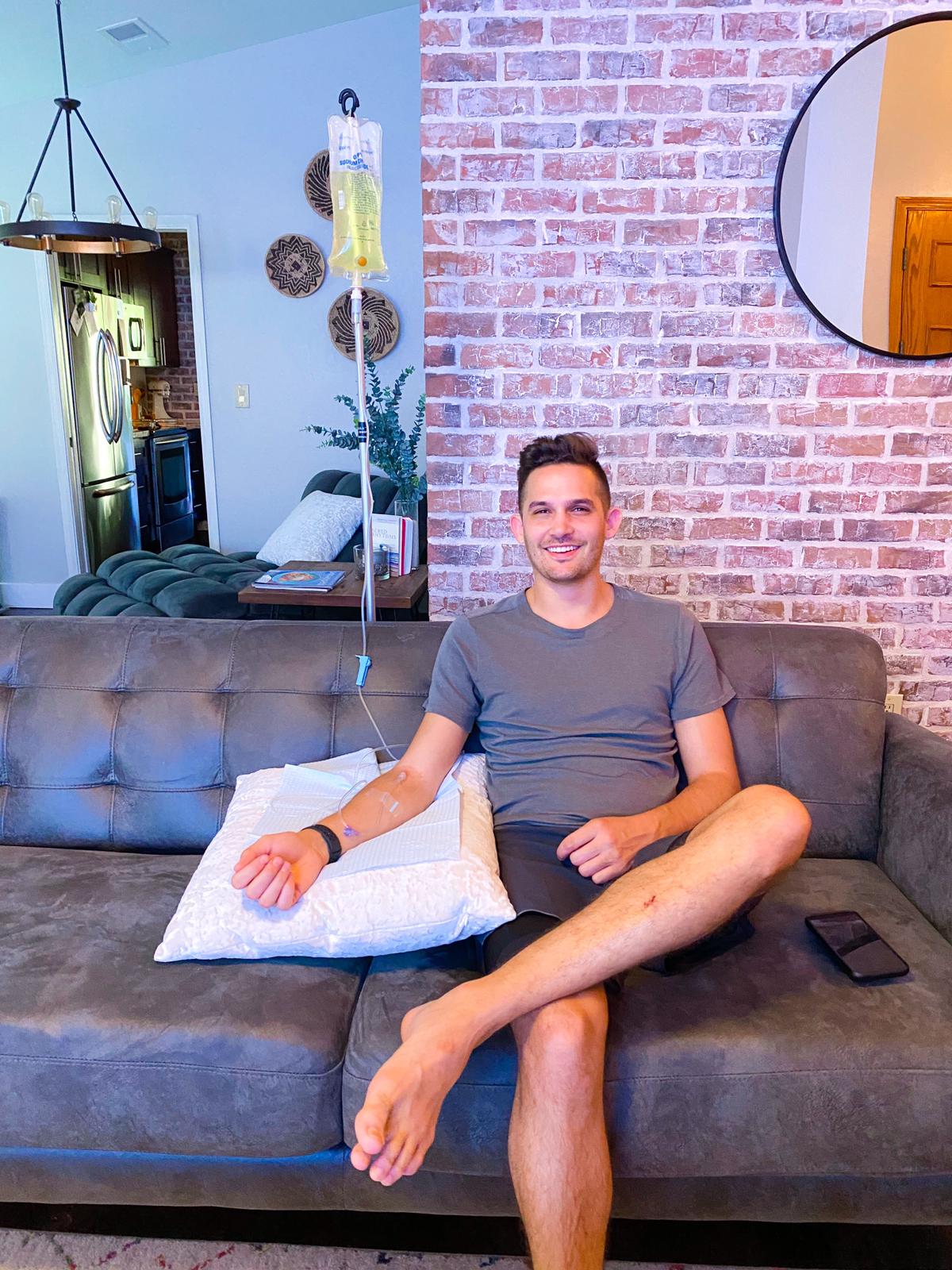 Our Helotes IV therapy patients love using our treatments to help them manage many different medical conditions. Our IV infusions can mitigate symptoms connected with dehydration, from nausea and migraines to fatigue. We have had patients use mobile IV therapy in Helotes to treat food poisoning, the common cold, hangovers, and even morning sickness.
We can even use mobile IV therapy to help maintain or improve your health when you're already feeling fit. Many of our patients are athletes looking to get an all-natural energy boost before a big event like a marathon or trying to bounce back quickly after a strenuous workout. 
Best of all, you can reap the incredible benefits of rehydration therapy without leaving the comfort of your home. When you schedule an appointment with Lone Star IV Medics, we will come to your home, office, or even your hotel to administer an IV infusion. After a quick health assessment, our team will sit you down, set you up with the right IV for your health needs, and monitor you for the next 30-45 minutes. By the time your IV bag is empty, you'll be feeling good as new.
Lone Star IV Medics has earned a reputation for excellence thanks to our team of healthcare providers. They perform all of our infusions with a commitment to outstanding patient care, and their medical experience ensures the safest possible treatment. Our team also includes a doctorally prepared pharmacist (Pharm.D.) and naturopathic doctor (N.D.) offering consulting guidance and a board-certified physician (M.D. or D.O.) overseeing medical direction. If you're interested in professional IV drip therapy in Helotes, fill out our contact form and set up your first appointment today.
IV therapy can help alleviate the symptoms associated with!
How Much Does Mobile IV Therapy in Helotes, TX, Cost?
At Lone Star IV Medics, we want our patients to have healthy bodies and healthy bank accounts. That's why we strive to offer our high-quality, hospital-grade IV solutions at affordable prices. Our packages range in price with the option for additional vitamin add-ons. 
How to Book a Mobile IV in Helotes
We are proud to offer mobile IV therapy in Helotes and many other convenient locations around Texas. Contact us today to book your appointment. We're nearby and ready to help you get hydrated.
Want to get news about exclusive offers, flash sales, and more from Lone Star IV Medics? Sign up for our VIP list today.
Book Now!
Serving Helotes & all suburbs!
Open 8AM-8PM, Daily