We've all experienced feeling run down, foggy, and out of sorts. It's called exhaustion, and it happens anytime we push our bodies to the limit, mentally or physically. 
When we're exhausted, it can be hard to get work done, engage with loved ones, and even concentrate on the things that could help us relax. In these moments, two things can help you feel like yourself again: rest and rehydration.
Well, believe it or not, Lone Star IV Medics is here to help you feel better again. As one of the most trusted providers of mobile IV therapy in Fulshear, TX, we can help you go from "blah" to "brand new!"
Why Choose Lone Star IV Medics in Fulshear
You're smart enough that you won't trust just anyone with your health. When you need to recover from an illness, an epic celebration, or simply an extra tough week of work, you choose the best. That's what you'll get when you book an appointment with Lone Star IV Medics.
We offer premier IV therapy in Fulshear and throughout Texas. First, we are obsessed with putting the very best ingredients in our IVs. That means when you order a vitamin infusion in Fulshear, you'll get the highest quality vitamins, minerals, and medications. Next, we only hire knowledgeable and experienced healthcare professionals. They can answer your questions so you feel completely comfortable with your treatment choice.
Finally, we know that when you're feeling down, the last thing you want to do is travel to a medical office. That's why we offer mobile IV therapy in Fulshear. Book an appointment, and a healthcare professional will show up on your doorstep. In many cases, we can arrive at your home or preferred location in just an hour.

Fast service. Top ingredients. Experienced professionals. That's why you should choose Lone Star IV Medics for IV vitamin therapy in Fulshear.
Applications of IV Rehydration Therapy
Near Fulshear, TX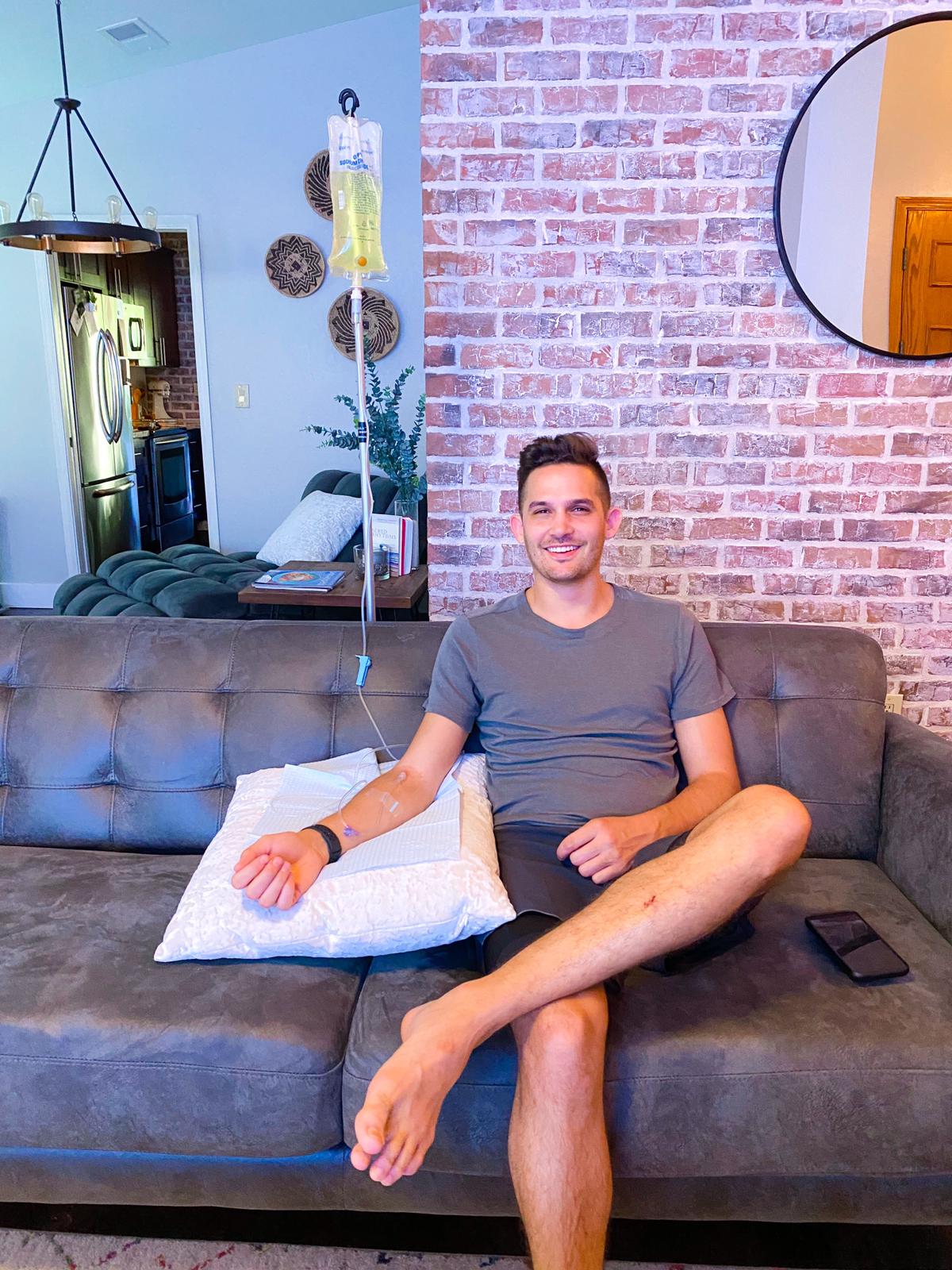 Our Fulshear IV therapy patients love using this innovative hydration treatment to help them manage symptoms from many different conditions. Nausea, the common cold, and even hangovers can all benefit from IV rehydration therapy. Our infusions provide a high-quality cocktail of vitamins, minerals, and electrolytes, which go directly into your bloodstream to help you feel better almost instantly.
Mobile IV therapy can even benefit athletes who are looking for an all-natural energy boost. Got a big event coming up like a marathon? You can use IV rehydration to revitalize your body and prepare it for peak performance. Or did you just finish a workout that left you wiped out? IV therapy can mitigate that muscle fatigue and help you bounce back quicker.
When you book an appointment with Lone Star IV Medics, our team of professionals will come to your home, office, hotel, or anywhere else you request. Our healthcare providers will assess your health and administer an IV of your choice, then monitor you throughout the treatment process. The entire treatment and session takes 45-60 minutes, and you'll start feeling the results right away.
Lone Star IV Medics have earned a reputation for excellence thanks to our team of healthcare providers. They perform all of our infusions with a commitment to outstanding patient care, and their medical experience ensures the safest possible treatment. Our team also includes a doctorally prepared pharmacist (Pharm.D.) and naturopathic doctor (N.D.) offering consulting guidance and a board-certified physician (M.D. or D.O.) overseeing medical direction. If you're interested in professional IV drip therapy in Texas, fill out our contact form and set up your first appointment today.
IV therapy can help alleviate the symptoms associated with!
How Much Does Mobile IV Therapy in Fulshear, TX, Cost?
Mobile IV therapy in Fulshear shouldn't cost an arm and a leg — and with Lone Star IV Medics, it doesn't. We offer IV treatment for any budget, with prices ranging from $100 to $395. You can choose from our pre-made vitamin cocktails or create your own with our add-ins, which start at $25 each. There are additional costs for add-on items and custom packages.
How to Book a Mobile IV in Fulshear
We are proud to offer mobile IV therapy in Fulshear and many other locations around Texas. Contact Lone Star IV Medics to book your appointment today, and sign up for our VIP list for details about exclusive sales and offers. 
Book Now!
Serving Fulshear & all suburbs!
Open 8AM-8PM, 24/7 Service Typically Available
IV Therapy FAQs
1
Is IV therapy in Fulshear, TX, worth the money?
Only you can decide if IV therapy in Fulshear is right for you. We encourage you to read all of our great reviews from customers in Fulshear and throughout Texas. We believe our IV treatments are a great option if you want to feel more energized, focused, and healthy. IV vitamin therapy in Fulshear can help you rehydrate and gives you the vitamins, minerals, and medications you need to recover from a variety of health challenges. We also pride ourselves on offering vitamin infusions in Fulshear at different pricing levels. If you are on a budget, you can try our Bronze Package or even create a custom IV using add-in ingredients. Designing your own IV infusion lets you control your costs and tailor the ingredients to your specific health needs.