Mobile IV Therapy in Friendswood, Texas
Friendswood, Texas, prides itself on being a town that's "a friendly place to live." But when you're struggling with a migraine, allergies, or an upset stomach, it can be hard to put on a smile and make small talk with the neighbors! 
At Lone Star IV Medics, we want you to be your happiest and friendliest self. To do that, you need to be healthy and hydrated! Our team offers IV therapy in Friendswood that will give your body the stuff it needs for optimal health and wellness. After our treatments, you'll be ready to offer a friendly smile to everyone you meet.
Applications of IV Rehydration Therapy
Near Friendswood, TX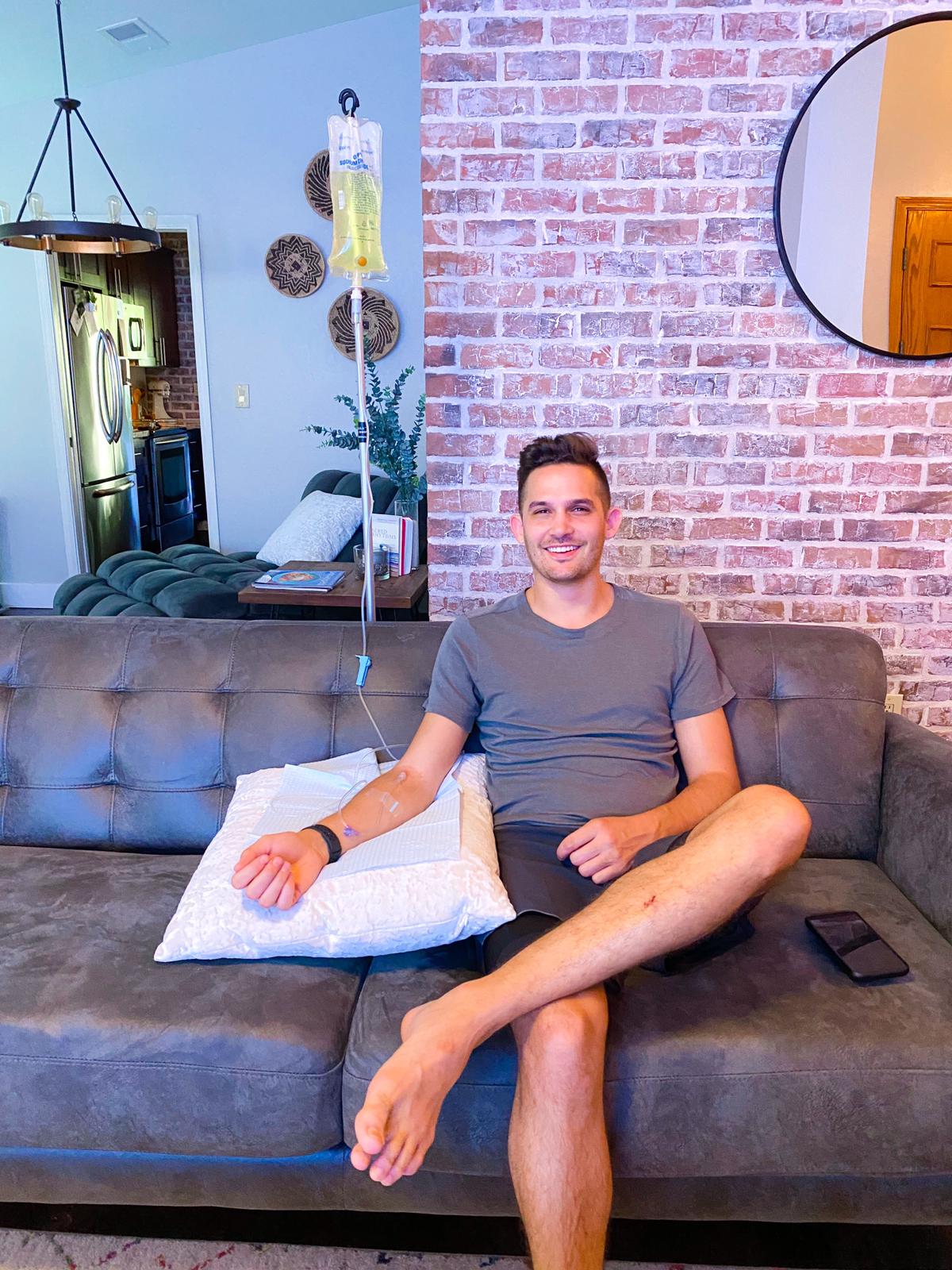 Recover Fast with IV Therapy in Friendswood, TX
Our patients use IV treatments in Friendswood to help manage symptoms related to a wide range of health conditions. We help folks who are fighting migraines, struggling through morning sickness, dealing with digestive issues, or even nursing hangovers. If dehydration plays a role in your symptoms, our mobile IV therapy in Friendswood can help you find relief.
You can also use IV therapy to improve your health when you're already feeling fine! Each of our IV treatments is packed with essential vitamins and minerals that can support bodily processes and help you perform at your peak. Many athletes use our vitamin infusions in Friendswood as a natural way to enhance their energy before an event. Some patients also receive vitamin treatments to support their immune systems during flu season or complement their weight loss efforts.
How does it work? When you call Lone Star IV Medics, we will send a member of our team of healthcare providers directly to your home, office, or hotel. After a brief health assessment, these professionals will administer an infusion chock-full of the essentials you need to target your symptoms. All you have to do is sit back and relax. In just 30 to 45 minutes, our IV vitamin therapy in Friendswood, TX, will have you feeling like new!
IV therapy can help alleviate the symptoms associated with!
How Much Does Mobile IV Therapy Cost in Friendswood, TX?
Lone Star IV Medics offers several pricing packages for our IV therapy in Friendswood. You can get pure saline for $100 (ideal for people who want quick rehydration without extra vitamins), or choose from one of our pre-made cocktails with prices ranging from $125 to $395. 
Want to customize your treatment? We also offer additional vitamins you can add to any IV, starting at $25 each. Our team is always happy to help you find an IV package that meets your health needs and fits your budget.
How to Book a Mobile IV in Friendswood, TX
Illness and uncomfortable symptoms can take a toll on your body, your day, and your friendships. But with IV therapy from Lone Star IV Medics, you can be your healthy, happy, and friendly self once again! 

We have teams of healthcare providers ready to help patients in all the locations we serve, so contact Lone Star IV Medics today! You can call us or schedule online.
Book Now!
This is the 1st item
This is the 2nd item
Serving Friendswood & all suburbs!
Open 8AM-8PM, 24/7 Service Typically Available