Your health is one of the most important things you have. When your body is healthy and strong, you feel like you can take on the world! 
But unfortunately, too many of us simply don't have the time to invest in our health the way we should. We don't get enough sleep, drink enough water, or get the vitamins and minerals we need for our bodies to function at peak performance.
Luckily, Lone Star IV Medics is here to help you give your body the good stuff. Our IV therapy in Farmers Branch can replenish those essential vitamins, minerals, and electrolytes that you need to feel your best and stay healthy.
Applications of IV Rehydration Therapy
Near Farmers Branch, TX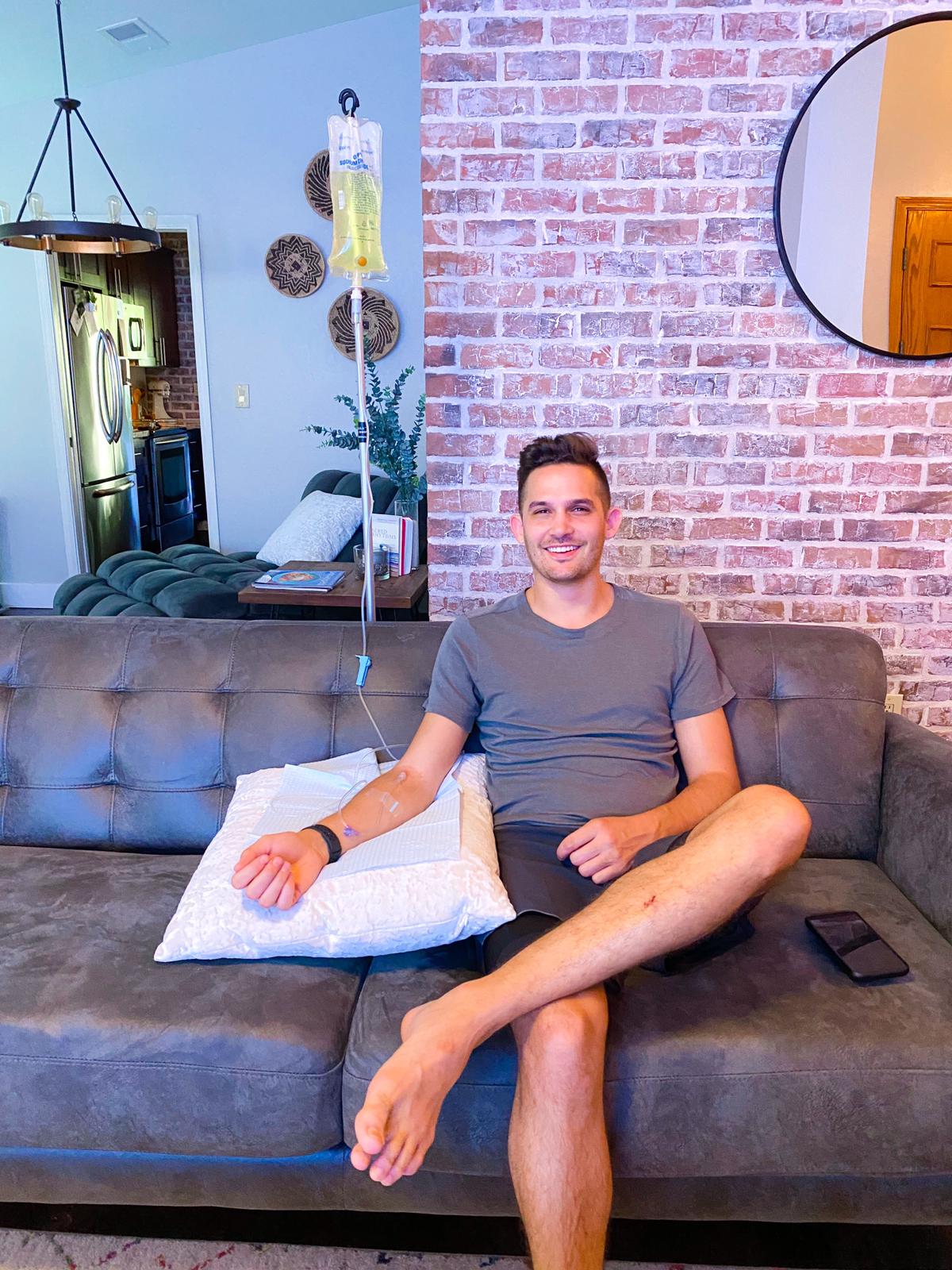 Recover Fast with IV Therapy in Farmers Branch, TX
Our team specializes in mobile IV therapy in Farmers Branch and all the other locations we serve around the Lone Star State. This means we provide high-quality, medical-grade IV vitamin therapy in Farmers Branch, TX—right in the comfort of your own living room!
How does it work? When you make an appointment for IV treatments in Farmers Branch, Lone Star IV Medics will send a team of healthcare providers to your home, office, or hotel. We will conduct a thorough health assessment and help you select the perfect blend of vitamins and minerals to manage your current symptoms. Then, we will administer an IV and monitor you as those fluids and vitamins work their magic. The process typically takes 45 to 60 minutes, and many patients notice symptom relief almost immediately.
You can use vitamin infusions in Farmers Branch to treat symptoms related to migraines, hangovers, nausea, and much more. You can even use IV therapy to support your immune system and enhance your overall health. With help from Lone Star IV Medics, you really can become your healthiest self.
IV therapy can help alleviate the symptoms associated with!
How much does Mobile IV Therapy cost in Farmers Branch, TX?
Lone Star IV Medics offers several different pricing packages for our mobile IV therapy in Farmers Branch. These packages range from $125 to $395—and they all contain high-quality ingredients that can make a real difference in your health. 
You can even customize your IV treatment to better suit your specific needs. We can add additional vitamins, minerals, or even medication to any IV, starting at just $25 each. No matter which infusion you choose, you can expect a powerful treatment that can help you recover quickly and effectively.
How to Book a Mobile IV in Farmers Branch, TX
With IV therapy in Farmers Branch, you can truly invest in your health and gain mental clarity, energy, and the strong immune system you (and all of us) deserve. Whether you're feeling sick and tired or you're looking for a way to improve your current wellness routine, Lone Star IV Medics can help you reach your wellness goals.
Contact us today if you have questions about IV therapy, or visit our schedule online to make an appointment. We can't wait to help you reap the benefits of vitamin infusions!
Book Now!
Serving Farmers Branch & all suburbs!
Open 8AM-8PM, 24/7 Service Typically Available