We all know that feeling our best is an important element of success. When you're healthy, alert, and energized, you feel like you can accomplish anything from completing a strenuous workout to wrangling the kids after an afternoon at the park.
Your body needs plenty of nutrients and lots of fluids to achieve peak performance. And we want you to enjoy that kind of health and wellness all year long. That's why we offer IV therapy in Corpus Christi and other areas throughout Texas. Our IV treatments will give you the stuff you need to be your healthiest self, so you're always ready to take on the world.
Recover Fast with IV Therapy in Corpus Christi, TX
Lone Star IV Medics offers mobile IV therapy in Corpus Christi.Our teams will bring IVs chock-full of vitamins, minerals, electrolytes, and medications straight to your house, office, or hotel room, giving you top-quality infusions in the comfort of your own space.
What can IV therapy do for you? Our patients use vitamin infusions in Corpus Christi to help manage a variety of conditions, from hangovers and food poisoning to migraines and mood disorders. Moms-to-be find relief from their morning sickness, athletes speed up their post-workout recovery, and folks who are worn down at the end of a long week get the nutrients they need to replenish their bodies and shake off that fatigue. 
How does it work? When you order IV vitamin therapy in Corpus Christi, TX, Lone Star IV Medics will send a team of professional and highly-skilled healthcare providers to your door. The team will assess your health and help you choose the right cocktail of vitamins and minerals (plus medication if necessary) to meet your health needs.
Once you've selected your IV treatment, all you have to do is sit back and relax. Our medical professionals will administer the IV and monitor you throughout the infusion (typically 30-45 minutes) to ensure that you're safe, comfortable, and feeling good as new.
Applications of IV Rehydration Therapy
Near Corpus Christi, TX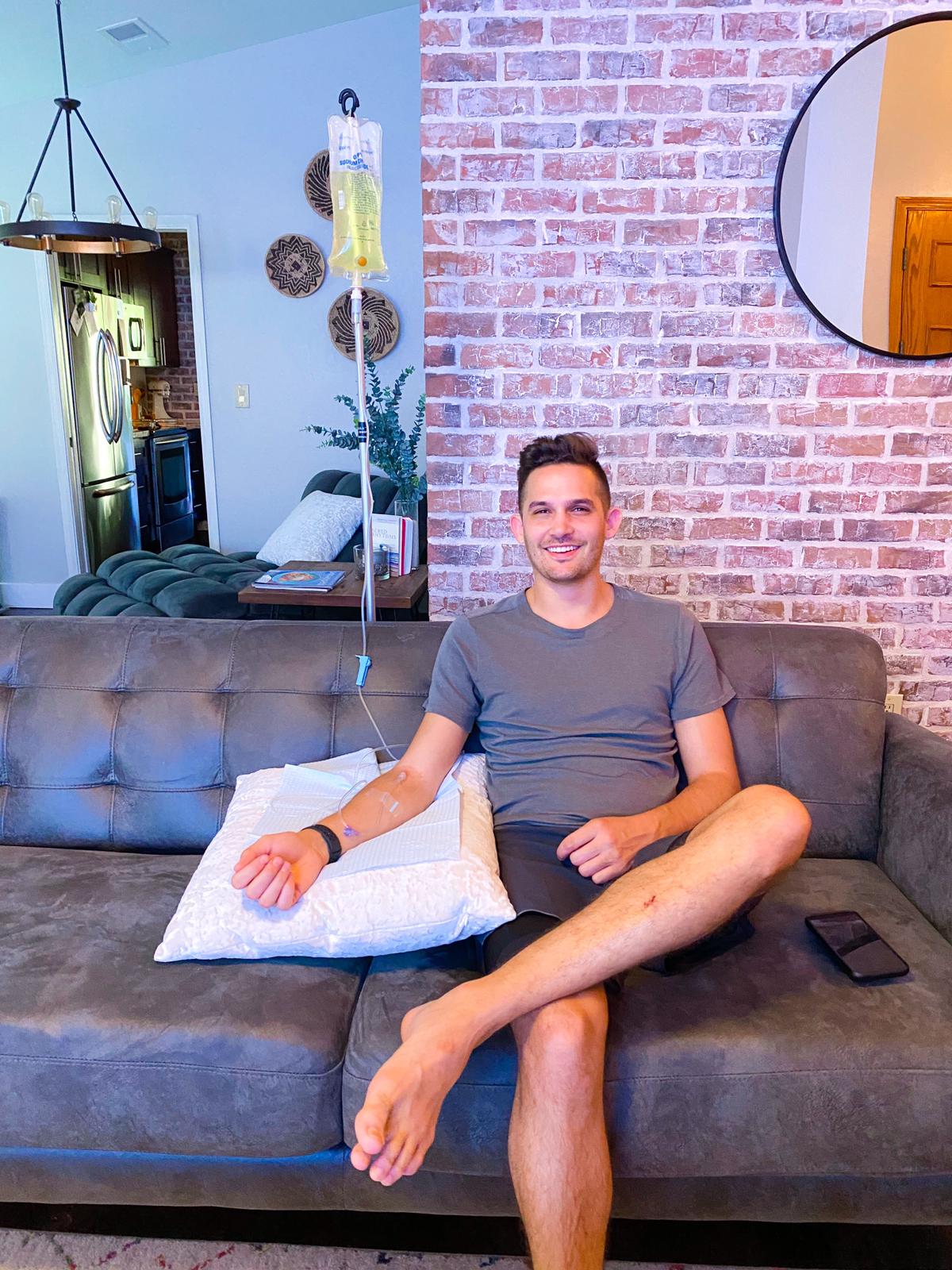 IV therapy can help alleviate the symptoms associated with!
How to Book a Mobile IV in Corpus Christi, TX
You deserve to feel your best every day, whether you're fighting off a cold, managing a migraine, or simply trying to recover from a tough workout. Lone Star IV Medics has teams ready to visit all the locations we serve. 
The IV treatment that will get you back on your feet is just a click away, so visit us and schedule an appointment online today!
How Much Does Mobile IV Therapy Cost in Corpus Christi, TX?
Lone Star IV Medics offers a variety of pricing packages to our patients, ranging from $100 (for pure saline) to $395 (for our blend of vitamin B complex, zinc, B12, vitamin C, magnesium, glutathione, and more). We also offer several vitamin add-ins starting at $25 each, so you can create your own unique IV treatment.
With our varied pricing options, you can always find IV therapy in Corpus Christi that meets your health needs and suits your budget.
Book Now!
This is the 1st item
This is the 2nd item
Serving Dallas & all suburbs!
Open 8AM-8PM, 24/7 Service Typically Available