We all know the feeling of a cold coming on. Maybe you feel achy, tired, and a little stuffed up. When this happens, the only thing you can do is rest and get lots of fluids.
But what if you have a busy life with no time to recover? In that case, call Lone Star IV Medics.
We are the most trusted provider of mobile IV therapy in Coppell, TX, and beyond. Our rehydration therapy will give you the essential fluids, vitamins, minerals, and electrolytes that you need to overcome that cold and feel your best — and we'll do it in under an hour!
The Best IV Therapy in Coppell
When it comes to your health you don't want to roll the dice and pick the first IV company you come across. Instead, do your homework and make sure you choose the best IV vitamin therapy in Coppell, TX. How do you know you've found the best?
First, make sure the company you work with only hires licensed and registered medical professionals to perform their IV treatments. Next, check to see if the company has a good reputation. Finally, see if the company uses the best ingredients possible in its IVs. After all, you want to make sure the vitamins, minerals, and medications going into your body are of the highest quality.
Why Choose Lone Star IV Medics in Coppell?
If you really want to use the best IV therapy in Coppell, then you've already found it. (At least we think so!) At Lone Star IV Medics, we only work in the state of Texas. Our local team lives, works, and plays in the Coppell area. (Go Cowboys!)
We also ensure that every member of our team is fully licensed to perform IV treatments and has plenty of experience providing IVs. Finally, we are insistent on using the very best ingredients in our IVs. We know that your results will determine whether you come back to us again. We never skimp on quality.
We are also your one-stop shop for mobile IV therapy in Coppell. When you work with us, you won't have to drive to a clinic when you feel ill or tired. Instead, we come to you. Our specialists can come to your home, office, or other preferred location so that you can enjoy your treatment in comfort and privacy.
Applications of IV Rehydration Therapy
Near Coppell, TX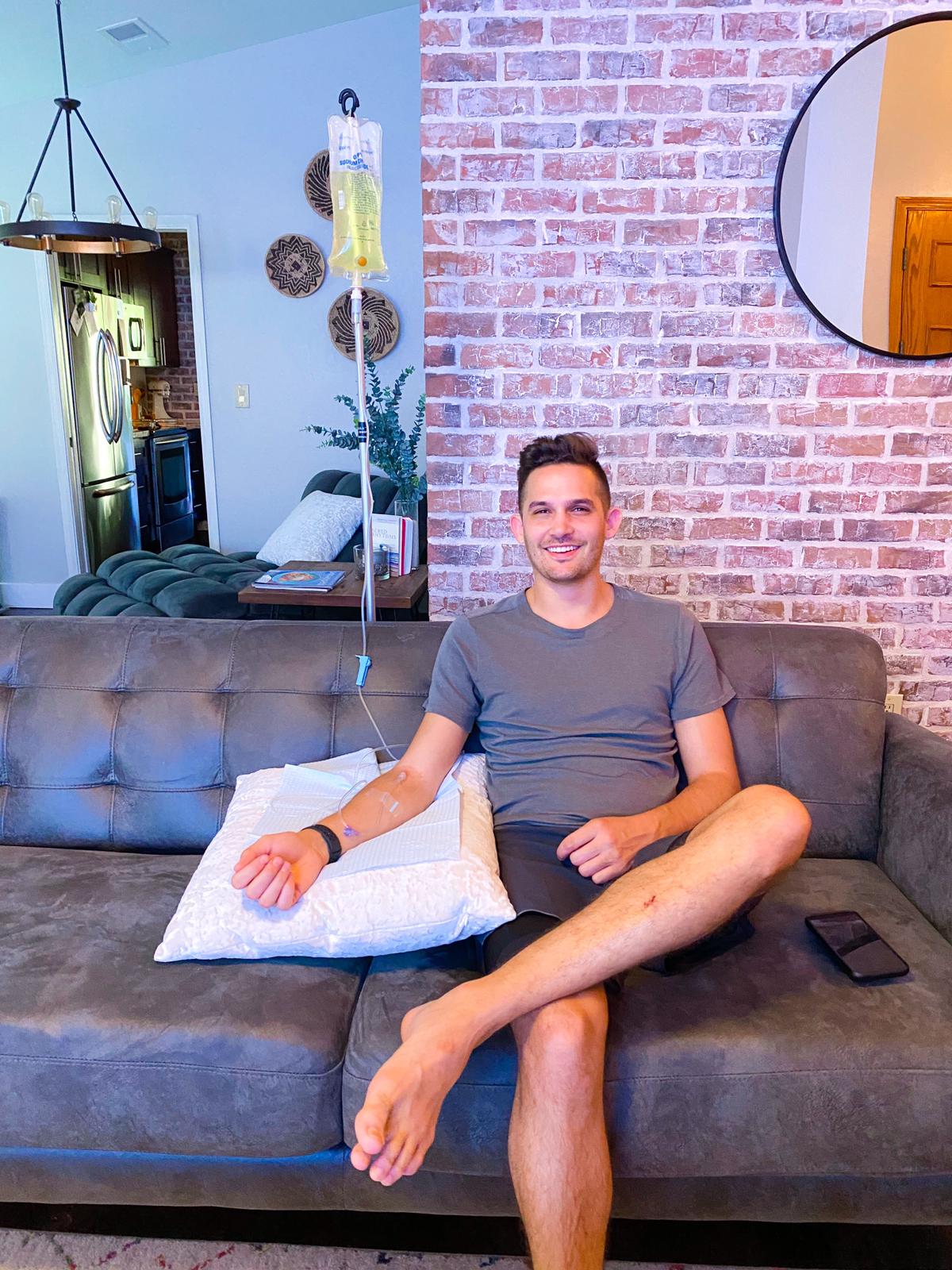 Dehydration is the culprit behind the uncomfortable symptoms of many health conditions, and our IV therapy in Coppell can help you manage those symptoms effectively. When you contact Lone Star IV Medics, we will send a team of experienced healthcare providers to your home, office, or even hotel. These professionals will assess your health and administer an IV cocktail full of saline, vitamins, and other essential nutrients to help your condition. The process takes only about an hour, giving you a hydrated and healthy body.
Mobile IV therapy can help relieve symptoms related to the common cold or flu, nausea due to morning sickness, migraine headaches, and even hangovers. It's also a popular choice for an all-natural energy boost. Many of our Coppell IV therapy patients get a rehydration infusion before a strenuous workout or even after a particularly tiring week at work. No matter what your health needs may be, you'll get real, noticeable benefits from mobile IV therapy.
Lone Star IV Medics has earned a reputation for excellence thanks to our team of healthcare providers. They perform all of our infusions with a commitment to outstanding patient care, and their medical experience ensures the safest possible treatment. Our team also includes a doctorally prepared pharmacist (Pharm.D.) and naturopathic doctor (N.D.) offering consulting guidance and a board-certified physician (M.D. or D.O.) overseeing medical direction. If you're interested in professional IV drip therapy in Coppell, fill out our contact form and set up your first appointment today.
IV therapy can help alleviate the symptoms associated with!
How Much Does Mobile IV Therapy in Coppell, TX Cost?
We offer hospital-grade, high-quality IV infusions at prices anyone can afford. Our IV packages start at $100, and you can add specific nutrients (like vitamin C or zinc) starting at $25 each. With our services, health, and wellness don't have to break the bank.
How to Book a Mobile IV in Coppell
Lone Star IV Medics is proud to offer our IV therapy services in Coppell and many other locations around Texas. Contact us today to find a team near you and schedule your next appointment. And if you want to receive news about flash sales and exclusive offers, sign up to join our VIP list today!
Book Now!
Serving Coppell & all suburbs!
Open 8AM-8PM, 24/7 Service Typically Available
IV Therapy FAQs
1
Is IV therapy safe in Coppell?
Every day, IV therapy is used thousands of times in Texas to help customers and patients with all sorts of issues. This therapy is incredibly safe with a very low rate of complications. That being said, every medical procedure, including IV therapy in Coppell, comes with some level of risk. When you receive an IV, there is a small chance you may develop an infection, experience vein trauma, or have an adverse reaction to the ingredients in the IV. At Lone Star IV Medics, we do everything possible to make IV vitamin therapy in Coppell, TX, as safe as possible.
2
How long does IV therapy take in Coppell?
We ask that you put aside a full hour for your vitamin infusion in Coppell. The IV treatment usually takes 30 to 45 minutes, but we request that you give our IV specialist time to set up their equipment and perform a short health history and medical exam. These precautions help ensure that you are a good candidate for the treatment. You can also use this time to ask your specialist any questions you have about the treatment. If you aren't sure which IV product is right for you, our specialist can also provide a recommendation based on your health goals and budget.