Feeling run down lately? Fatigued? Nauseated? Achy? If so, chances are, you might be dehydrated. Our bodies are mostly water, and when we don't get enough fluids, we wind up feeling less than our best.
So, what can you do when dehydration leaves you feeling "blah"? Get fast relief with Lone Star IV Medics. We offer IV rehydration therapy in Colleyville, TX (as well as many other convenient locations), and can help you get the fluids you need for optimum health and wellness.
Why Choose Lone Star IV Medics in Colleyville?
If you aren't feeling so well, don't trust your health with anyone but the best. You will get top IV therapy in Colleyville when you work with Lone Star IV Medics. We ensure that all of our team members are licensed and registered to perform IV treatments in Texas. Everyone on our team is also knowledgeable, friendly, and experienced. They love answering questions and guiding customers in choosing the right IV treatment.
We also insist on using the very best ingredients in our vitamin infusions in Colleyville. We use powerful and proven vitamins, minerals, and medications so our customers feel the difference. We understand that budgets can vary, which is why we offer a wide selection of treatment options at different price points. While we don't cut corners on quality, we also try to fit into most budgets. We offer add-in ingredients, allowing our customers to create personalized IVs for their specific needs.
Finally, we know how unpleasant it can be to drive to a clinic or doctor's office when you're feeling under the weather. That's why we offer mobile IV therapy in Colleyville. Our team members will come to your home and give you your treatment in the comfort and privacy of your own space. We can also give you IV therapy at the office if you are a hard-charging business warrior or at your hotel if you're visiting Colleyville. At Lone Star IV Medics, our customers always come first. 
Applications of IV Rehydration Therapy
Near Colleyville, TX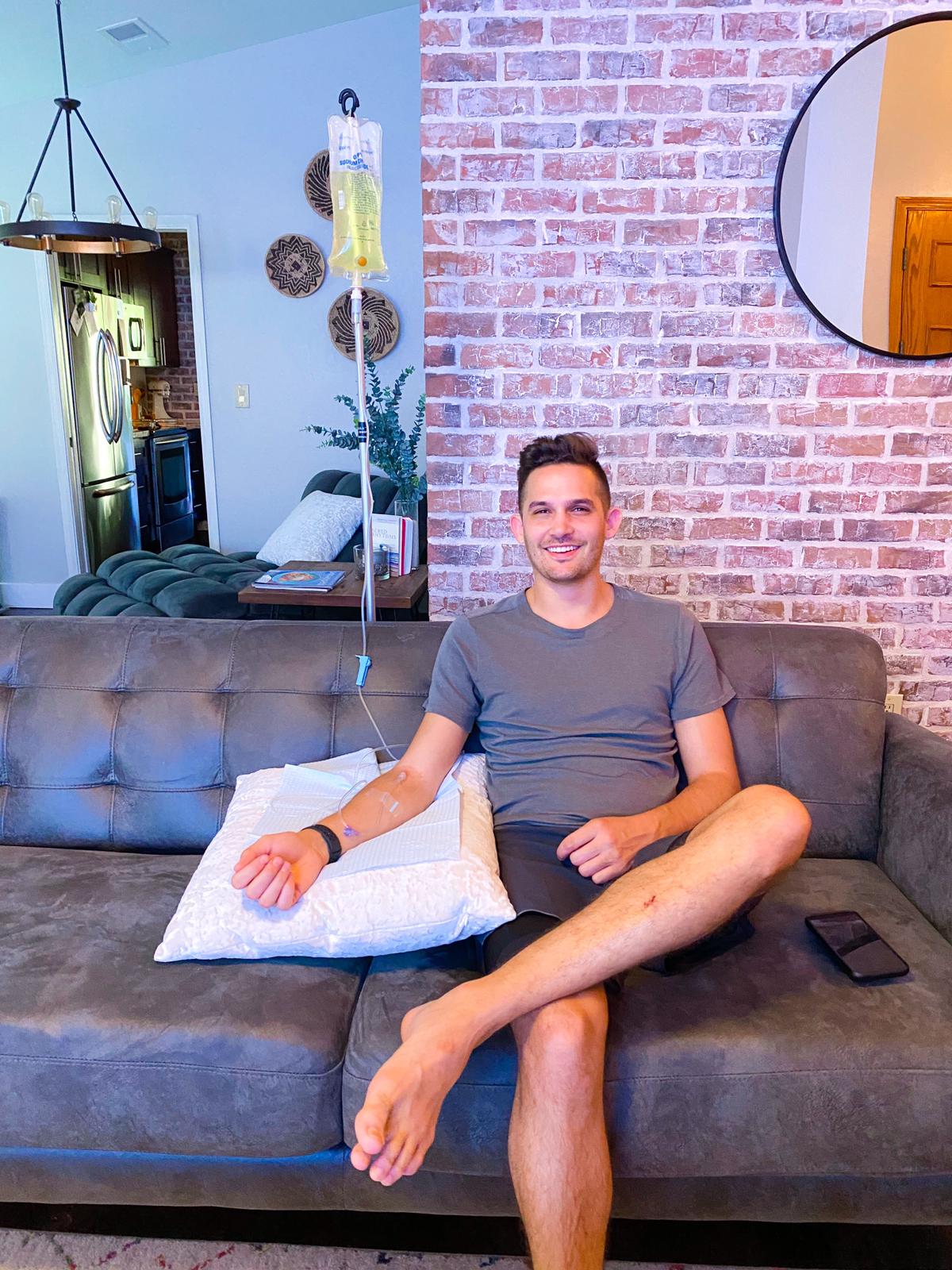 Our Colleyville IV therapy patients love using rehydration therapy as part of their wellness routine. This unique and innovative treatment delivers vitamins, minerals, and electrolytes directly into your bloodstream, so you can manage uncomfortable symptoms associated with many health conditions almost instantly.
Which conditions benefit from IV therapy? Almost any condition where dehydration is a factor! Our patients have used mobile IV therapy in Colleyville to help alleviate symptoms associated with the flu, morning sickness, hangovers, and a lot more! 
Some patients even use our infusions when they're perfectly well. IV rehydration can help athletes recover after a strenuous workout, and it can give you an all-natural energy boost before any big athletic event.
When you schedule mobile IV therapy in Colleyville, Lone Star IV Medics will send a healthcare provider to your house (or any other location you choose). We'll assess your health to determine your specific health needs, then administer an IV with all the minerals that will help you feel your best. Within just 45-60 minutes, you should be ready to take on the world.
Lone Star IV Medics has earned a reputation for excellence thanks to our team of healthcare providers. They perform all of our infusions with a commitment to outstanding patient care, and their medical experience ensures the safest possible treatment. Our team also includes a doctorally prepared pharmacist (Pharm.D.) and naturopathic doctor (N.D.) offering consulting guidance and a board-certified physician (M.D. or D.O.) overseeing medical direction. Book an appointment with Lone Star IV Medics to experience the benefits of IV therapy.
IV therapy may help alleviate the symptoms associated with the following:
How Much Does Mobile IV Therapy in Colleyville, TX, Cost?
Health and wellness are important for everyone — not just the people with thick wallets and money to burn. That's why Lone Star IV Medics strives to provide hospital-grade, high-quality IV infusions at affordable prices.
Our IV cocktails start at a low price, giving you the fluids and nutrients you need. You can even add in additional supplements or medications.
How to Book a Mobile IV in Colleyville
If you want to see how rehydration can benefit your health, we're ready with IV therapy right here in Colleyville. Contact Lone Star IV Medics today to schedule your appointment, and don't forget to sign up for our VIP list to get exclusive offers and news about flash sales.
Book Now!
Serving Colleyville & all suburbs!
Open 8AM-8PM, Daily
IV Therapy FAQsThis is the title
1
What are people saying about IV hydration near Colleyville, TX?
Have you heard the news? The people of Colleyville are loving IV vitamin therapy in Colleyville, TX. Our customers tell us how they feel re-energized and focused after IV therapy treatments. Others believe the IV treatment helped alleviate symptoms of a cold or flu or even helped them with hangover symptoms. All over Colleyville, we've been getting rave reviews. In fact, many of our customers order additional treatments. Some have even incorporated vitamin infusions into their ongoing health maintenance routines.
2
How long does IV therapy take in Colleyville?
Giving yourself a full hour for your IV therapy appointment is a good idea. This will allow your IV specialist time to set up and perform a short medical history and health check before beginning the therapy. You might also want to use this time to ask questions or work with the IV specialist to choose the right IV formula for your health goals and/or symptoms. In roughly an hour, your treatment will be complete, and you may start to feel the health benefits of the therapy. 
3
How long does IV therapy last in Colleyville, TX?
Many of our customers want to know how long the effects of IV therapy last. Unfortunately, the answer can be a little frustrating. It depends. Eventually, all the ingredients in the IV will be metabolized and flushed naturally from the body. The time this takes will depend on the ingredients. The saline and electrolytes may help you feel more refreshed after your treatment. The saline will flush waste from your body, which could help you feel more focused and energized over time. The vitamins and minerals may take longer to work as your body processes them.  It all depends on your IV infusion of choice and your specific body. The more IV therapy you get, the better you'll understand how your body feels with each treatment.