Support your health and wellness with IV therapy. Lone Star IV Medics is there for you with convenient, reliable mobile IV service at your home or office. Our medical-grade IV fluids provide fast, effective results for our clients. Whether you're recuperating from an illness, recovering from a heavy-duty workout, or enhancing your well-being with IVs for energy or anti-aging, we can help you upgrade your health and enrich your life. 
Our Cibolo IV therapy team consists of experienced registered nurses and paramedics. They all have expertise in rigorous safety protocols and personalized patient care so you get the best possible IV treatment. We also have the consulting guidance of a doctorally prepared pharmacist (Pharm.D.) and naturopathic doctor (N.D.), plus medical direction from a board-certified physician (M.D. or D.O.). 
We take pride in our comprehensive mobile IV service and are eager to partner with you to take charge of your health. We are always available to answer any questions about the safety of IV therapy in Cibolo or what IV treatment is right for you. Contact us to schedule your IV treatment today. 
The Best IV Therapy in Cibolo, TX
How do you know you're getting the best IV therapy in Cibolo? There are a couple of ways to ensure you only trust your health to the top IV experts in the state. First, never work with a company that doesn't use fully licensed and registered medical professionals to perform their IV treatments. Next, look for a company that has been around and understands the Cibolo community. Finally, don't hesitate to ask your IV company where they source their ingredients. You'll get the best results by working with a company that only uses the highest quality vitamins, minerals, and medications.
Not sure where to find the best IV vitamin therapy in Cibolo, TX? Check out all our fantastic reviews.
Why Choose Lone Star IV Medics in Cibolo
If you read the paragraph above, you already know what to look for in Cibolo's best IV therapy company. At Lone Star IV Medics, we check all the boxes. First, we thoroughly screen all of our team members to ensure that we only hire licensed healthcare professionals with lots of experience performing IV therapy in Cibolo. Next, as you can tell from our name, we specialize in providing IV therapy in Texas. We understand the community of Cibolo and the health needs of residents.
Third, we only use the highest quality ingredients in our IV solutions. We know that our reputation rests on the health outcomes for our customers. That's why we put the best vitamins, minerals, and medications into our mixes. Our customers notice the difference, which you can read about in their reviews.
Last but not least, we distinguish ourselves by offering mobile IV therapy in Cibolo. In other words, our IV specialists will come to your home, office, or hotel room. When you work with Lone Star IV Medics, you won't have to drive to a medical office when you feel under the weather. We'll come to you and offer relief in the comfort and privacy of your space. 
Applications of IV Rehydration Therapy Near
Cibolo, TX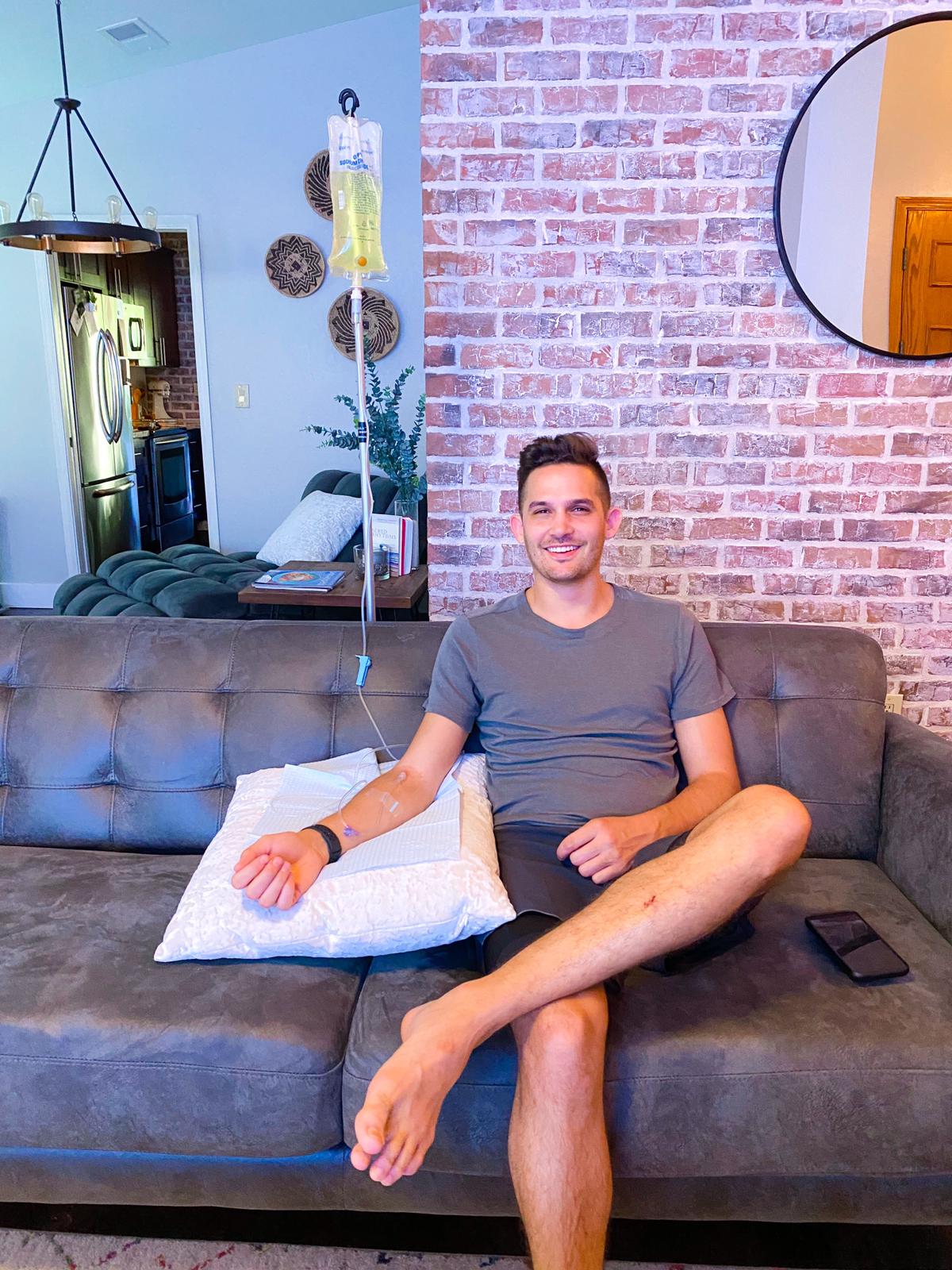 Lone Star IV Medics offers IV therapy in Cibolo that is unmatched in quality and effectiveness. IVs are versatile as they are used for everything from colds and chronic health conditions to hangovers and morning sickness. That's because IV fluids target dehydration, which is a factor in many different health issues. Your body feels replenished when it's infused with IV fluids rich in vitamins, minerals, and electrolytes for quick symptom relief.
We've also developed IV packages that address specific needs. Our Performance Plus drip IV enhances your athletic performance, while cutting-edge NAD+ may rejuvenate you with mental clarity and a feeling of youthful vibrancy. Explore our treatment menu to find the right one for you.
Lone Star IV Medics' mobile IVs in Cibolo give you tremendous benefits, whenever and wherever you need them. We review your health history and current symptoms to individualize your treatment. Add supplements or medications to get the most out of your IV therapy.
IV therapy can help alleviate the symptoms associated with!
How Much Does Mobile IV Therapy in Cibolo Cost?
You can't beat our affordable pricing packages, with the option to customize treatment with add-in supplements or medications. Join our VIP program and get exclusive access to deals and promotional offers. There are additional costs for add-in items and custom packages.
How to Book a Mobile IV in Cibolo
Lone Star IV Medics is the best choice for mobile IV therapy in Cibolo, TX. We've built a reputation for excellence with locations throughout the state serving countless patients. Contact us today to schedule your appointment.
Book Now!
Serving San Antonio & all suburbs!
Open 8AM-8PM, Daily
IV Therapy FAQs
1
Is IV therapy safe in Cibolo?
No medical procedure can be 100% safe. That said, IV therapy is a very low-risk procedure performed many times daily throughout the country and the world. Side effects or poor outcomes are rare, especially when an experienced healthcare provider performs the IV.
2
How long does IV therapy take in Cibolo?
At Lone Star IV Medics, we ask our customers to give us an hour to complete an IV therapy appointment. Your IV specialist will need time to set up their equipment when they arrive at your location. They will also give you a short health history and medical review to ensure you are ready for treatment. They will also take time to answer any questions and help you choose a vitamin infusion in Cibolo if you'd like a recommendation. The actual IV therapy itself typically takes 30 to 45 minutes. Your appointment will be complete in just an hour, and you may begin to feel the positive effects of the treatment already.