Need relief from sickness, exhaustion, or the symptoms of chronic illness? Experience the powerful benefits of IV therapy. Lone Star IV Medics offers residents in Cedar Park IV therapy that hydrates with vitamin-rich fluids. Enjoy fast relief and comfort any time you need it with our mobile IV service that travels to your home, office or any other location that's convenient for you. 
You're in good hands with our team of healthcare providers. They perform all infusions according to the highest standards for safety and patient care. A doctorally prepared pharmacist (Pharm.D.) and naturopathic doctor (N.D.) provide consulting guidance, and a board-certified physician (M.D. or D.O.) oversees medical direction for our team. You can rest assured you're receiving the best possible care.
Applications of IV Rehydration Therapy Near
Cedar Park, TX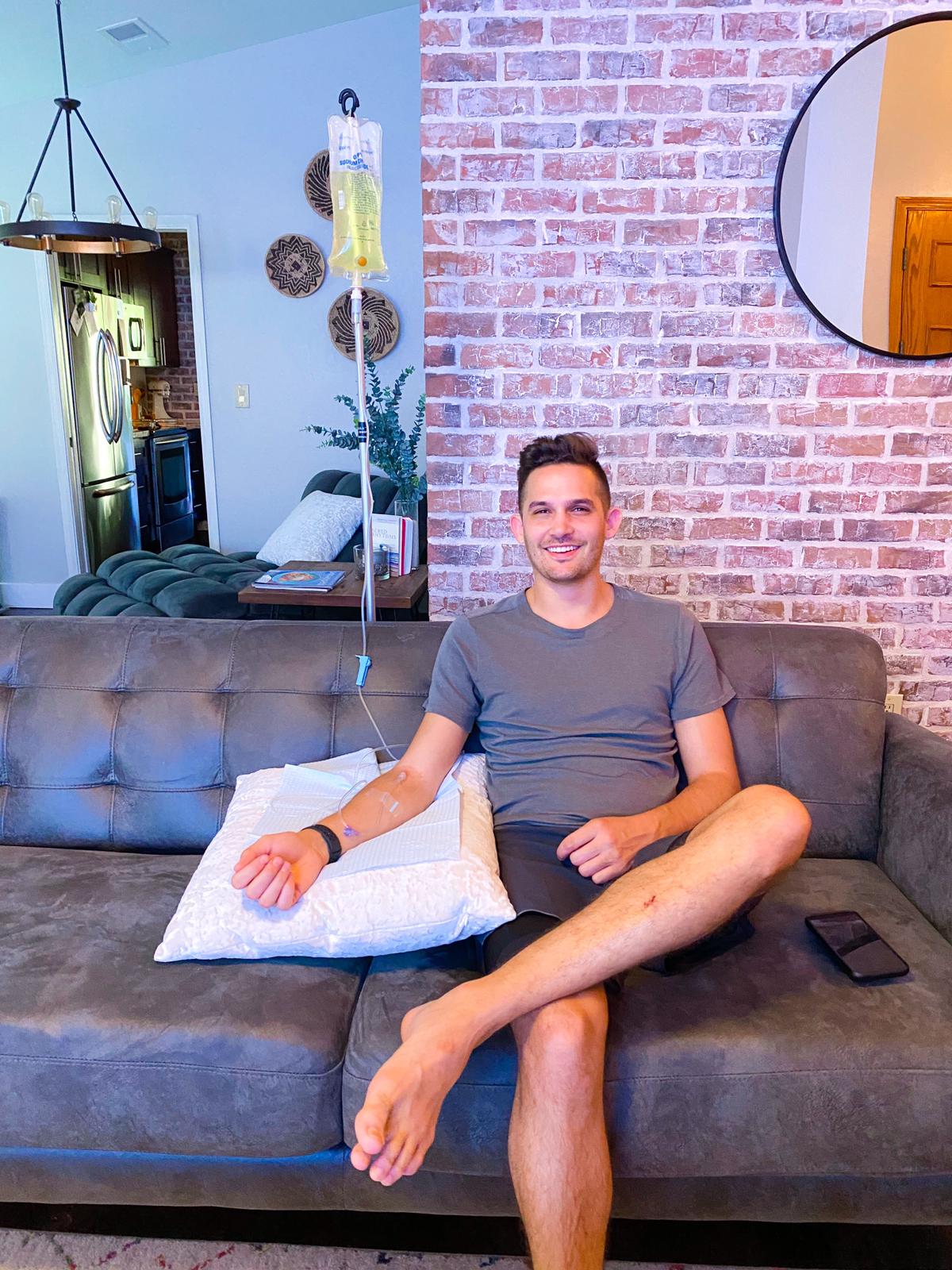 With IV therapy, Cedar Park patients can address symptoms associated with many types of health issues, from colds to chronic fatigue. The key is supplying potent IV hydration.
Dehydration is a common health concern because the loss of fluids can leave you feeling weak and run down. The minerals, vitamins, and electrolytes in IV fluids travel straight to the bloodstream for maximum absorption and rapid relief for many health issues.
IV infusions have several other uses, too. Get an infusion before or after an intense athletic event, try NAD+ IV therapy to support your anti-aging routine, or schedule regular sessions for overall wellness. 
Lone Star IV Medics is the leader in mobile IV therapy in Cedar Park, TX. We'll work with you to customize your treatment based on your health history, current symptoms, and what you want to get out of IV therapy. We offer a diverse selection of IV drip bags—including the popular Myers' Cocktail for enhanced energy—as well as supplements and medications you can add to your treatment. Feel the difference IV therapy can make in your life.
IV therapy can help alleviate the symptoms associated with!
How Much Does Mobile IV Therapy in Cedar Park Cost?
We offer Cedar Park IV therapy pricing packages that are affordable for any budget, with the option to customize treatment. Take advantage of special deals and offers with our VIP program. There are additional costs for add-on items and custom packages.
How to Book a Mobile IV in Cedar Park
Trust Lone Star IV Medics for mobile IVs in Cedar Park, TX. We have several locations that serve the greater Austin area. Book your appointment online today.
We are typically open from the hours of 8 a.m. to 8 p.m. for appointments, but we can accommodate after-hours appointments if we have provider availability in your area.
Book Now!
Serving Austin & all suburbs!
Open 8AM-8PM, Daily
FAQs
1
Are IV drips worth the money?
Yes, IV drips are definitely worth the money. They allow you to get quick relief from all types of adverse symptoms, including headaches, fatigue, and nausea. Your body can quickly hydrate with the help of an IV while also balancing out its nutrient levels so that you can be in tip-top shape for your busy life. Many people find that consistent IV therapy is definitely worth the money.
2
How much do IVs usually cost?
IV drips can cost anywhere from $100 to $395, depending on which IV package you choose. The Purely Saline package starts at $100. From there, you can add additional ingredients such as vitamin C and vitamin B12 for a cost of $25 each. Our most expensive packages range up to $395, and they include a cocktail of specialty ingredients fine-tuned to assist certain symptoms and health profiles.
3
How long does IV infusion therapy last?
IV infusion therapy effects can last for several days to weeks afterward. Many clients report that they feel more energized and symptom-free for almost a week. Long-term benefits, especially from lifestyle changes assisted by IV therapy, can go on for months and years. The hydration effects of IV therapy often last for a few days afterward, allowing your body to combat dehydration symptoms and function at its best.
4
Can IV treatment be done at home?
Yes, IV treatment can be done at home. With mobile IV therapy companies such as Lone Star IV Medics, home IV therapy is now easier than ever. All you have to do is schedule an appointment, and a licensed nurse will come straight to your home for a quick session. Treatment lasts around 45 to 60 minutes, during which you can just relax and take it easy.