Are you feeling lackluster from illness or exhaustion? Looking for that extra spark when it comes to athletic performance or anti-aging vitality? Add some vibrancy to your life with IV therapy in Buda. Lone Star IV Medics wants you to enjoy optimal wellness, which is why we provide exceptional IV therapy in Buda. 
You'll experience the benefits of fast, effective mobile IV service performed at your home or office. We eliminate the long waits that are typically involved with IV services at an urgent care clinic or hospital emergency room. With an at-home mobile IV service, you get to relax in comfort and leave the work to us.
The Lone Star IV Medics team consists of healthcare providers with experience in IV therapy. Their goal is to deliver the best possible treatment for every patient. The team is supported by a board-certified physician (M.D. or D.O.) offering medical direction and a doctorally prepared pharmacist (Pharm.D.) and naturopathic doctor (N.D.) supplying consulting guidance. Your well-being is our primary concern. Contact us today to learn more about how we can help you feel rejuvenated. 
The Best IV Therapy in Buda, TX
Austin is one of the fastest growing cities in the country, and Buda is one of Austin's fastest growing suburbs. While visitors might focus on the music, food, and cultural scene to the south in Austin, Buda has its own charms. Don't miss its famous wiener dog races, held every April and sponsored by the Buda Lions Club!
Buda's mild climate means that residents can enjoy outdoor activities about 300 days out of the year! After a day filled with hiking, cycling, kayaking, or horseback riding, it's natural to feel fatigued or dehydrated. If you spent time enjoying the local food and bar scene, or just had some drinks with friends, the next day's hangover takes the wind out of your sails. The good news is that mobile IV therapy in Buda can make you feel better faster, all in the comfort of your own home or office. 
Why Choose Lone Star IV Medics in Buda?
At Lone Star IV Medics, our healthcare providers are top-notch professionals. We're a top mobile hydration company, offering services throughout Texas. Our goal is to help alleviate the symptoms causing your discomfort so you can feel better faster! Our hours of operation are 8 a.m. to 8 p.m. every day of the week, so we're there for you when you need us. We also offer after-hours care for an additional fee based on healthcare provider availability. 
Lone Star IV Medics offers a variety of packages to choose from based on your symptoms. Our most popular package, the Myers' Cocktail, can help a wide range of health conditions from the flu to fatigue. 
The Ultimate Myers' Cocktail contains high doses of vitamin C and glutathione which can help hangover symptoms after a night of too much fun or boost your immune system and provide extra energy. 

Restore your youth with our Hair, Skin, and Nails package. Its ingredients are designed to promote healthy nail and hair growth, while also giving your skin a youthful glow!
Applications of IV Rehydration Therapy Near
Buda, TX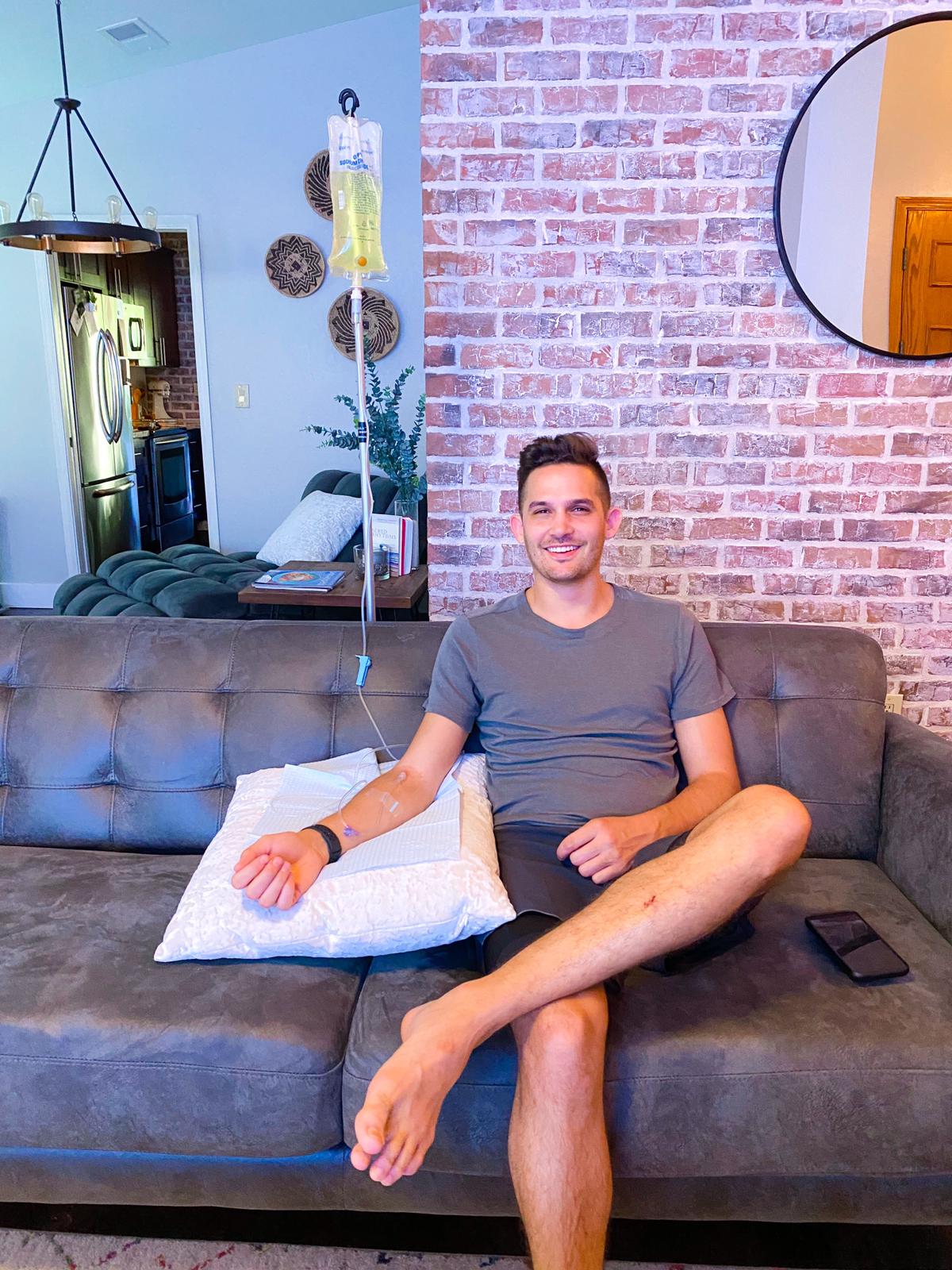 IV therapy owes much of its popularity to its versatility. Our patients rely on IVs to improve their feeling of well-being, whether they want symptom relief from a cold or need help recovering from high-intensity workouts. 
Lone Star IV Medics offers drip IVs that contain the best, medical-grade ingredients. These powerful vitamins, minerals, and electrolytes replenish fluid levels in the body, making them ideal to treat symptoms associated with dehydration. Try IVs for hangovers, illnesses, nausea from altitude or morning sickness, or chronic conditions such as migraines. You get maximum absorption with an IV infused directly into the bloodstream. Many people report feeling better right after treatment.
If you live in Buda, IV therapy offers a personalized wellness treatment customized to meet your needs with extra supplements or medications to get the desired results. Try it for yourself and see everything IV therapy has to offer.
IV therapy can help alleviate the symptoms associated with!
How Much Does Mobile IV Therapy in Buda, TX, Cost?
In Buda, IV therapy is affordable for any budget with Lone Star IV Medics. Pricing packages range in price with the option to add-in supplements or medications. Enjoy even more value with the special deals and promotions offered to our VIPs.
How to Book a Mobile IV in Buda
We offer exceptional mobile IV therapy in Buda, TX, as well as many other locations throughout the state. Discover new levels of vitality and vibrancy in your life. Book an IV therapy appointment with Lone Star IV Medics.
Book Now!
Serving Austin & all suburbs!
Open 8AM-8PM, Daily
FAQs
1
What are people saying about IV hydration in Buda, TX?
"I had a recent bout of food poisoning and was feeling really rough after losing so much fluids, and was looking for a quick solution to feel better! I quickly scheduled with Lone Star IV Medics Thursday evening around 8pm for the following morning and received a text from Chelsey confirming a short time later that evening. She arrived this morning right on time and was very friendly, professional, and caring. She had me feeling much better after treatment and I'd absolutely recommend this service and will use them again for any needs I have!"
2
How long does IV therapy in Buda take?
We usually have a healthcare provider at your door within one hour of contacting us. Expect your mobile IV therapy in Buda to take between 45 and 60 minutes. During this time, your healthcare provider carefully supervises you and answers any questions you have. Feel free to relax, read, watch TV, listen to music or enjoy a light snack.