Here's a not-so-little secret for you: Hydration is the key to looking and feeling your best. Our bodies are around 60% water, and getting enough fluids can help your body and mind stay in tip-top shape. In fact, proper hydration can help you recover from exhaustion, the common cold or flu, and a whole lot more!
At Lone Star IV Medics, we want you to stay hydrated — and we're willing to come to you to make sure you do. We offer mobile IV therapy in Bridge City and beyond, giving you the fluids, vitamins, minerals, and electrolytes you need to feel your best all day long.
Why Choose Lone Star IV Medics in Bridge City?
When it comes to your health and well-being, don't settle for anything less than the best. Where can you find the top IV therapy in Bridge City? That would be Lone Star IV Medics. As our name implies, we specialize in treating Texans all across this great state, including throughout Bridge City.
We know our customers rely on us to help them feel better and recover quickly, so we only put the highest quality vitamins, minerals, and medications into our IVs. We also carefully vet our team members. We only hire experienced healthcare providers who are fully licensed and registered to provide IV vitamin therapy in Bridge City, TX. 
Finally, our team members come to you. That's right — you won't have to drive to a medical clinic or spend time in a waiting room when you're feeling under the weather. When you work with Line Star IV Medics, a certified healthcare professional will arrive at your location to provide therapy in the comfort and security of your home. We can even give you IV treatment at your office if you can't afford to miss a day of work.
If you want the best, you've already found it. 
Uses of IV Therapy
Near Bridge City, TX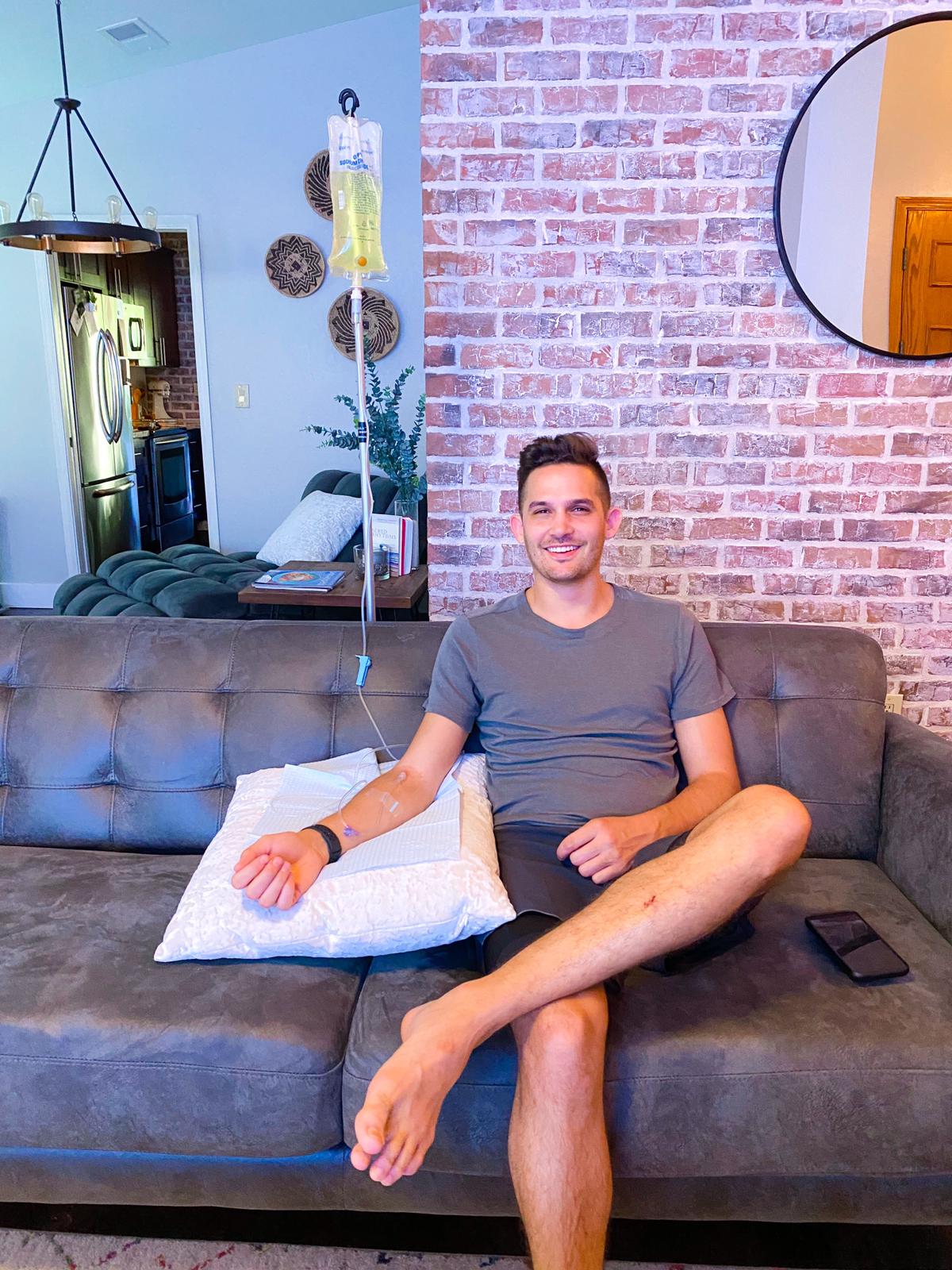 Our Bridge City IV therapy patients use rehydration treatment to help cope with many conditions, from morning sickness and the flu to migraines and muscle fatigue. Our "cocktails" of medical-grade IV fluids combined with high-quality vitamins and minerals can help your body get the hydration it needs to perform at its best. These fluids also include essential minerals that leave you energized and ready to take on the day.
When you book an appointment for IV therapy in Bridge City, our team will come to your home, office, or wherever else you request. Our experienced and professional healthcare providers will take a quick assessment of your health, then help you find the best solution for your current needs. They will administer the IV, and 45 to 60 minutes later, you will be feeling good as new. 
In addition to the ease and convenience of rehydration therapy, Lone Star IV Medics has earned a reputation for excellence thanks to our team of healthcare providers. They perform all of our infusions with a commitment to outstanding patient care, and their medical experience ensures the safest possible treatment. Our team also includes a doctorally prepared pharmacist (Pharm.D.) and naturopathic doctor (N.D.) offering consulting guidance and a board-certified physician (M.D. or D.O.) overseeing medical direction. Book an appointment with Lone Star IV Medics to experience the benefits of IV therapy.
IV therapy can help alleviate the symptoms associated with…
How Much Does Mobile IV Therapy in Bridge City, TX, Cost?
Your IV rehydration treatment doesn't need to cost an arm and a leg. At Lone Star IV Medics, we offer affordable pricing packages to fit any budget. You can find a "cocktail" that fits your needs or create your own with our add-ons. We want you to feel the benefits of hydration therapy, so we make it easy to find a treatment that fits your budget. There are additional costs for add-on items and custom packages.
How to Book a Mobile IV in Bridge City
Lone Star IV Medics is proud to offer IV therapy in Bridge City, TX, as well as other convenient locations around the Lone Star State. Book an appointment at a location near you today, and don't forget to sign up for our VIP list to take advantage of flash sales and exclusive offers.
Book Now!
Serving Houston & all suburbs!
Open 8AM-8PM, Daily
IV Therapy FAQs
1
How long does IV therapy in Bridge City take?
We ask our customers to block out a full hour for their IV appointment. While the actual IV therapy typically takes less time, we want to make sure your healthcare professional has all the time they need to give you a positive experience. The extra time will allow our team members to set up their equipment, answer any questions you have, and perform a short medical review. This review will help ensure you are a good candidate for the treatment and have the best chance of getting good results. Once your treatment is complete, you will be on the road to feeling better.
2
What are people saying about IV hydration near Bridge City, TX? 
Want to know what your friends, family, and neighbors are saying about mobile IV therapy in Bridge City? Take a look at all our great reviews. Our Bridge City customers are telling us that IV therapy has given them relief from the symptoms associated with colds, flus, hangovers, fatigue, food poisoning, and more. They often feel more energized, focused, and ready to take on the day. Don't take it from us. Read our reviews!
3
Is IV therapy in Bridge City, TX expensive?
The typical cost of a vitamin infusion in Bridge City starts at $100 and can go up to $300 or more. At Lone Star IV Medics, we make an effort to provide IVs in a variety of price ranges. We understand that some customers may be on a budget. In this case, our Purely Saline ($100) or Bronze Package ($125) can be great options for them or for someone trying IV therapy for the first time. Customers can also control their costs by creating a customized IV. Simply select a package and tack on our add-in ingredients, which start at $25 each. If you aren't sure which IV is right for you, a member of our team is happy to answer your questions and tell you more about each of our IVs and add-in options.