Everything is bigger in Texas: the food, the boots, and especially the parties! If you ask us, there's nothing better than living it up with your friends at a good old-fashioned Texas barbecue. But there's nothing worse than waking up with a Texas-sized hangover. 
Hangover symptoms like nausea, headache, and fatigue can make you feel rotten all day long — but they don't have to. Lone Star IV Medics offers IV therapy in Bedford that can help relieve your symptoms and help you get back to the party!
Applications of IV Rehydration Therapy
Near Bedford, TX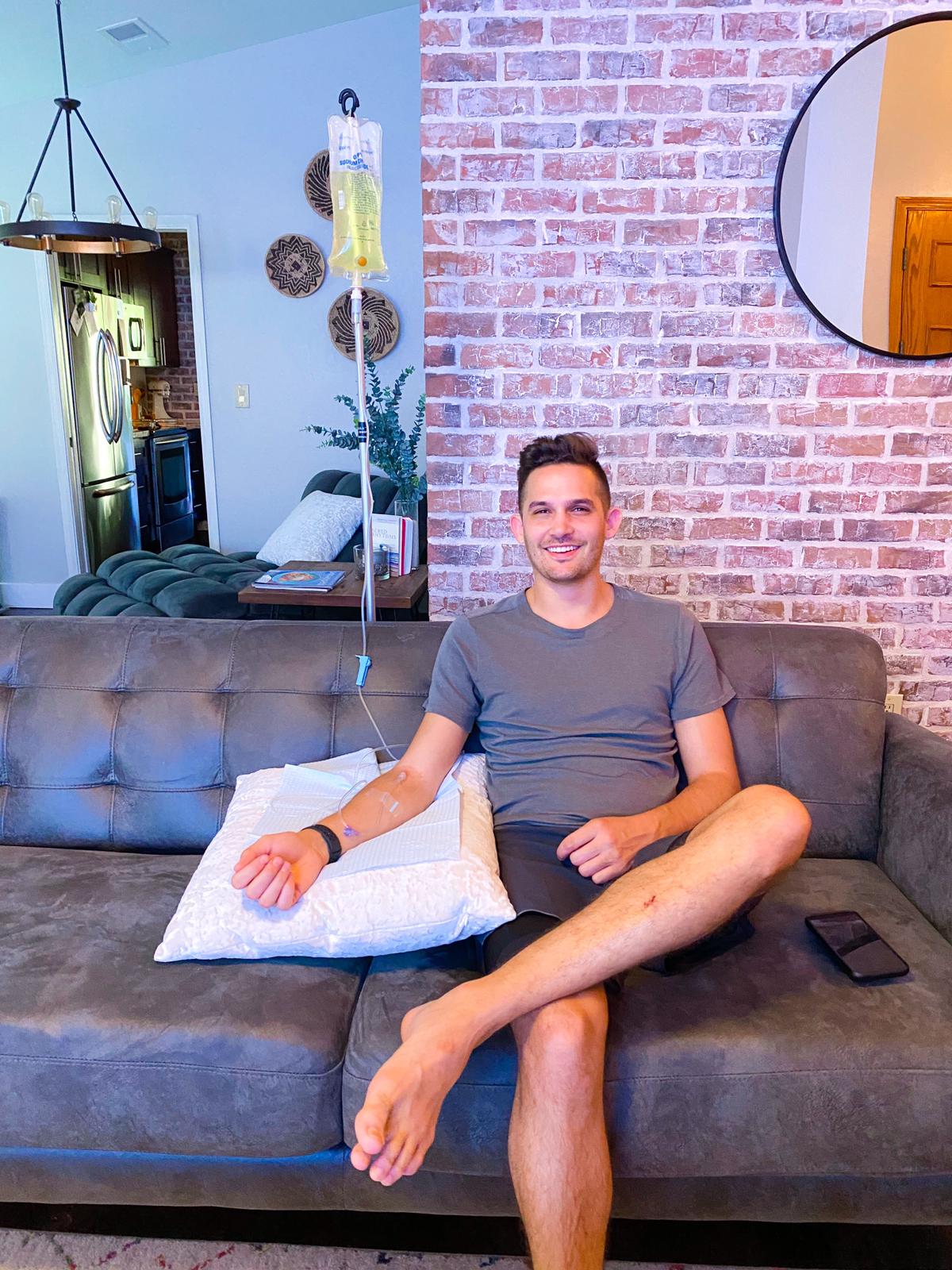 Recover Fast with IV Therapy in Bedford, TX
Who are we? Lone Star IV Medics is a group of healthcare providers dedicated to helping our patients rehydrate and restore their health. Our team is one of the most trusted providers of mobile IV therapy in Bedford and all the other locations we serve around Texas.
Our IVs are made from high-quality, medical-grade ingredients like vitamin B complex, magnesium, glutathione, and more. These potent vitamins and minerals help your body with countless important processes, which is why you sometimes feel rotten when you don't have enough of them. IV therapy replenishes your body and gives it everything it needs to feel good as new once again.
You can use IV vitamin therapy in Bedford, TX, to manage symptoms related to hangovers, morning sickness, constipation, the common cold, and everything in between. Treatments typically take 30 to 45 minutes, but many patients start feeling better almost instantly.
And best of all, when you get IV therapy from Lone Star IV Medics, you can enjoy the benefits of IV treatment right in your own home! We bring our vitamin infusions to you, so you can recover comfortably and conveniently.
IV therapy can help alleviate the symptoms associated with!
How much does Mobile IV Therapy cost in Bedford, TX?
Lone Star IV Medics offers vitamin infusions in Bedford through several different pricing packages. Treatments range from $100 to $395, depending on the vitamins, minerals, and medications included in the cocktail. You can also add extra ingredients to any IV, starting at just $25 each.
No matter what your budget may be, Lone Star IV Medics can help you choose IV treatments in Bedford that suit your needs. Our team will assess your health and help you find the perfect blend of vitamins and minerals for your specific symptoms. 
Whether you use a ready-made blend like our Myers' Cocktail or design your own infusion, you will find a treatment that's great for your health and your wallet.
How to Book a Mobile IV in Bedford, TX
At Lone Star IV Medics, we believe everyone should benefit from great health and wellness. So whether you're feeling hungover from last night's barbecue, fighting off a cold, or simply looking for a natural way to enhance your energy, we're here for you!

You can contact us with any questions you have about IV therapy in Bedford or check out our schedule online to make an appointment and experience IV therapy for yourself. Trust us; even your Texas-sized symptoms are no match for our IV treatments!
Book Now!
Serving Bedford & all suburbs!
Open 8AM-8PM, 24/7 Service Typically Available