When you're dehydrated, you tend to feel run down, fatigued, achy, and simply not your best. And even though we all know how important it is to hydrate, most Americans are chronically dehydrated.
The good news is that here at Lone Star IV Medics, we can help you get the hydration you need fast.
We offer mobile IV therapy in Beaumont, TX, and several other locations. Our all-natural IV infusions give your body healthy nutrients and fluids, so you can say goodbye to that worn-out, run-down feeling of dehydration. Whether you're nursing a hangover, fighting off the flu, or simply looking for an all-natural energy boost, mobile IV therapy can help you perform at your best. 
Applications of IV Rehydration Therapy
Near Beaumont, TX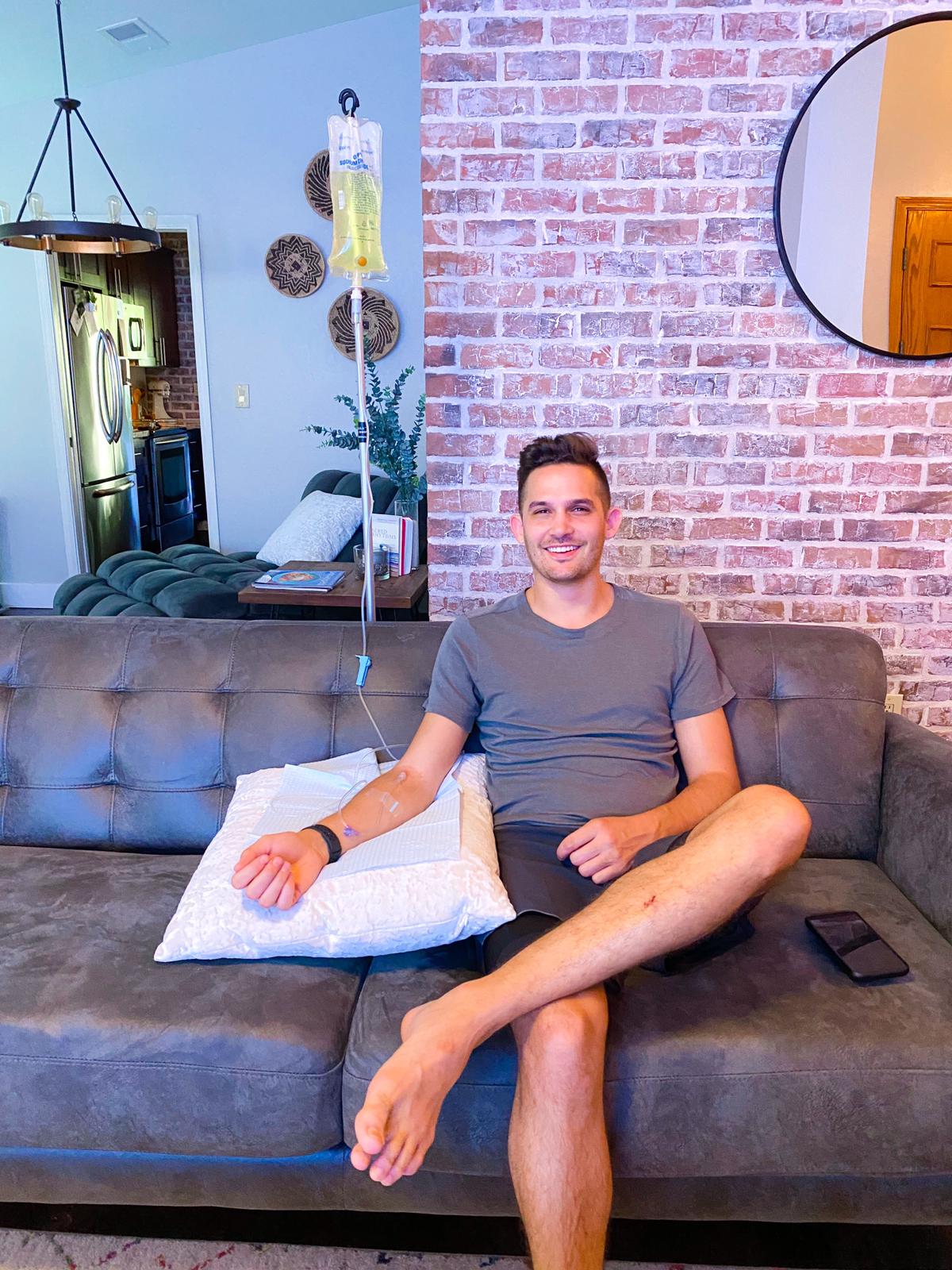 Why would you need mobile IV therapy in Beaumont (or anywhere else, for that matter)? The truth is that dehydration is a key factor in many health conditions, from colds and the flu to hangovers and food poisoning.
When you order a mobile IV in Beaumont, we'll send a team of healthcare providers to your home, office, hotel, or any other location you choose. Our team will do a quick health assessment and help you find the right IV for your specific health needs, and then administer your IV and monitor you throughout the process. Our infusions are packed with fluids, vitamins, minerals, and electrolytes that we'll send directly into your bloodstream through an IV. This will help your body get the benefits of those essential nutrients in 45-60 minutes, so you can start feeling better right away. 
Lone Star IV Medics has earned a reputation for excellence thanks to our team of healthcare providers . They perform all of our infusions with a commitment to outstanding patient care, and their medical experience ensures the safest possible treatment. Our team also includes a doctorally prepared pharmacist (Pharm.D.) and naturopathic doctor (N.D.) offering consulting guidance and a board-certified physician (M.D. or D.O.) overseeing medical direction. 
Book an appointment with Lone Star IV Medics to experience the benefits of IV therapy.
IV therapy can help alleviate the symptoms associated with!
How Much Does Mobile IV Therapy in Beaumont, TX, Cost?
At Lone Star IV Medics, we know that high costs can often keep people from being as healthy as they can be. But if you ask us, that shouldn't be the case! We strive to offer our Beaumont IV therapy patients high-quality infusions at more affordable prices.
View our IV packages here. When you get a rehydration treatment with us, you'll always find something that benefits your body without costing too much. 
How to Book a Mobile IV in Beaumont
If you want to see the benefits of rehydration therapy for yourself, schedule your mobile IV therapy in Beaumont today. And for even more perks, sign up for our VIP list. You'll get news about flash sales, exclusive offers, and much more to help you save money and stay hydrated!
Book Now!
Serving Beaumont & all suburbs!
Open 8AM-8PM, 24/7 Service Typically Available
Mobile IV Therapy FAQs In Beaumont, TX
1
Is IV therapy worth the money?
If you are hungover, lack energy, or just feel "blah" in Beaumont, IV therapy is absolutely worth the money. No matter the volume of fluids you consume, you just can't rehydrate by drinking as quickly as IV therapy. Why? Because the fluids, vitamins, or medications must pass through the gastrointestinal tract first, you'll have to wait a while for relief. IV therapy sends fluids directly into the bloodstream, offering fast relief. You'll feel better faster and realize IV therapy's value.
2
What are some disadvantages of IV therapy?
While the advantages far outweigh any potential disadvantages of IV therapy, any medical procedure carries some risk. Rarely, patients may develop infections at the insertion site. The healthcare providers at Lone Star IV Medics are experts in IV administration and follow strict disinfection protocols to prevent this.
3
How long do IV therapy results last?
How long IV therapy results last depends on why the customer chose IV treatment. For instance, the results of an IV for hangover relief should alleviate the problem unless the person starts drinking soon after. Overall, expect results from your IV therapy session to last three to four days.
4
How many times should you do IV therapy?
Again, how often you should have IV therapy depends upon the condition you're addressing. Many IV therapy sessions are "one and done." For instance, you feel like your old self again after IV treatment for a hangover. The same may hold true when battling a cold or flu. For other conditions, regular IV therapy in Beaumont (i.e., every two weeks) can promote general well-being. If you are dealing with specific ailments, your doctor may recommend an IV therapy schedule suited to your needs. In addition, athletes can recover faster after intense workouts or competitions when vitamin infusion IV therapy plays a role. IV treatment becomes a standard part of a training routine.