If you've been feeling sluggish, foggy, or just plain tired lately, you might be dealing with dehydration. And you're not alone; about 75% of Americans are constantly dehydrated, meaning their cells don't have enough water to properly carry nutrients and oxygen throughout their bodies. This can lead to brain fog, low energy, and a variety of other symptoms that keep you from feeling your best. 
Of course, sometimes dehydration isn't the only thing affecting your health. Your body also needs vitamins and minerals to support your immune system, nervous system, and countless other processes. When you don't have enough vitamins, you can wind up dealing with nasty symptoms like nausea, headaches, and a whole lot more. 
The best way to stay healthy is to get plenty of fluids, vitamins, and minerals. And when you book IV therapy in Baytown with Lone Star IV Medics, you'll get everything your body needs. Our team offers IV infusions to help you feel your best and perform like a champion.
Applications of IV Rehydration Therapy
Near Baytown, TX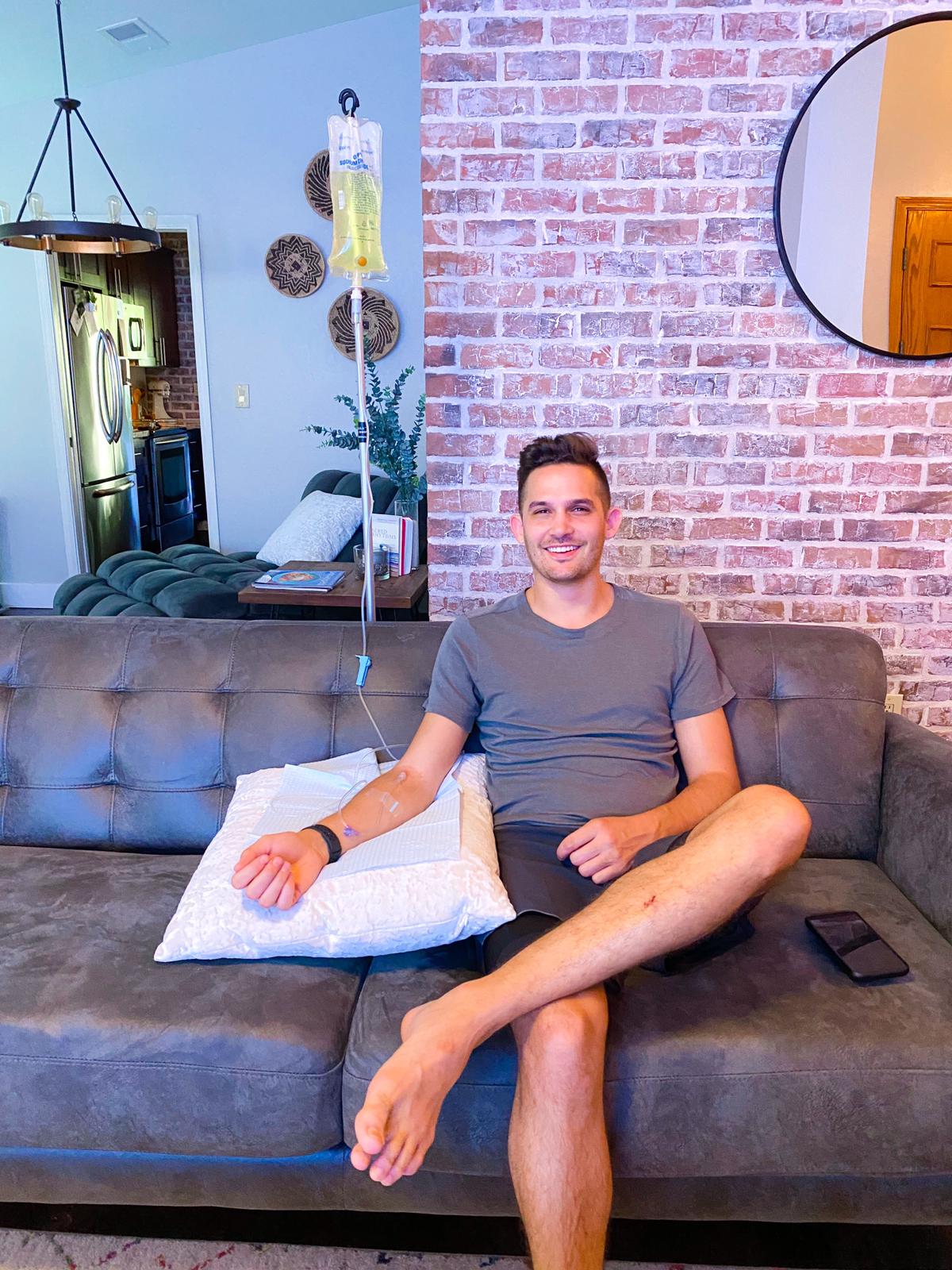 Recover Fast with IV Therapy in Baytown, TX
Why would you need IV therapy in Baytown? Our patients use IV treatments to help them manage a wide variety of health conditions. Folks with migraines get infusions to help reduce their symptoms. Moms-to-be get relief from their morning sickness. And athletes use IVs to bounce back from tough workouts more quickly.
If dehydration plays a role in your symptoms (and it often does), IV vitamin therapy in Baytown, TX, can help you. The fluids and vitamins in our IVs support your overall health and well-being, so you feel more energized, alert, and healthy enough to take on the world. 
But how does the process work? Lone Star IV Medics specializes in mobile IV therapy in Baytown, which means our healthcare providers will administer your treatment right in your home, office, hotel, or any other location you request. 
When you make an appointment with us, our highly-trained professionals will assess your health and help you choose the right IV for your unique symptoms. Then, all you have to do is relax and wait 45-60 minutes; our team will keep you safe and comfortable while the IV sends a potent blend of vitamins, minerals, electrolytes, and more into your bloodstream. Your body can absorb those vitamins almost instantly, replenishing your cells and helping you recover.
IV therapy can help alleviate the symptoms associated with!
How Much Does Mobile IV Therapy Cost in Baytown, TX?
At Lone Star IV Medics, we know that your health is one of the most valuable things you have — and we believe that everyone should be able to access quality wellness services. That's why we offer a variety of pricing packages to fit any budget. 
You can also get pure saline and create your own blend with vitamin add-ins. No matter your budget, we can help you find a vitamin infusion in Baytown that works for you. 
How to Book a Mobile IV in Baytown, TX
Don't let dehydration keep you from living your best and healthiest life! Check out the locations we serve, and then schedule online to make an appointment for IV therapy in Baytown today.
Book Now!
Serving Baytown & all suburbs!
Open 8AM-8PM, Daily
IV Therapy FAQs
1
Who can administer IV hydration therapy in Texas?
Are you worried about the qualifications of the person giving you IV treatment? No need (at least if you work with a legitimate IV business like Lone Star IV Medics). In the Lone Star State, only licensed medical professionals can give IV therapy. These professionals include healthcare providers (RNs), licensed vocational nurses (LVNs) . Medical professionals must be accredited by the appropriate accreditation board, such as the Texas Board of Nursing or the Texas Medical Board. At Lone Star IV Medics, we only allow fully licensed and accredited medical professionals to provide IV therapy in Baytown, TX.
2
Are IV drips worth the money?
The answer to this question will depend on the experience of each individual person who receives mobile IV therapy in Baytown, TX. However, from our experience, almost all of our clients are happy with our service and many request future treatments. When deciding whether IV vitamin therapy in Baytown, TX is right for you, it may help to consider your health goals and your budget. IV therapy is an excellent choice if you need rehydration after an illness, athletic event, or too much celebration. IV therapy can also support your immune health and help you feel more energized. Budget will also play a role in your decision. At Lone Star IV Medics, our IV treatments cost anywhere from $100 to $395 for premade packages.
3
Can a nurse own an IV hydration business in Texas?
Yes. A nurse can own an IV therapy business as long as they are licensed by the Texas Medical Board and meet the necessary regulatory requirements. Businesses that provide medical services must comply with special regulations, such as laws regarding the disposal of medical waste. Nurses interested in starting an IV hydration business in Texas may want to consult with a business attorney that specializes in working with medical businesses.