If there's one bit of advice everyone should follow, it's this: Take care of your health. However, living a healthy life is often easier said than done — especially when you're busy and constantly on the go. When you have a long to-do list in front of you, doing simple tasks like drinking water or taking vitamins can easily slip your mind!
Lone Star IV Medics is here to help you take care of yourself quickly and effectively. Our team provides mobile IV therapy in Anna, TX, so you can get the hydration, vitamins, and minerals you need to live your healthiest life.
Why Choose Lone Star IV Medics in Anna
If you're going to trust a company to help protect your health, don't you want to choose the best? That's exactly what you're going to get when you request IV therapy in Anna from Lone Star IV Medics.
Let's start with our ingredients. We only use the best in our vitamin infusions in Anna. We source top-quality vitamins, minerals, and medications so our customers get the results we want.
Next, we've assembled an incredible team of healthcare professionals. Our IV specialists are fully licensed and registered and have lots of experience giving IVs to people just like you. They are also happy to answer your questions and give you the information you need to make the best choice possible.
Finally, we set ourselves apart from the competition by offering mobile IV therapy in Anna. That means our IV specialists will come to you and provide your therapy appointment in the comfort and privacy of your own home. We also do office visits if you want to get an IV boost on your lunch break.
It all adds up to one thing. Lone Star IV Medics offers the best IV vitamin therapy in Anna, TX. 
Applications of IV Rehydration Therapy
Near Anna, TX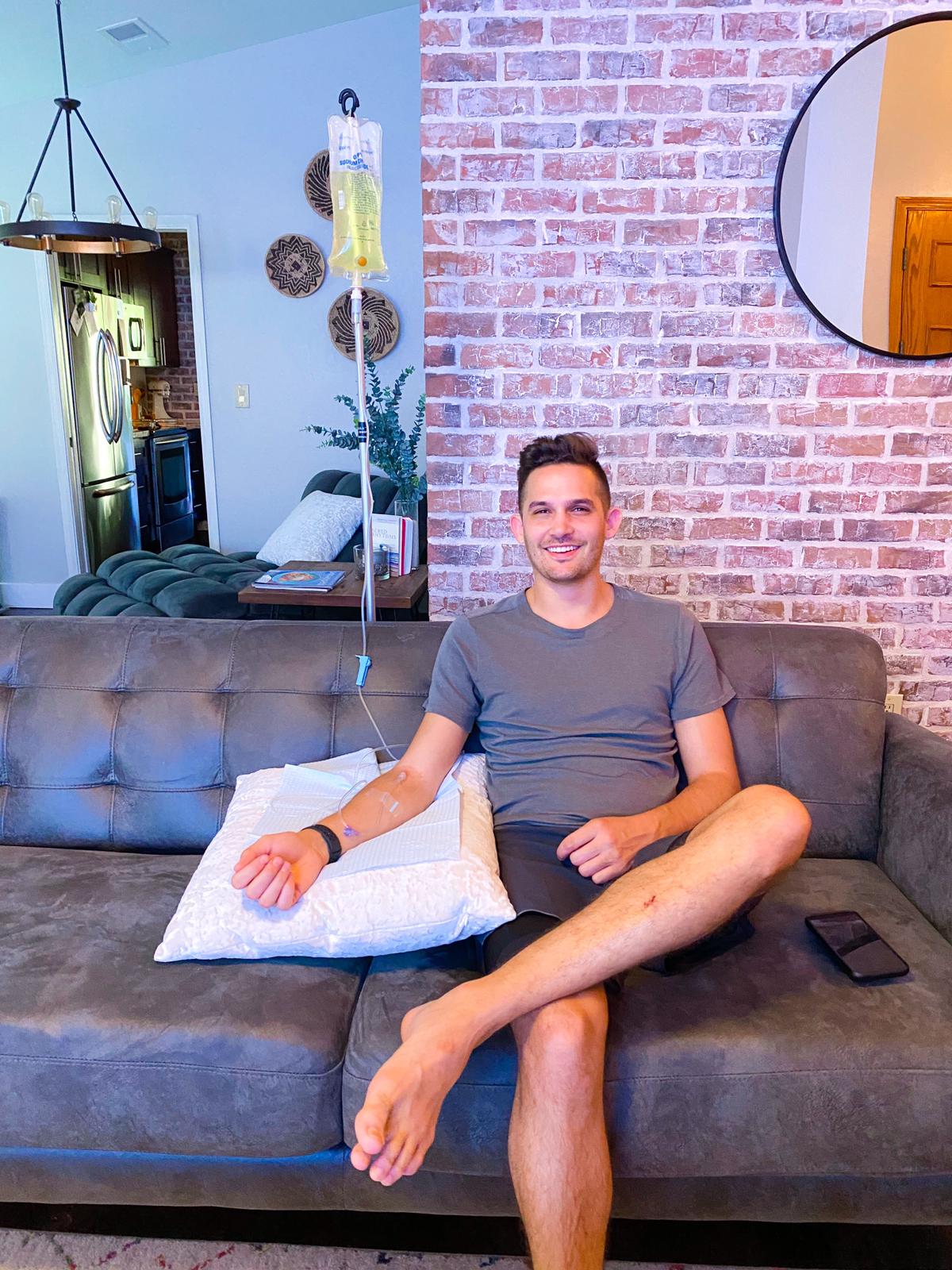 Recover Fast with IV Therapy Anna, TX
These days, too many people are ignoring their health in the hustle and bustle of daily life. This can lead to dehydration, low vitamin levels, and other illnesses, which often come with uncomfortable symptoms like headaches, nausea, anxiety, and more. 
The team at Lone Star IV Medics knows that your body needs fluids, vitamins, and minerals to help you feel and perform your best. But we also know that you need to get those essential vitamins FAST! That's why we offer vitamin infusions in Anna and the other locations we serve around Texas. 
Our IV therapy in Anna can help you manage symptoms associated with migraines, hangovers, fatigue, colds and flu, and much more. A typical infusion lasts only 45 to 60 minutes, and it replenishes your body with all the stuff you need for optimal health. These IV treatments flood your cells with ingredients like vitamin B12, zinc, and magnesium (just to name a few), which can help replenish your body and make you feel more alert, healthy, and energetic.
And here's the best part: You don't even have to leave home! Our team of healthcare providers will bring IV treatments in Anna right to your home, office, or hotel. This service allows you to improve your health comfortably and quickly, so you can get back to everything on your to-do list.
IV therapy can help alleviate the symptoms associated with the following:
How Much Does Mobile IV Therapy Cost in Anna, TX?
Lone Star IV Medics offers several pricing packages for our IV vitamin therapy in Anna, TX. These treatments are filled with medical-grade, high-quality vitamins and minerals that can help you take your health to the next level. 
You can also add ingredients to a pure saline IV (or any of our IV packages). With so many options, it is easy to get IV therapy in Anna that enhances your health without draining your bank account.
How to Book a Mobile IV in Anna, TX
Life can get pretty busy these days, so make sure you have the energy for everything! Contact Lone Star IV Medics to learn more about IV therapy in Anna, or check out our schedule online to book an appointment and experience IV therapy for yourself!
Book Now!
Serving Anna & all suburbs!
Open 8AM-8PM, Daily
IV Therapy FAQs
1
What are people saying about IV hydration near Anna, TX?
Your friends, family members, and neighbors are raving about IV therapy in Anna. Our customers love the convenience of receiving IV therapy at home to help them with everything from general fatigue to migraines, hangovers, the flu, and more. Our customers are high performers who want to always be at their best, and that's exactly what we help them be. Don't just take it from us. Make sure to check out our reviews and to ask those in the know about why they feel and look so good all the time. Their secret is Lone Star IV Medics. 
2
How long does IV therapy take in Anna?
Generally, it's a good idea to reserve an hour for your IV treatment appointment. Your healthcare provider will need time to set up their equipment and perform a short medical evaluation. This evaluation will ensure that you are a good candidate for the treatment. The IV therapy will take between 45 and 60 minutes. When all is said and done, you should be on your way toward feeling like your best self in just an hour!
3
Which IV therapy treatment should I choose in Anna?
The IV treatment can differ for each individual customer and will depend on your symptoms, health goals, and budget. If you'd like to keep your costs low or simply try IV therapy in Anna for the first time, consider our Bronze Package for $125. If you're looking for a middle-of-the-road option that can help you feel more energized, hydrated, and focused, our Myers' Cocktail is always a customer favorite. If you take a look at our other packages, you'll notice that several are geared toward specific health goals, like our Restore IV, Hair, Skin, and Nails, and our Performance Plus package. Any of these might be helpful if you have certain health goals. Finally, you can also create your own treatment by purchasing our base IV of just saline and putting add-in ingredients into the mix. Pick and choose the ingredients you want for a truly personalized health experience.