Are you feeling tired, run down, and maybe a little under the weather? We've all been there, and we all have our go-to remedies: a hot cup of tea, a cold shower, or maybe a long nap. But whatever your favorite feel-good remedy may be, there's one trick that always works: hydration. 
At Lone Star IV Medics, we provide rehydration IV therapy in Alamo Heights and beyond. Our services deliver fluids, vitamins, minerals, and electrolytes right to your bloodstream, so you can get healthy and revitalized almost instantly. 
IV therapy can provide fast and effective relief from migraines, the cold or flu, hangovers, and a lot more. And when you call us, you're getting the most trusted name in the IV industry. We're always nearby and ready to help you feel your best.
The Best IV Therapy in Alamo Heights, TX
When it comes to your health, don't settle for anything but the best IV therapy in Alamo Heights. Before choosing an IV company, check to see how long they've been in business and their reputation in the area. 
Then, learn about the quality of the ingredients they put in their IVs. The lowest-cost companies don't always give you the best vitamins, minerals, and medications. Finally, do your homework and make sure the company you choose uses IV specialists who are experienced and licensed to perform IV therapy in Texas.
Why Choose Lone Star IV Medics in Alamo Heights
The answer is simple. It's because we meet all the criteria above. We specialize in providing mobile IV therapy in Alamo Heights as well as throughout Texas. We only hire fully licensed and accredited medical professionals to perform IV treatment. Our team members are friendly, knowledgeable, and experienced.
We also source high-quality materials. Your health is our number one priority, which is why we only put the best vitamins, minerals, and other ingredients into our IVs. 
Recover Fast with IV Therapy in Alamo Heights, TX
There is so much to see and do in Alamo Heights. Maybe you've been planning to hit the links at Quarry Golf Course or nourish your soul at the McNary Art Museum. You can't get the full Alamo Heights experience if you are feeling tired or under the weather.
IV vitamin therapy in Alamo Heights, TX, can help you get back on your feet. Every IV includes a big dose of saline solution and electrolytes, which can help you rehydrate after an illness or long days in the Texas sun. Different combinations of vitamins and minerals can support your immune health and help you feel more focused and energized. Finally, choosing an IV that includes proven medicines will help you deal with allergies, nausea, migraines, and more.
A vitamin infusion in Alamo Heights can help you recover fast and get back to your life. 
Applications of IV Rehydration Therapy
Near Alamo Heights, TX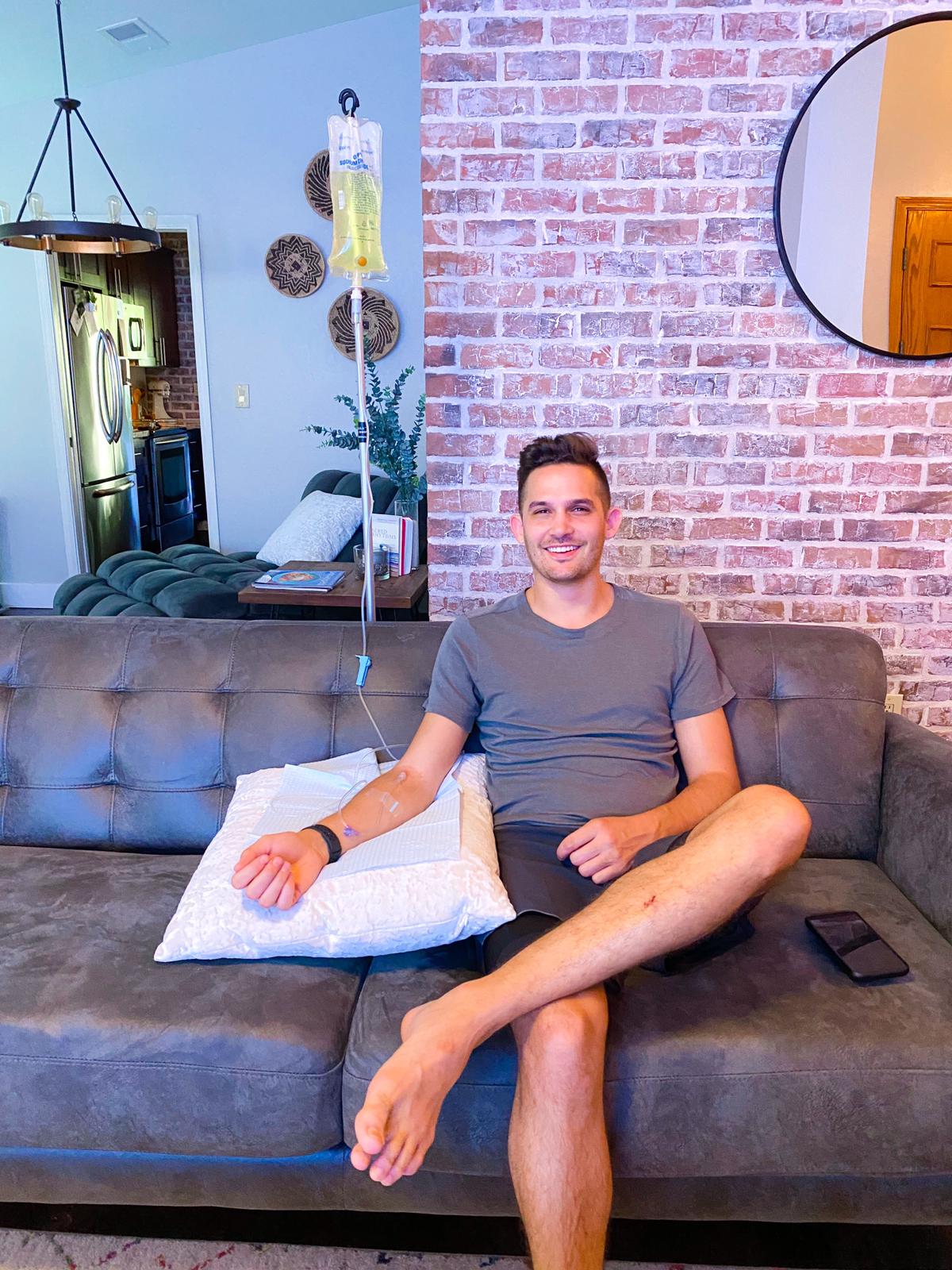 Here's the reality: Many of our uncomfortable health symptoms are related to dehydration. Most Americans are chronically dehydrated, which means too many of us are suffering from migraine headaches, nausea, fatigue, and more — even though we don't need to.
Lone Star IV Medics can help you find relief from your symptoms, whether you're recovering from a cold, soldiering on through morning sickness, or nursing a hangover. Our Alamo Heights IV therapy patients have even used our infusions to recover from muscle soreness after a tough workout.
But how does it work? When you schedule an appointment with us, a team of experienced registered nurses and/or paramedics will come to your home. They will conduct a thorough health assessment and help you find the right cocktail of vitamins and other essentials to help manage your symptoms. Then, the team will administer your IV and monitor you to ensure you are safe and comfortable. The whole process only takes 45-60 minutes, and then you'll feel energized and revitalized.
Lone Star IV Medics has earned a reputation for excellence thanks to our team of registered nurses and paramedics. They perform all of our infusions with a commitment to outstanding patient care, and their medical experience ensures the safest possible treatment. Our team also includes a doctorally prepared pharmacist (Pharm.D.) and naturopathic doctor (N.D.) offering consulting guidance and a board-certified physician (M.D. or D.O.) overseeing medical direction. If you're interested in professional IV drip therapy in Alamo Heights, fill out our contact form and set up your first appointment today.
IV therapy can help alleviate the symptoms associated with!
How Much Does Mobile IV Therapy in Alamo Heights, TX Cost?
A mobile IV in Alamo Heights doesn't need to break the bank. We offer IV packages at a range of prices to fit your budget, offering you a hospital-grade solution for a fraction of the cost. You can even use our vitamin add-ins to create your own special IV infusion.
How to Book a Mobile IV in Alamo Heights
Lone Star IV Medics is proud to offer mobile IV therapy in Alamo Heights, as well as many other cities around the great state of Texas. Contact us online to find a location near you and schedule an appointment — and don't forget to sign up for our VIP list so you can save on exclusive offers, flash sales, and more. 
Book Now!
Serving Alamo Heights & all suburbs!
Open 8AM-8PM, Daily
IV Therapy FAQs
1
What are people saying about IV hydration near Alamo Heights?
Alamo Heights residents are loving IV therapy. Many of our local customers request IV therapy after a night of drinking margaritas on Broadway, a weekend of hiking through Olmos Basin Park, or simply as a way to protect their health. Take a look at all our amazing reviews.
2
How long does IV therapy take in Alamo Heights?
The actual IV treatment usually takes between 45 to 60 minutes, depending on the person. However, you'll need to give your IV specialist time to set up and perform a short health history and medical check. All in all, an entire IV appointment often takes about an hour.
3
How do I choose the right IV treatment for me?
Every person is different, which is why we offer a wide selection of IV treatments. Consider your current symptoms, your overall health goals, and your budget. Then, take a look at our IV treatment options. You'll see that certain IV treatments are focused on specific symptoms while others are designed for general health. If you still aren't sure which option is right for you, don't hesitate to ask your IV specialist when they arrive. Don't forget that you can also create your own customized IV infusion using our add-in ingredients.