Staying hydrated is one of the best ways to feel your best all year round. After all, your body is 60% water, and getting enough fluids is vital to keeping your organs in great condition. So why is it that three-quarters of Americans are chronically dehydrated?
We get it. You live a busy, fast-paced life where there's not always time to chug down your daily water. But if you don't hydrate, you risk suffering from fatigue, headaches, and much worse. Your body needs fluids, and Lone Star IV Medics is here to help! 
We are the most trusted provider of hydration IV therapy in Nederland and the surrounding Texas areas. Our healthcare providers can help you feel the healthiest you've ever been.
Who Can Administer IV Hydration Therapy in Texas?
The healthcare professionals at Lone Star IV Medics are all qualified to administer IV hydration therapy under Texas law. Under the law, only certified paramedics or registered nurses are permitted to administer hydration therapy.
Are IV Drips Worth the Money?
When you want to feel better faster, mobile IV therapy in Nederland is a bargain! The sooner you receive relief from the symptoms associated with your condition, the sooner you get back into the swing of things! 
No one who is feeling ill, fatigued, or dehydrated wants to drive to a healthcare provider to receive IV therapy. At Lone Star IV Medics, we send a healthcare provider to your home, generally within an hour of your making the appointment. Relax in the comfort of familiar surroundings while undergoing IV vitamin therapy in Nederland!
Who Can Benefit from IV Therapy in Nederland? 
One of the many advantages of mobile IV therapy in Nederland is that treatment benefits patients dealing with a variety of issues. We have packages available geared toward an individual's specific needs. Other than our basic hydration package, there is no one-size-fits-all. 
For instance, a patient requiring additional nutrients to improve their immune function may choose IV vitamin infusion in Nederland. Your healthcare provider will discuss options based on your particular condition. Every provider takes a medical history and the vital signs of a patient prior to mobile IV therapy in Nederland. You are always in good hands!
Applications of IV Rehydration Therapy
Near Nederland, TX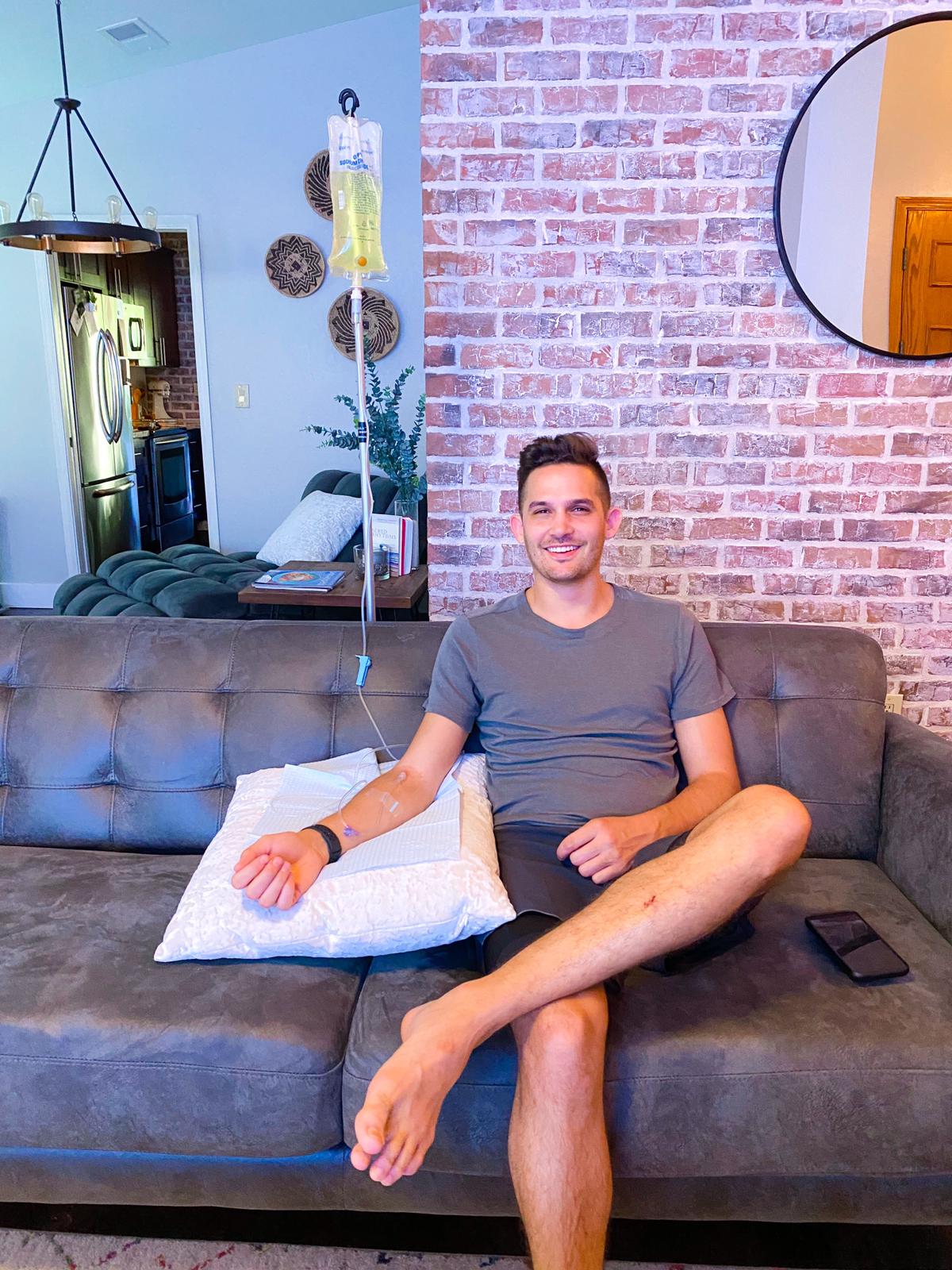 Our Nederland IV therapy patients have used our innovative infusions to help manage symptoms for all kinds of conditions. Pregnant women use hydration to treat their morning sickness, while chronic migraine sufferers find relief with our at-home infusion therapy. We can even help you get rid of your hangover.
But how does it work? It all starts when you schedule an appointment with our team. Once you schedule a mobile IV therapy in Nederland, we'll come to your home, office, or anywhere else you choose. Our medical professionals will conduct a health assessment to determine your current condition and help you choose the perfect combination of fluids, vitamins, minerals, and electrolytes to help you feel your best.
Next, all you have to do is settle in on the couch. Our healthcare providers will administer the IV and monitor you for the next 45 to 60 minutes. In that time, all those essential nutrients will be headed directly into your bloodstream, giving you relief from even your worst symptoms.
Lone Star IV Medics have earned a reputation for excellence thanks to our team of healthcare providers. They perform all of our infusions with a commitment to outstanding patient care, and their medical experience ensures the safest possible treatment. Our team also includes a doctorally prepared pharmacist (Pharm.D.) and naturopathic doctor (N.D.) offering consulting guidance and a board-certified physician (M.D. or D.O.) overseeing medical direction. If you're interested in professional IV drip therapy in Texas, fill out our contact form and set up your first appointment today.
IV therapy can help alleviate the symptoms associated with!
How Much Does Mobile IV Therapy in Nederland, TX, Cost?
Mobile IV therapy in Nederland varies in cost depending on what you order. Our pricing packages range from $100 to $395, with add-ons starting at only $25 each. No matter what you order for your IV therapy, you can always expect to get high-quality IV bags and solutions every time. There are additional costs for add-on items and custom packages.
How to Book a Mobile IV in Nederland
Lone Star IV Medics is proud to offer IV therapy in Nederland, Texas, and many other cities around the Lone Star state.
Schedule your appointment online today — and don't forget to sign up for our VIP list so you can get news about flash sales, exclusives, and more.
Book Now!
Serving Nederland & all suburbs!
Open 8AM-8PM, 24/7 Service Typically Available
This is the title
1
What if I need mobile IV therapy in Nederland after normal business hours?
Lone Star IV Medics provides after-hours mobile IV therapy based on healthcare provider availability. After-hours appointments incur an additional fee.
2
Can we tip our healthcare providers?
Certainly! Our experienced healthcare providers always appreciate recognition for a job well done!