Have you been feeling run down lately? Foggy? Fatigued? Or maybe just a bit "blah?"
There's a good chance that we know exactly how you're feeling, and we know just how to fix it. 
Here at Lone Star IV Medics, we specialize in giving our patients all over Texas the one thing their bodies need more than anything: hydration. Our bodies are mostly water, and yet, many Americans are chronically dehydrated. Our mobile IV therapy can help patients in Lubbock, TX, and beyond replenish their systems and rid themselves of that nasty "blah" feeling.
Applications of IV Rehydration Therapy
Near Lubbock, TX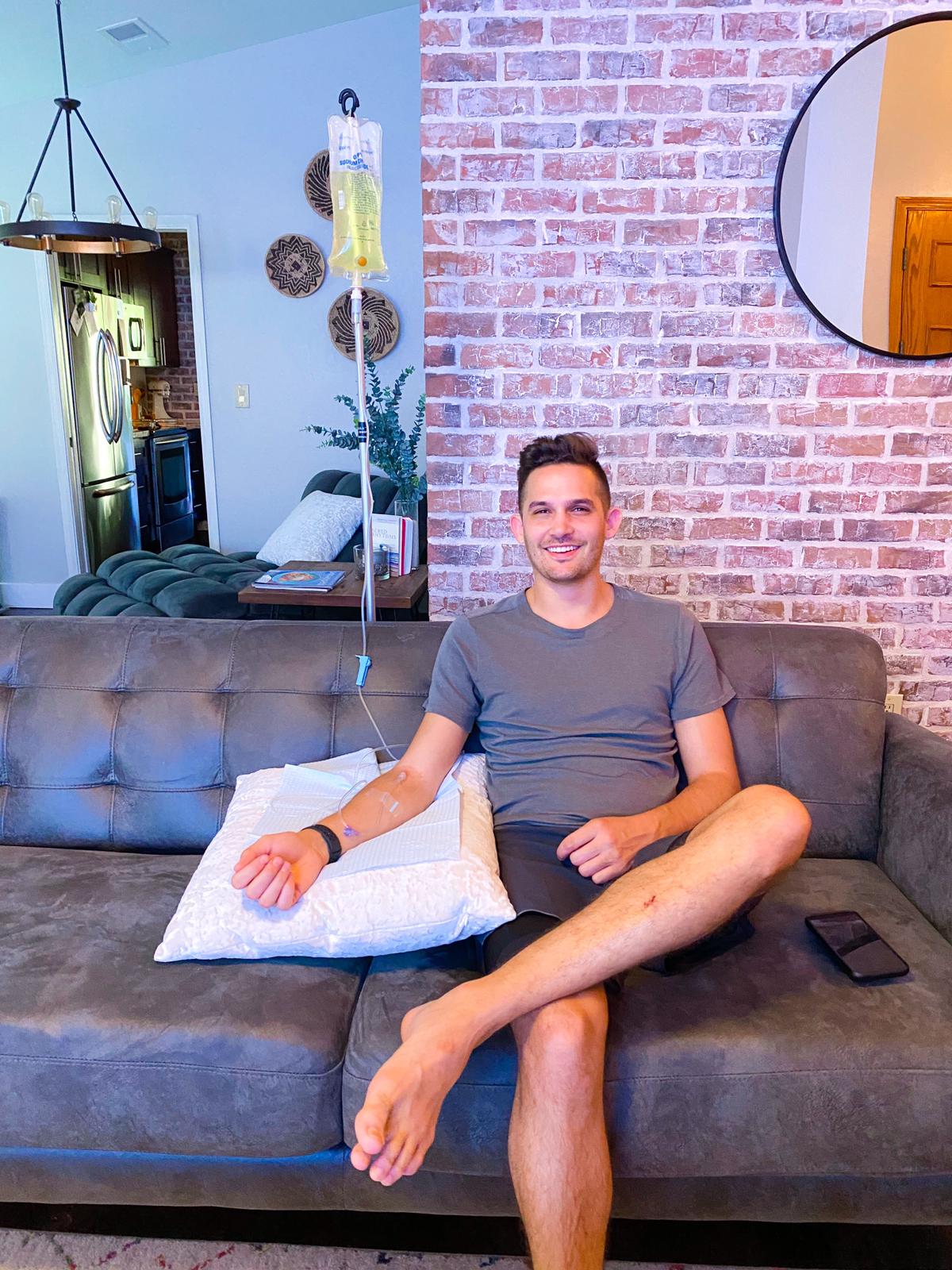 Why would someone need rehydration treatment? Our Lubbock IV therapy patients use our services to manage the symptoms of a wide range of conditions. People suffering from chronic migraines, morning sickness, and hangovers can get almost instant relief. And some can even stop oncoming colds and the flu right in their tracks!
Some of our patients also use IV therapy when they're feeling perfectly well as a regular part of their wellness regimen. Athletes, for example, can recover from strenuous workouts faster with IV infusions. The all-natural energy boost from rehydration treatments also can give them a competitive edge before marathons or other athletic events. 
Our process is very simple. First, we send a team of experienced healthcare providers to your home, office, hotel, or any other location you request. We'll assess your health, offer our professional guidance on which IV treatment will best suit your symptoms, and administer the IV. All you have to do is sit there and relax. The whole process takes between 45 and 60 minutes, and you'll be feeling good as new before you know it. 
Lone Star IV Medics has earned a reputation for excellence thanks to our team of healthcare providers . They perform all of our infusions with a commitment to outstanding patient care, and their medical experience ensures the safest possible treatment. Our team also includes a doctorally prepared pharmacist (Pharm.D.) and naturopathic doctor (N.D.) offering consulting guidance and a board-certified physician (M.D. or D.O.) overseeing medical direction. 
Book an appointment with Lone Star IV Medics to experience the benefits of IV therapy.
IV therapy can help alleviate the symptoms associated with!
We also provide add-ons, including:
How to Book a Mobile IV in Lubbock
Now's your chance to experience the benefits of IV rehydration for yourself! Schedule an appointment today to get mobile IV therapy in Lubbock or any of the other nearby cities we serve.
If you already love our IV infusions, sign up for our VIP list to get news about exclusive offers, flash sales, and much more.
Book Now!
Serving Lubbock & all suburbs!
Open 8AM-8PM, 24/7 Service Typically Available
Lubbock Mobile IV Therapy FAQs
At Lone Star IV Medics, our normal hours are 8 a.m. to 8 p.m. daily. We know that patients need IV treatment any day of the week! Get prompt IV therapy in Lubbock!
2
How long does it take for a healthcare provider to arrive after scheduling an appointment?
The healthcare provider should arrive at their destination within one hour of a patient's scheduling an appointment. Much depends on nurse availability, but one hour is our goal. We do not want to keep patients in need of IV therapy in Lubbock waiting!
3
Do you accept insurance?
We do not accept insurance at this time. However, we do accept HSA payments, as our treatment services are HSA-approved.
We do offer group discounts:
10% off for 4-9 patients
15% off for 10-19 patients
20% off for 20+ patients
5
Do you charge sales tax?
As medical providers, we do not have to charge sales tax.
6
Do you charge travel fees?
We do not charge travel fees for calls within our service area. While our service area includes much of Texas, let us know if your location is not included. We may still be able to send a healthcare provider to your home or business, as we want to help as many patients as possible with IV therapy.
7
What are my payment options?
At Lone Star IV Medics, we accept the following types of payments:
Cash
Debit cards
Major credit cards
Venmo
PayPal
Zelle
CashApp
ApplePay
You are not charged until the IV therapy appointment is completed.
8
Should I tip the Lone Star IV Medic nurse?
Our healthcare providers always appreciate a tip for a job well done.